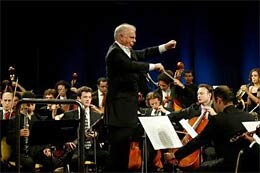 Invitations clutched in their hands, last week the audience members of the East West Diwan Orchestra squeezed past uniformed, armed guards and headed into the Ramallah Cultural Palace auditorium. The concert, performed by both Israeli and Palestinian musicians and conducted by world-renowned Israeli musician Daniel Barenboim, was definitely one of the more newsworthy cultural events in Palestine this year. Yet it was unadvertised, and only at the last minute were local photographers allowed to document the event for Palestinian papers.
The concert was invitation-only and the security services were out in full force — as if Condoleezza Rice was giving a press conference. It was not the usual atmosphere of a cultural event at the Cultural Palace. And had any average Palestinian wanted to attend, he or she would have to work with the PA ministries, work in the NGO sector, or be a well-connected to or an established member of Palestine's cultural elite. Foreigners were disproportionately represented in the auditorium, which didn't have enough seats to accommodate the crowd.
At about 8:00, a half hour after the concert was scheduled to start (and they had to be on time for not only the live satellite broadcast in Europe, but also so afterwards the Israeli musicians could be sped through the District Coordination Office checkpoint before it closed), people were confusedly standing in the aisles as there was no place to sit. A woman who did not identify herself came onto the stage and barked - first in Arabic, then in English - that everyone must immediately sit down, that the maestro would not take the stage until all media personnel "withdrew" the hall (except for the French satellite company broadcasting in Europe). Her tone and language was more akin to that heard at checkpoints rather than orchestra performances.
The musicians, when they finally filed onstage, had a lot of negative energy to counteract because of the event's poor organization (people were still disruptively walking into the hall when the orchestra began to play, but there was nowhere for them to sit or even stand). Posters with the portrait of the late Edward Said, who founded the project that includes young musicians from places of conflict with his friend Daniel Barenboim, hung on the auditorium walls. They read, "Freedom for Palestine," and were dedicated to Said's memory.
But there were two heavy questions that weighed in on the performance: exactly who was this performance for, and was it truly an appropriate tribute to Edward Said?
Firstly, cooperative projects between Israeli and Palestinian artists are not popular amongst Palestinians at this juncture in time. They see their powerless politicians being put on the same playing field as Israel, with all of its nuclear weapons and political capital. Their stateless leadership is being treated by the international community as though they and the Israelis are two similarly-powered countries at war, while in reality the power relationship is that of an occupier and the occupied, a colonizer and the colonized.
The conflict underscores nearly every aspect of life for Palestinians in the West Bank and Gaza. Just about everyone has known someone who has been killed, and is related to someone currently in administrative detention without charge. People in Ramallah aren't allowed to travel the few miles to Jerusalem to visit their families and holy sites. Thousands upon thousands have been made homeless by Israel's use of collective punishment, which it imposes through such means as arbitrary arrest, punitive house demolition, and severe movement restrictions. And while nobody is denying that Israelis haven't suffered during this conflict, it's business as usual in Tel Aviv and Haifa, and while many Israelis can tell of a relative or friend who just missed a suicide bombing by minutes, Israelis can move freely in their country and life is pretty close to normal.
Because of these unbalanced and unjust dynamics, cultural encounters between Israelis and Palestinians cannot happen in a vacuum or without complication. And many believe that this is simply not the time for Palestinians to engage in cultural activity with Israelis, as Israel controls and affects so many aspects of Palestinian life. Cultural expression is at least one means that Palestinians have to assert their own identity, agenda, and aspirations.
So if joint projects between Israeli and Palestinians are to occur, then they must be done very carefully if they are to be viewed as socially responsible by Palestinians. And by insisting that an event is invitation-only (it's unclear exactly why it was such), and then mainly inviting Ramallah's elite, it is not likely to win over the Palestinian public. To do exactly this in Ramallah, one may wonder what is the point?
The concert was not for the Palestinian people. A cynic might argue that it was for the international press, or the French satellite company (indeed, the speeches made at the concert were given in English rather than Arabic because it was being broadcast in Europe). But the goal of Said and Barenboim in creating the orchestra was not to pander to the press. They were genuinely interested in creating challenging, and honest cultural encounters between artists who would normally only encounter the "other" in just that sense: as the other, rather than a fellow human being. Said and Barenboim believed that coming to terms with the past of the other is the first step towards reconciliation, and had faith that two musicians of opposing nationalisms could find common ground in a piece of music written in a musical language they can both understand as equals.
It is a noble project. Neither Barenboim nor Said are known for giving soft and easy answers to the conflict, and Barenboim notably denied during the concert that his was an orchestra of peace, as newspaper articles so often declare. "You all know that this will not bring peace," he told the audience, treating them with more frank honesty than they are used to hearing. And last year when Barenboim accepted the exclusive Wolf Prize, he incensed the Israeli minister of culture by declaring that Israel's current domination and occupation of another people are incompatible with its declaration of independence. Barenboim says he is not a political man. Rather, one can conclude that instead he is just an honest man.
And it was clear that his connection to the individual performers is intense. He is not afraid to challenge, and is known for his vigor. Some of the Israeli orchestra members interviewed in Ha'aretz admitted that the only reason that they agreed (at the eleventh hour) to perform in fearsome Ramallah was because they were afraid of disappointing Barenboim.
Granting that the motivation behind the project is admirable, it is still unclear who the performance was for. How could an invitation-only concert, unadvertised, and barely reported in the Arabic press, be a gesture towards the Palestinian people? Perhaps this was a failure of the Palestinian Ministry of Culture - a failure to take social responsibility into consideration. Pulling off a huge concert with Israeli musicians in Ramallah, which is an international news event, without serious incident does not necessarily merit an event a success. Making it meaningful to those for whom the message is intended does.
And that's why it is hard to see how the concert, administered the way it was, really honoured the memory of Edward Said. At times the lone, clear Palestinian voice of dissent towards the Palestinian leadership, it is unlikely that he would have been pleased by the PA high-ups getting the choicest seats. One would like to think that Said would have preferred those who would normally never have an opportunity to listen to a world-class orchestra get to sit in the front row. And it is even more doubtful that he would like audience members to have to encounter a cavalcade of security before listening to a Mozart concerto. That is not what culture is about.
In the Ha'aretz interviews we read of sceptical Israeli musicians, at first worried for their safety, become touched by dotingly concerned security guards. They are awed to be in Ramallah, where on a clear day one can see the Tel Aviv skyline yet the two societies are millions of miles apart. At the end of the day, they are upset that they have to immediately return to Jerusalem. They at least want to see Ramallah's city center and check out the restaurants.
In this sense, the concert experience was challenging for the Israelis, whose expectations and prejudices were turned upside down. And this is a positive result. But whether this resonated with the Palestinian people (besides those lucky ticket-holders who got to enjoy a night of great music) is uncertain.
Maureen Clare Murphy is Arts, Music & Culture editor for EI.
Related Links