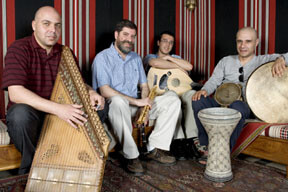 Playing lively arrangements based on classical themes, four Palestinian musicians will perform authentic instrumental Arab music in the
U.S.
for the first time, from February 14-24. Proceeds of the American Near East Refugee Aid (
ANERA
) sponsored concert tour will support the Palestine Youth Orchestra of the Edward Said National Conservatory of Music.
Washington, DC:
Wednesday, February 15, 7:30 pm
ICC Auditorium, Intercultural Center, Georgetown University
Suggested minimum admission: $10 general, $5 students and senior
citizens with valid ID, first come first served at the door.
Thursday, February 16, 7:30 pm
Meyer Auditorium, Freer Gallery, Smithsonian
Admission free. Tickets available in advance through
www.ticketmaster.org, tel. 202-397- 7328, a limited number of tickets
available at the door on first come first serve basis. Info:
202-357-2700; www.asia.si.edu
Philadelphia:
Sunday, February 19, 2006, 3:30 PM
Lang Concert Hall, Swarthmore College
Admission free at the door; donations accepted.
New York City:
Wednesday, Feb. 22, 7:00 pm sharp
CUNY, Harold M. Proshansky Auditorium, 34th and 5th Avenue
Admission at the door, first come first served, minimum donation $20
The Edward Said National Conservatory of Music
The four Palestinian members of this unique Ensemble are faculty of The Edward Said National Conservatory of Music where both Arab and western music is taught to 550 Palestinian students of elementary through high school age annually, even under the difficult conditions of Palestine. Beginning in the late 1980s with a group of only 40 aspiring music students housed in the YWCA in Jerusalem, the Conservatory soon became formally established in 1993 as an affiliate of Birzeit University. Now thirteen years later, its headquarters in Jerusalem and its teaching sites in Ramallah and Bethlehem are bustling. The Conservatory's programs include workshops in refugee camps, and 65 percent of its students are on scholarship. Its community concert series of 30-40 concerts reaches audiences totaling a few
thousand people annually.
Established in 1997, the ESNCM faculty Oriental Music Ensemble (OME) is one of the most prestigious contemporary Palestinian music groups, and has performed in Belgium, England, Greece, Palestine, Sweden, Switzerland and the UAE. OME is an instrumental ensemble performing music that is a lively balance of authentic classical Arab tradition and modernity. The musicians play their own compositions and original arrangements of Arab folkloric music. Improvisations, both rhythmic and free, are part of the repertoire. The OME sound is very energetic and always includes uncommon rhythms that give their performance a special dynamic quality.
The current repertoire includes compositions by Lebanese, Kurdish, Turkish, Iraqi, Egyptian, Tunisian as well as Palestinian musicians. The instruments are acoustic and include the `ud (lute), the qanoun (zither), the nay (flute), the clarinet and percussion. The core musicians are four teachers of the ESNCM in Jerusalem, including Suhail Khoury (General Director of the ESNCM), Ibrahim Attari, Yousif Hbeisch and Ahmad Al-Khatib.
Full program:
Washington, DC:
February 14 Duke Ellington School of the Arts, 2:00 pm, workshop
February 15 Georgetown University, CCAS, 7:30 pm, public concert
February 16 Smithsonian Freer Gallery, 7:30 pm, public concert
February 17 College of William and Mary, master class
Philadelphia:
February 18 Curtis Institute of Music, master class
February 19 Swarthmore College, Cooper Series, 3:30 pm, public concert
New York City:
February 21 Benefit gala at the Stanley H. Kaplan Penthouse, Lincoln Center Plaza
February 22 Prohansky Auditorium, CUNY, 7:30 pm, public concert
February 23 Mannes School of Music, master class
American Near East Refugee Aid
American Near East Refugee Aid (ANERA) American Near East Refugee Aid (ANERA) is a leading non-sectarian, nonprofit humanitarian organization founded in 1968 working with hundreds of local partners in the West Bank, Gaza, Lebanon and Jordan to provide and improve programs in health services, economic development, and education directly benefiting about 1.4 million people. ANERA is an American Institute of Philanthropy Top Rated Charity and a Charity Navigator Four Star Charity. In 2004 ANERA received the Arab American Institute Khalil Gibran Spirit of Humanity Award. Among ANERA's most innovative education partners is The Edward Said National Conservatory of Music in Jerusalem.
The Palestine Youth Orchestra
The Palestine Youth Orchestra was launched by the ESNCM in August 2003 as the first and only professional orchestra to play western instruments in Palestine. Bringing together 100 young Palestinian musicians from all over the world, the orchestra, now in intense training, plans to hold its inaugural performance in Jerusalem in 2008. Palestinian and Arab composers will be commissioned to compose for the orchestra.
Related Links