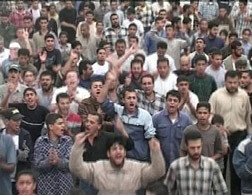 "Hearing is not like seeing and seeing is different from living the experience," reflects Shehada's mother about life in Rafah. And for a week in May 2004, that experience worsened as Israeli forces pushed forward with "Operation Rainbow," killing 45 Palestinians, 38 of them civilians including nine children. "The only thing we can do is pray to God."

This overwhelmingly distraught sentiment runs throughout Shehada's newest documentary Rainbow (2004), which examines first hand the devastating effects of the events of May 13-May 20th. However, this film is not a documentary in the traditional sense — from the perspective of an outsider looking in. Rainbow is as much about Shehada coming to terms with his own relation to this tragedy as it is about recording the destruction.

This personal perspective is obvious from the very first scene. In a smoky, dimly lit room, Shehada narrates as he writes about his feelings of being weighed down by "pictures [that] were a burden on my shoulders." Seeming more like a film noir than a documentary, this intro works surprisingly well to set up Shehada's sub-plot — which questions the role of the artist in a life that is surrounded by death and destruction.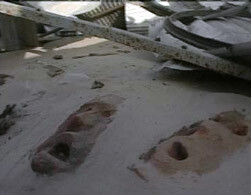 A recurrent figure throughout the film is painter and sculptor Ibrahim, who creates artwork amidst the destruction. In homage to those killed, Ibrahim forms haunting open-mouthed vacant-eyed faces in the sand and then buries them in the rubble. Ibrahim explains, "It's as if … the land is a human being screaming." Perhaps questioning his own effectiveness in this society, Shehada asks his childhood friend, "Do you think that all of that can show the pain that is inside us and others?"

Armed at times only with his video camera, Shehada's exposure of the personal stories of families whose lives were irrevocably changed in just minutes sometimes seems intrusive. It is hard to watch as Raed stands in the remains of his demolished house and searches for the clothes and toys he gave to his children the day that they were killed. But Raed continues, talking to the camera almost as if he needs to tell his story as part of his grieving process.

Even the narrator Shehada admits to his feeling "shy watching people through [his] camera," but this does not stop him from capturing emotionally charged scenes. In one, women search through the wreckage of their blasted out homes, as their private lives have been made public, open for anyone walking by to see. Some of the hardest images though are the close-ups of the dead that Shehada records. Placed in a cooling container that once held flowers, thirty two bodies transform the space into a gruesome arbiter of death.

A seasoned filmmaker, Shehada succeeds in creating a powerful film that pushes the boundaries of what a documentary should be. While Rainbow ingrains unforgettable images in the viewer and gives voice to those who are typically silenced in the popular news media, it also reflects upon the medium itself. The camera is not merely seen as an objective lens through which to document the outside world, but artfully becomes the subjective extension of one man's search for understanding. The resultant compelling, short documentary is not for the faint of heart.

Jenny Gheith is a film critic for the Electronic Intifada

Related links: