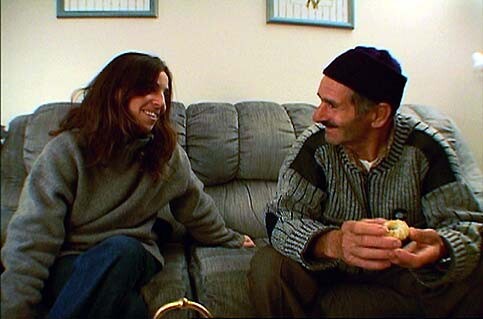 At some point in our lives, we grapple with understanding our childhood relationships and seek to find answers to unresolved familial ambiguities. This is exactly what Israeli-born Danae Elon chooses to document in her honest film Another Road Home (2004). While Elon's search focuses on finding one man, Mahmoud "Musa" Obeidallah, the Palestinian caretaker who helped raise her for twenty years of her life in East Jerusalem, her subsequent film openly exposes a unique side of Palestinian-Israeli relations.
Elon's narration and candid interviews with her parents explain some of the backstory. Soon after the 1967 War, Danae's parents (well-known writer Amos Elon and his wife Beth) took an apartment in East Jerusalem. When Musa knocked on the door one day looking for work, they hired him right on the spot to take care of then eleven-month-old Danae. Over the years, Musa, who had eleven children of his own, was her main caretaker and perhaps spent more time with Danae than with his own children. But this was a different era in the Palestinian-Israeli conflict. Amos explains that they "thought peace would happen" because everything seemed so "hopeful at the time." After twenty years of service to the Elon family, Musa retired and Danae left for film school in New York. The family lost touch with Musa soon after the second intifada and the parents relocated to Northern Italy, where they presently reside.
The search begins in Patterson, New Jersey, an industrial town forty minutes outside of Manhattan and home to one of the largest Palestinian communities in the United States. And, as Elon does not hesitate to explain, was a major focus of investigation after 9/11 because one of the suicide bombers rented an apartment there. This is also where most of Musa's sons, who were all sent to the United States after high school, reside. Armed with little information besides their last name (which she spells Abdallah instead of Obeidallah), where they're from, and the fact that they once owned a grocery store on main street, Elon sets out to find Musa.
Her timing couldn't have been better. There are big changes happening in the lives of the Obeidallah brothers. As one opens a pharmacy and then later signs on a house with the eldest, Ismail, we are invited to celebrate with them as they pursue the life that their father wanted for them.
But it is at that point that Another Road Home reveals itself as more than just Elon's search for an old friend. Slowly the disparate lives of these two groups come to the fore. Though Elon asks direct and personal questions to Musa's sons, when Naser, who is closest in age to Elon and used to come to her house with his father, asks her what she thought of his father, all she can say is that "he played an important role in my life." But whenever she inquires about their observations from growing up, they have detailed memories, especially about the inequalities between Palestinians and Israelis. A distressing scene ensues when Naser asks if she ever wondered what he was like when they used to see each other as young kids. The disappointment is clear when she explains that she never wondered about his life.
Tensions build as Elon's parents visit from Italy and the two families are brought together. Even though Danae's father Amos has written ten books on the unfair Israeli policies towards the Palestinians, he still asks how radical they are before he meets them, even questioning if they grow beards, implying that they would be fundamentalist. No matter what the conversation turns to, the Palestinian-Israeli conflict cannot be avoided. When Musa describes his daily life for them and the impossibility of his movement, the pain felt on his old friends' faces is evident.
Just released last year, Another Road Home, Elon's first feature length documentary, has had a positive run in many international film festivals (Jerusalem Film Fesitval, Tribeca Film Festival, New York Jewish Film Festival and now the Chicago Palestinine Film Festival). This is a film not to miss as it provides direct and sincere insight into both sides of the conflict. In Elon's own words: "I discovered that our conflict was both internal and external and the two could not be separated. With this story I hoped to reveal a certain truth about family, love and interpersonal relationships enmeshed in a devastating war-torn reality."
Jenny Gheith is a film critic for the Electronic Intifada
Related links: