"On our wedding day, I was alone," explains Kifah, one of the two new wives profiled in the Israeli documentary Just Married. In her wedding video, she awkwardly dances with her bouquet, as her family enthusiastically celebrates her nuptials.

And on Suhad's wedding day, her wedding photographer urges her and her young husband to quickly pose, so they could be pictured with the Israeli army driving by the concrete wall that would soon separate Suhad from her family in Bethlehem.

The theme of Just Married, by director Ayelet Bechar, is Israel's discriminatory family reunification process, which has been frozen since 2003. Because no unification applications are currently being accepted, Palestinians from the occupied West Bank (excluding Jerusalem, which Israel illegally annexed in 1967) and Gaza Strip who marry Israeli citizens or residents are unable to legally live with their spouses in Israel or occupied East Jerusalem.

For Kifah, this means that she must live with her Gaza-born husband in Germany, where they at a conference. She gave up her career as the head of the ministry of culture in Israel to be with her husband, feeling isolated in a country where she doesn't speak the language. She risks losing her Israeli citizenship as well.

The honeymoon doesn't last long for Suhad, either. She and her husband, a resident of Jerusalem, are given the runaround by Israeli authorities and so she lives illegally in the city, and risks arrest and getting her husband into trouble by visiting her family in Bethlehem. Soon, she too feels alone, as she is stuck inside all day in order to avoid being caught by the Israeli authorities. "I've moved only 10 kilometers away, but it's like I'm in America," she says.

Quickly Suhad realizes how few rights she has as a West Bank resident living illegally in Jerusalem. This becomes quite dangerous when she becomes pregnant, and goes into early labor. Because she doesn't have insurance and a residency permit, it is very risky for her to admit herself into an Israeli-Jewish hospital, and the Palestinian clinics are ill-equipped to deal with a risky pregnancy. She ends up giving birth to a baby girl in the Palestinian Red Crescent Maternity Hospital, but it is easy to see how the situation might have become much worse.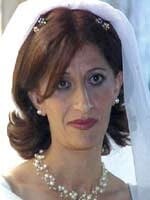 While Suhad's story is certainly compelling, Kifah's experience more effectively reveals just how discriminatory Israeli policy is against people who are ethnically Palestinian, even if they are full-fledged Israeli citizens. Ayelet sets this up by including an argument that Kifah and her husband Yazid have when they are flipping through Kifah's photo album and come across a picture of a smiling Kifah and former Israeli Prime Minister Ehud Barak.

Yazid is disgusted by Ehud Barak, who he says is responsible for the deaths of important Palestinian leaders, both political and cultural, and behaved the worst to the Palestinians out of all the Israeli prime ministers. Kifah defends him, and by proxy her former career in the Israeli government, and recalls Barak's claim that if he were a Palestinian, he would become a martyr.

However, Kifah's loyalty to the state in which she grew up doesn't pay off. Back in Israel, Kifah visits a social security office where she goes "to pay social security to preserve my rights." However, she is gruffly told by an officer, "Even if we grant you your rights today they'll be cancelled as soon as you leave the country," though she is not an emigrant. Kifah explodes in a burst of Hebrew, rebutting, "I won't lose my citizenship. And I think that's what this law wants me to do."

Bechar's film is a personal look at how two families are profoundly affected by one discriminatory policy. However, as it only focuses on these two couples, the magnitude of the problem is unclear to the viewer - indeed, it affects thousands of families. And because of one significant factual error in the film, when East Jerusalem is identified as being Israeli, while under international law it is actually part of the Palestinian West Bank, viewers may not fully grasp that Israeli policy is preventing even families from the same territory from living together. (In response to the author's query, Bechar explains that East Jerusalem is not identified as Israeli in the Hebrew subtitled version of the film, and suggests that she might fix this in a later edit.)

It would have been useful if Bechar had explored Israel's justification for freezing the unification process, which it says is necessitated by security needs. She could have informed the audience that only 23 residents of the 100,000 to 140,000 West Bank and Gaza residents that went through the process from 1992 through 2002 were accused of involvement in hostile attacks against Israel - the nature of which Israel doesn't clarify.

This could have potentially lead viewers to the conclusion that the indefinite freezing of the process is a key component of Israel's plan to preserve its Israeli majority (Israeli Palestinians, whose birthrate is higher than Israeli Jews, account for 20 percent of the population). This would have been reinforced by contrasting the difficulties Palestinians face during this process with the ease of which alien spouses Israeli Jews - including illegal settlers - have when applying for residency rights.

It is vital for Bechar to widen her scope to the bigger picture. By focusing on two families, and omitting this other crucial context, the audience is left pitying people who fall between the cracks of bureaucracy, rather than fuming at the blatantly discriminatory policy of the Israeli government that is aggressively trying to control its population demographics.

Related links:

B'tselem/Hamoked Report: "Forbidden Families: Family Unification and Child Registration in East Jerusalem"
Israeli Discriminatory Law Tears Apart Thousands of Families, Report (24 May 2005)