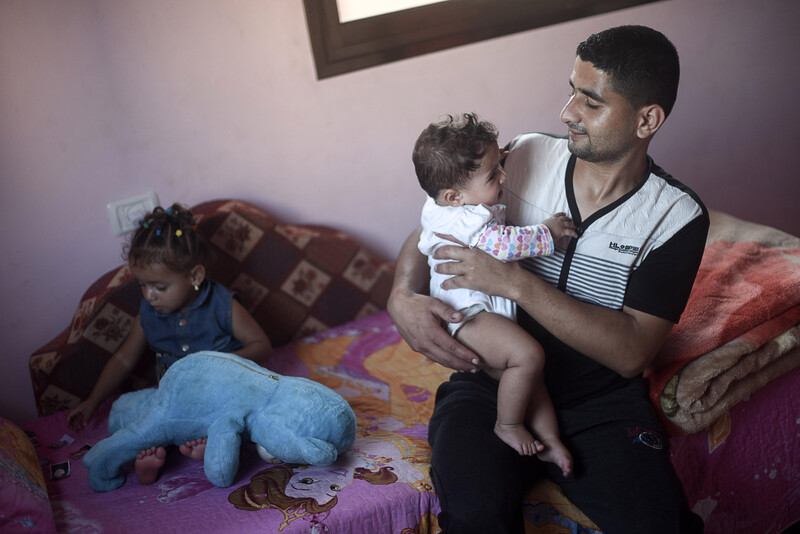 Israeli military prosecutors have just closed yet another internal probe into the conduct of soldiers during the army's assault on the occupied Gaza Strip in summer 2014.
More than 2,200 Palestinians, the majority civilians, were killed during the 51-day operation.
For Muhammad al-Najjar, who lost much of his family in a single Israeli airstrike during the onslaught, there is little closure even as life moves on.
"Before I say anything, I want to say sorry to anyone born on the 26th of July because I call it the Black Day," Muhammad said at the outset of our interview.
"I try to keep my eyes and head closed this day every year; when I wake up on this day I only see darkness, smoke and blood."
On that day in 2014, Muhammad, then 20, and his wife Iman, then 19, were due to go to the hospital for the birth of their second child.
Muhammad and his wife had returned to their three-story home in eastern Khan Younis, southern Gaza, before sunset on 25 July, finding it crowded with women and children from their extended family who had fled houses destroyed by Israeli tank fire.
"Nobody answered"
It was the tail end of Ramadan. Nearly two dozen members of the family gathered before dawn to eat the suhour meal before the day of fasting.
"We finished our suhour and then went to sleep," Muhammad recounted. "I took my teacup and sat in the kitchen. Suddenly, I felt a huge block of fire hit my face. I think I lost consciousness for a few minutes and then started to screaming for my mother, wife, brother and uncle. But nobody answered."
Muhammad saw a dim light and screamed for help. Neighbors had come to the site of the bombardment to help recover any survivors. They removed rubble from around Muhammad and once they reached him, the rescuers evacuated Muhammad and transferred him to the ambulance that arrived after them.
"This was the last thing I remember. I then woke up in hospital," Muhammad told The Electronic Intifada. "When I woke up, I called the doctor to ask about the fate of my family. He calmed me down and told me that they're OK, they were receiving help in the next room and that I'd see them soon."
Despite the doctor's reassurances, Muhammad, who sustained third degree burns across his body during the blast, did not believe believe him and soon began to scream.
Muhammad's cousin Said al-Najjar, now 28, heard him and entered his room. When Said looked into Muhammad's eyes he began to cry and said, "They're all gone."
Of the 22 members of the family who had gathered in the house, only Muhammad, his brother Hussein, now 31, and his uncle Suleiman, now 65, survived.
Gone were Muhammad's father Samir and his mother Ghalia; his wife Iman, their baby daughter Ghalia and their unborn son Anas. Gone was Iman's sister Baraa, 11, his brother Majid and sisters Kifah and Ikhlas and Ikhlas' small children, all under the age of 5: Islam, Amira and Amir.
Gone was Khalil – Ghalia's brother and Muhammad's uncle – and Khalil's wife Sumaya and their teenage daughter Rawan and sons Ahmad, 16, and Hani, 7.
Gone too was Hussein's pregnant wife Riham and their small children Samir, 1, and Muataz, 5. (Hussam and Olfat, Hussein and Riham's other two children, were staying with other relatives and were spared.)
In all, 19 of Muhammad's family members were killed, among them six women – two of them pregnant – and 10 children, in addition to Muhammad and Iman's baby who was supposed to be born days later.
Memories
When Muhammad asked the doctor to allow him to see his slain relatives, the doctor refused, due to his frail condition. His cousin Said helped him sneak out of the hospital to go to the cemetery before their burial.
Said took Muhammad on his motorcycle, following the municipal vehicle that was transferring the torn apart bodies to the cemetery.
During the burial, memories of his loved ones came to Muhammad: "I remembered how I used to comfort my wife during her labor pains, my daughter's beautiful laughter, my jokes with my uncle, the kids and their games, and many other moments with each one of them."
Muhammad's sister Kifah, 23, had cerebral palsy. "I can't imagine how my sister felt when she was not even able to try and escape," he said.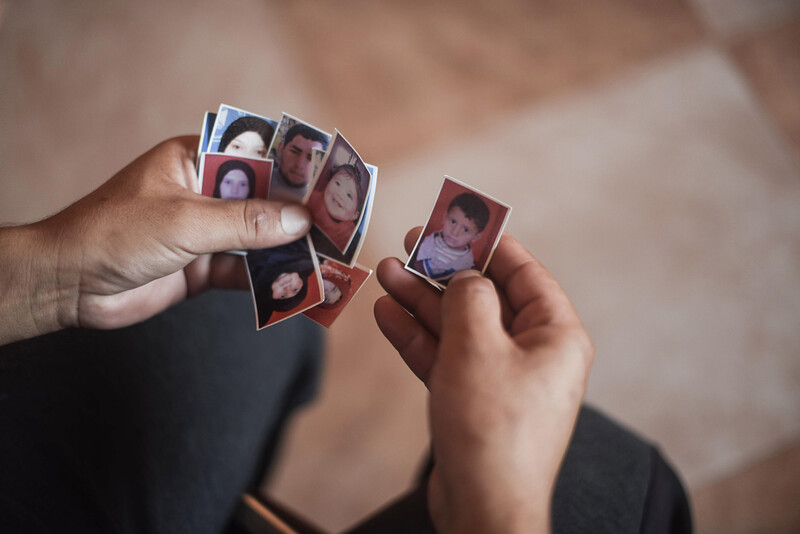 Muhammad's family was one of dozens who suffered such catastrophic loss during the 51-day bombardment.
"At least 142 families lost three or more members in an attack on a residential building during the summer of 2014, resulting in 742 deaths," a United Nations commission of inquiry found.
"The fact that Israel did not revise its practice of air strikes, even after their dire effects on civilians became apparent, raises the question of whether this was part of a broader policy which was at least tacitly approved at the highest level of government."
It took Muhammad half a year to physically recover from his injuries. Muhammad moved in with his uncle, Ibrahim al-Najjar, who works as a livestock trader.
Long recovery
"After six months of medication, my body started to recover but my heart didn't; I was suffering from deep depression," Muhammad said.
His uncle Ibrahim said: "Muhammad's whole personality changed. He used to be active and talkative, but after the incident he became a silent and isolated man who stays up all night and sleeps all day."
Muhammad hates the night to this day. "When I close my eyes I imagine that I'll lose everyone with me in the house," he explained.
Ibrahim eventually took his nephew to a psychologist who recommended that Muhammad engage in new activities.
Ibrahim tried to convince Muhammad to remarry and begin anew. Muhammad refused, fell out with his uncle and left the house. Two weeks later, Ibrahim found Muhammad at his late father Samir's abandoned live poultry store.
"When I found Muhammad there, I changed my mind about pushing him to get married," Ibrahim said. "Instead I equipped the store for him to start selling poultry like his father. It was a good chance for Muhammad to see and talk to people again."
Khamis Ridwan, a friend of Muhammad's father Samir who works in the store, said that Muhammad was moody and walled off when he began running the business. But the two men eventually grew close.
"Khamis became a source of relief to me," Muhammad said. "He listens to me all the time even though I fired him several times from the store."
Khamis succeeded where Ibrahim failed, convincing Muhammad to marry again and start a new family.
New beginnings
Muhammad had met a young woman by chance on the street while he was returning home from work. He followed her to find out where she lived so that his uncle could visit the family to propose to Rawan on his behalf.
"When Muhammad told me that he wanted to marry, I was shocked and went to the girl's house the next day," Ibrahim said.
On 23 July 2015, Muhammad wedded Rawan al-Najjar, now 23. There was no ceremony or party.
"When I learned Muhammad's story, I wanted to be beside him and help him overcome his ordeal and start a new life," Rawan said. "This is why I agreed to marry him."
In November 2016, four years to the month after the birth of his first daughter, Muhammad and his wife Rawan welcomed their first child. She was named Ghalia in honor of Muhammad's first daughter and his mother, killed together two years earlier.
Last year Muhammad received a grant from Gaza's housing ministry to build a new home, this one two floors instead of three. By the end of 2017, he and Rawan had a second baby girl named Ghazal.
But Muhammad's psychological wounds have not healed.
"Sometimes he screams while he's sleeping, but he's a good husband and takes care of me and my children," Rawan said.
For Muhammad's part, he said, "Life goes on and I'll have more children."
Sarah Algherbawi is a freelance writer and translator from Gaza.
Tags