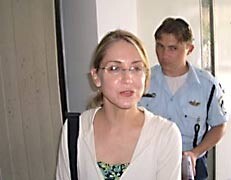 The International Court of Justice has ruled Israel's "Separation Wall" illegal and has called on Israel to dismantle the wall. Nineteen days ago I came to Israel to protest that wall and to bear witness to its devastating effects on the Palestinian population. Instead I was detained by Israel police upon arrival at Tel Aviv's Ben Gurion airport and have since been held in immigration detention awaiting deportation. I have been labeled a threat to "security," and the judge has called my camera a weapon. It seems to me the only threat I pose to Israel is a public relations one.

I have been asked, Why did I come from outside Israel to participate in political activity here? The first and simplest answer is because it is the right thing to do. The international community needs to insist on justice for all, for the sake of all. Secondly, I came from outside Israel to engage in political activity here because my country, the United States, bears the greatest responsibility for perpetuating the violence here.

The United States gives more foreign aid to Israel than to all African countries combined and crucial political support for nearly all of its policies concerning Palestinians, even those that violate international law, as does construction of the wall. I came to Israel because my tax money pays for Apache helicopters and tank shells like the ones recently shot at a peaceful protest in Gaza, and because the labels on the tear-gas containers we pick up in demonstrations say "Made in Pennsylvania." My taxes are sent to Israel in violation of US laws. The US Foreign Military Assistance Act prohibits military assistance to any country that has a pattern of consistently violating human rights.

During a visit to the West Bank a year ago I saw that the wall is being built primarily inside the West Bank on Palestinian land, cutting off thousands of Palestinians from their farmland, trapping many in enclaves and devastating the Palestinian economy. With that knowledge, I returned here to say the exact same thing that the ICJ has now declared.

I intended to join a march organized by the International Solidarity Movement, a Palestinian-led movement working for Palestinian self-determination and to end the Israeli occupation. Through nonviolent actions, the ISM volunteers bear witness to the effects of military occupation. We act where our governments fail to act. We report what the international media fail to report.

For daring to witness and report the brutal effects the wall is taking on the Palestinian population, I have been deemed a "security threat" by the State of Israel, denied entry to both Israel and the occupied Palestinian territories, and threatened with expulsion. My first appeal to challenge my deportation was denied yesterday. However, because I know that my efforts to stand against human rights violations like the construction of the wall are supported by international law, I am appealing this decision to the Israeli Supreme Court and will remain in prison until my case is reviewed there.

From Ben Gurion's detention center I have experienced first-hand a scaled-down version of the system of injustice experienced daily by Palestinians, who call on us to pay attention to the prison walls being built around them. In light of the decision made by the International Court of Justice, and in light of America's ongoing support of Israel's defiance of international law, I urge people to answer the call and participate in bringing to the world the Palestinian voices calling for freedom and justice.

Related Links

International Solidarity Movement

This article first appeared in The Nation on 14 July 2004. Since publication, Ann Petter's case has been referred back to the district court and her deportation is still pending.