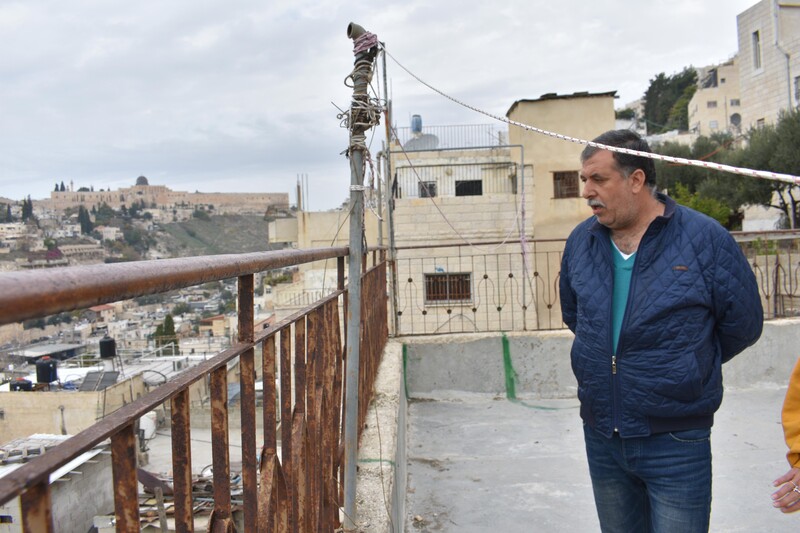 Mazen Dweik had been warned multiple times by members of the Israeli settler organization Ateret Cohanim.
If he refused to sell his house in the East Jerusalem neighborhood of Batan al-Hawa to the settlers, they would make sure he and his family lost everything in court.
Last month, that threat became a reality when a Jerusalem district court upheld a ruling in favor of the far-right group to evict all 30 members – including 12 children – of the Dweik residence.
Judges rejected the final appeal made by the family in February against a ruling relinquishing full property rights to Ateret Cohanim and ending a more than decade-long legal battle.
"If there is a god greater than me, then I will stay here until I die," Dweik told The Electronic Intifada.
The family has lived in the five-story building since they bought the property in 1963 when East Jerusalem was still under Jordanian control.
Since the family first started receiving warnings in 2007, Dweik said he was approached multiple times by Barak Weinberg, who presented himself as a member of Ateret Cohanim and is an employee of a sister organization, Midreshet Kedma.
Weinberg offered to cover costs for a new kidney for Dweik. He offered hefty compensation for the building, too, if the family vacated without resistance.
The family is now being sued for around $185,000, said Dweik, the amount Ateret Cohanim claims they owe in rent for the last seven years.
"They [settlers] have all the abilities and resources to make us weak, financially, and emotionally," said Dweik.
Two other families, the Shweiki and the Odeh families, residents of two other buildings in Batan al-Hawa, were also issued eviction orders after a separate ruling last month.
The 22 members of the Shweiki and Odeh families, all of whom have lived in the neighborhood since they bought properties in the 1960s, received a notice from the Israeli authorities on 29 November demanding that they vacate within less than five weeks.
Hagit Ofran, a representative of the Israeli organization Peace Now, told The Electronic Intifada that Ateret Cohanim plans to demolish the buildings and replace them with Jewish-only housing units.
Peace Now has been documenting settlement expansion in East Jerusalem since the early 1990s.
Since 2015, Ateret Cohanim has evicted 14 families from Batan al-Hawa. Ofran said the settler group is currently pursuing dozens of other lawsuits in the neighborhood.
Robbed and evicted
Batan al-Hawa is a densely-populated neighborhood of about 700 residents spanning only 5,000 square meters of land.
The maze of narrow alleyways and jagged sidewalks may seem unassuming to a casual observer.
However, this plot of land is part of the so-called Holy Basin. Covering Jerusalem's Old City and its environs, the area is highly coveted by settlers.
Batan al-Hawa is at the heart of a wider neighborhood known as Silwan.
Ateret Cohanim began eviction efforts in Silwan after it absorbed the Moshe Benevisti trust in 2001.
The trust was founded in the late 19th century by Jewish philanthropists who provided free housing for Yemeni Jewish immigrants in the neighborhood while the area was still under Ottoman control. It stayed until the 1930s, a time when Palestine was ruled by Britain under a League Nations' mandate.
During the Palestinian uprising against British rule in the 1930s, the British authorities evicted the Yemenis living there.
Once it absorbed the trust, Ateret Cohanim was able to access land records in Silwan that still show the Moshe Benevisiti Trust as the registered owners. These records have allowed the settler organization to take advantage of the discriminatory 1970 Legal and Administrative Law, which allows Jewish citizens to reclaim property transferred to Jordanian control following the war of 1948 while preventing Palestinian refugees from doing the same.
In 2015, the family of Abdallah Abu Nab was one of the first Palestinian families in Batan al-Hawa to be evicted by Ateret Cohanim. The family was forcefully ejected by police and sued for more than $155,000, a debt that is still being paid off to this day.
Other families in Batan al-Hawa reported similar accounts of encounters with employees of Ateret Cohanim: offers of large monetary compensation accompanied by threats.
"Just a memory"
The Rajabi family has been in a legal battle with the group since 2014.
"They tried to bribe me with 1 million shekels [$300,000] to leave my house quietly. When I refused, they threatened to put me in prison. Then they sent the Israeli police to my door to try and arrest me, claiming that I physically attacked the man that was suing me," said Zuheir Rajabi, who lives in the house with his wife and four children.
As he watched his children grow up, Rajabi also witnessed his neighborhood become increasingly militarized. Decades of clashes with and countless arrests by the Israeli forces that patrol the streets forced Rajabi to turn his living room into a high-tech security den.
Four large screens displaying surveillance camera footage take up one of the family's living room walls.
Archived footage from them has proved vital in challenging unfounded arrests, including that of his own son, according to Rajabi.
The Dweik, Shweiki, and Odeh family, meanwhile, plan to appeal for a halt to the eviction in their upcoming hearing in Israel's high court.
However, their chances of success do not look good.
"It will be a miracle if they do," Hagit Ofran from Peace Now said.
Eviction efforts by settler organizations like Ateret Cohanim are part of a broader attempt to Judaize East Jerusalem that enjoys the support of the Israeli government and a legal framework clearly discriminatory to Palestinians.
Some two months ago, the Nahalat Shimon company won rulings in the Jerusalem Magistrate Court to evict 25 people from four families from their house in another Jerusalem neighborhood, Sheikh Jarrah.
Settlement expansion in the area also includes underground excavations for the City of David park project, part of far-right group Elad's efforts to expand biblical tourism in the holy city. The construction has already caused evictions of local families and left Palestinian homes in the surrounding neighborhood of Silwan literally crumbling.
Plans for the construction of a cable car that would ferry passengers from the Western Wall in the Old City over Silwan and into West Jerusalem were also announced earlier this year, a move that experts say would drastically alter the landscape.
Mazen Dweik, speaking from a hospital bed where he was receiving dialysis, has few illusions.
"My situation will be the same as any other refugee who is expelled from his home," Dweik said. "This conflict will continue for generations as it has since 1948 and we will be like those people who talk about their house as just a memory."
Kelly Kunzl is an American freelance journalist, reporting on Palestine.
Tags