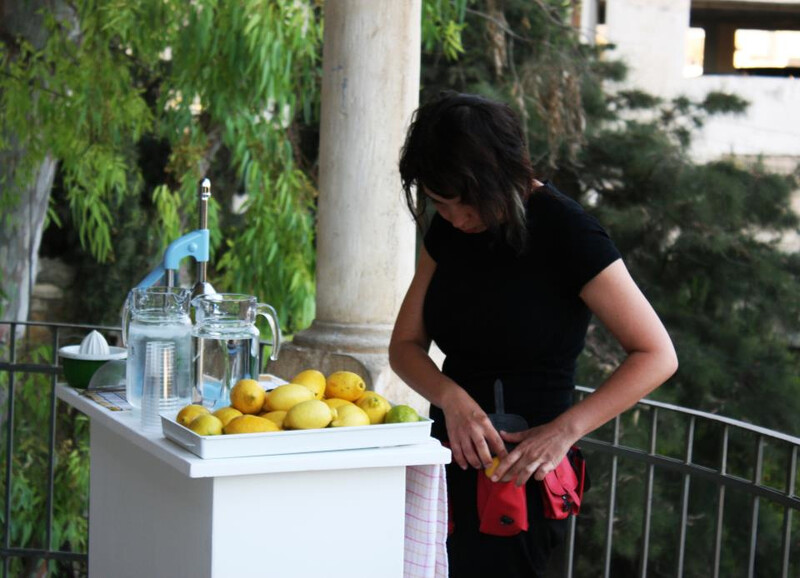 In the picturesque surroundings of the Darat al Funun gallery in downtown Amman, Jordan, artist Jumana Abboud stands squeezing lemon after lemon by hand, using an increasingly temperamental juicer. She pours the juice into a jug, mixing it with water and sugar to make glass after glass of lemonade, laying them out on a table for her audience to take.
Abboud's performance piece "Strange Fruit" — the name a deliberate nod to Billie Holiday's classic song about racist lynchings in America's deep South — accompanies the video work "Smuggling Lemons," currently showing at Darat al Funun as part of an exhibition from the Khalid Shoman Foundation's permanent collection.
In the video, we see Abboud (a Jerusalemite Palestinian) repeatedly travelling between the Old City of Jerusalem and Ramallah, via Qalandia checkpoint, carrying lemons like those from her performance. The lemons proceed out through the crowded souqs (open markets) of Jerusalem, via Damascus Gate to the Palestinian bus station on Nablus Road and onwards to Ramallah.
Abboud carries two in her hands through the grinding tedium of Qalandia, where lines of Palestinians wait in metal pens to pass the checkpoint. At some points Abboud carries them in pouches hanging on her belt, deliberately reminiscent of a suicide bomber's gear; at others she cradles them protectively, like precious objects or beloved children.
Some moments are almost comic — the two lemons wobbling on the belt of an x-ray machine, or being held up to the window of the bus like characters from a children's TV show. But behind it all is the knowledge that these lemons can end up seeing more of Palestine than most of the people of the land; in the hands of the artist, they are able to pass checkpoints and Israeli military barriers closed to many ordinary West Bankers.
Art meets life
Like much contemporary conceptual art, it's possible to accuse "Strange Fruit" and "Smuggling Lemons" of being more interesting in the idea than the execution. But there is still something disquieting about the work and its resonances, particularly so in the circumstances in which I saw it, with two friends from the West Bank. "Is that Nablus?" one asked of the Old City scenes. "No, it's Jerusalem," I replied. This was her country. But I knew these places like the back of my hand, and she cannot visit them at all. Art meets real life in a place of cold and impotent fury.
The rest of the exhibition at Darat al Funun is not explicitly devoted to Palestinian themes and artists, but they play a significant part — unsurprising in a Middle Eastern-based exhibition presenting works which "address war, violence, occupation and politics" and is described as "notes from the past about a recurring present." Showcasing work produced over several decades, the exhibition references regional conflicts extending from the 1970s to the present day.
Highlights include a number of pieces by Abdul Hay Mosallam, a self-taught artist from a village near Hebron who is well-known for his political posters of the 1980s. His work, in a bright, "naïve" style, depicts stylized scenes of Palestinian life. Some are celebratory, as with his images of women in traditional dress, but many exploit the discrepancy between the vivid, almost child-like style and their subject matter — a martyr's funeral, the graphic "Gaza Holocaust" or the swirling kuffiyeh (checkered scarf) patterns of "The Martyr Dalal Mughrabi" (named after the female Fatah fighter who led a raid on the Israeli coast in 1978).
In an adjoining gallery, the works of Adnan Yahya, born in Wihdat refugee camp in Amman in 1960, evoke a very different feeling. The room is dominated by large-scale, more recent works such as "Iraq War" and "The Tyrants," presenting satirical looks at contemporary politics in the Middle East. But more affecting are a series of lower-key images in understated pen-and-wash, depicting scenes from the 1982 massacres in the Sabra and Shatila refugee camps in Lebanon. Long, narrow images mounted at eye-level, their quiet presentation contrasts sharply with the horror of their contents, and leave much to the imagination of the viewer.
Rain, mud and teargas
Returning to the medium of video, meanwhile, is Emily Jacir's "Crossing Surda," her clandestine cataloguing of a week's experiences at the Surda checkpoint between Ramallah and Birzeit (reviewed by The Electronic Intifada when it was shown as part of a major exhibition in New York) . Rain, mud and teargas dominate this narrative of the daily humiliations doled out by the Israeli military at the barriers which slice up the West Bank and which can cripple the lives of its inhabitants at a moment's notice.
Aside from the Palestinian contributions to the exhibition, responses to Israel's various attacks on Lebanon also feature heavily. Akram Zaatari's photographs and films of the 1982 invasion use images he recorded as a teenager, just beginning to explore the camera's potential. Walid Raad's work boils representation of war right down to its most basic components — bullet cases and shrapnel — to evoke the brutal purpose for which such objects are made. And Jordanian artist Oraib Touqan's video works explore the psychological aspects of war and its complex relationship with memory — the desire, but inability, to forget trauma.
Like any multi-artist exhibition, this is a mixed bag which combines experimental works with more conventional pieces. But as an exploration of varying responses to decades of conflict in the Middle East, in which the Palestinian people have often played an involuntary and tragic role, it's well worth a visit.
Selection from the Khalid Shoman Collection is showing at Darat al Funun in Amman, Jordan until 26 July. For more information, see www.daratalfunun.org.
Sarah Irving is a freelance writer. She worked with the International Solidarity Movement in the occupied West Bank in 2001-02 and with Olive Co-op, promoting fair trade Palestinian products and solidarity visits, in 2004-06. She is the author of a biography of Leila Khaled and of the Bradt Guide to Palestine and co-author, with Sharyn Lock, of Gaza: Beneath the Bombs.
Tags