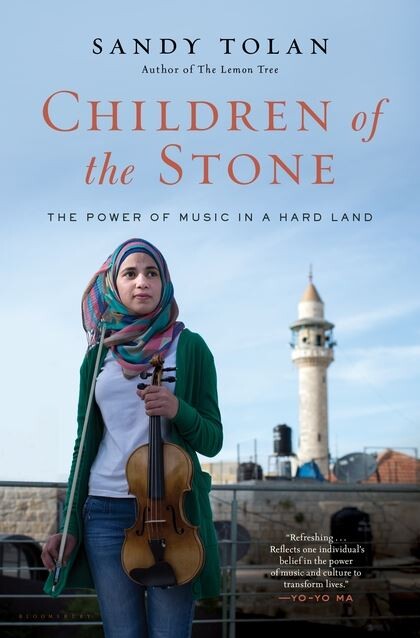 Children of the Stone: The Power of Music in a Hard Land by Sandy Tolan (Bloomsbury)
To be completely honest, I was expecting this book to be pretty bad. And I have to admit that my preconceptions were comprehensively challenged.
As a life story of Ramzi Aburedwan, born in al-Amari refugee camp in Ramallah, musician, composer and founder of the Kamandjati music schools in Palestine, I feared that this book was going to be an uncritical celebration of teaching music to Palestinian children.
Author Sandy Tolan's reference to Aburedwan's "vision of freedom through music [which] had reached thousands of Palestinian kids" did little to allay my suspicions. Music and other art projects now abound in Palestine, but what sort of "freedom" do they actually offer if they are based on uncritical ideas about "peace" in an environment of inescapable occupation and violence?
Such projects become even more problematic when they also involve "encounters" with Israeli children in settings which ignore, or even deny, the fundamental power imbalances. How many "cultural" programs in Palestine have more to do with Western philanthropic impulses than the actual needs of Palestinian children?
An early incident in Aburedwan's own life illustrates the point: having attended a music camp in the US at which Israeli and Palestinian children played together, he returned to Palestine to find himself being questioned for hours at Ben-Gurion airport near Tel Aviv.
An Israeli boy with whom he had played music at the camp, meanwhile, was whisked through, not sparing a glance for his comrade of just a day before.
Frank and critical
Tolan's narration of Aburedwan's life isn't perfect. The background, in particular, unquestioningly equates Palestinian resistance with "terrorism" and a good/bad dichotomy between those who use armed and unarmed means.
But in general, Children of the Stone is a nuanced, intelligent, in-depth discussion not only of Aburedwan's life, but of the many complex issues his work raises.
Firstly, the intimate portrait Tolan presents of Aburedwans life is an unusual insight into a difficult childhood in a poor refugee family before the first intifada. Many of the memoirs we have by Palestinians (just as for people from other parts of the world) are by those from middle class, privileged backgrounds.
This is a very different tale — featuring a grandfather who worked as a street sweeper, a drunken father who was killed as a suspected collaborator and a mother who fled when Aburedwan was just six. But alongside poverty and violence we also witness warmth and love. And this honesty about the class divisions in Palestinian society is a valuable quality which permeates the book.
Outside the home, Tolan conveys a sense of the genuine grassroots, popular nature of the first intifada, but also of the combination of excitement and danger which it spelled for those like the young Aburedwan.
Secondly, in tracing Aburedwan's musical career, from his boyhood discovery of the viola, his training in France and his ambitious — and often haphazardly implemented — plans for the Kamandjati schools, Tolan is surprisingly frank in his account and critical in his analysis.
The narrative doesn't cover up Aburedwan's prickly character and sometimes bizarre treatment of his colleagues, friends and partners. Typical of many charismatic entrepreneurs, he is portrayed as often erratic in the effort put into his exciting ideas and dependent on relationships with other people which not infrequently descend into exploitation.
But the most critical section of the story is that of Aburedwans relations with the West-Eastern Divan Orchestra, the Seville-based youth ensemble founded in 1999 by dissident Israeli conductor Daniel Barenboim and the great Palestinian scholar and writer Edward Said.
Intended to bring together young musicians from Israel and a range of Arab countries, including Palestine, since Said's death the orchestra has been widely criticized for failing to take a clear position in support of Palestinian rights or to criticize the Israeli state for its actions, such as its onslaughts on Gaza.
The tale of Aburedwan's involvement highlights the tokenism and naïveté of the orchestra's current management, with Mariam Said (Edward's widow) and Barenboim insisting on a depoliticized regime dependent on a hollowed-out, vague notion of communication through music.
Typical of their position is Barenboim's tragically naïve comment that "before a Beethoven symphony all people are equal," especially when juxtaposed with Aburedwan's consciousness that Barenboim would never have chosen him for his orchestra had Aburedwan not been Palestinian, and is thus a reluctant legitimizer of the Divan project.
Grappling with poverty
Despite my early misgivings, this is a book I would highly recommend to those grappling with the thorny issue of the relationship between art and conflict — of who gets to participate in cultural projects, what messages these send, whether they really change anything, and the dangers of appropriation and distortion which beset them.
Tolan's account includes genuinely heartfelt descriptions of the power of long-term musical collaboration to change the feelings of the people involved in them. But it is also frank about the enormous limitations on such encounters, the tiny numbers of people who can ever engage in them and the years of education and privilege which are usually needed to create musicians capable of playing in international projects like the West-Eastern Divan.
Beyond the specific issue of art and war, however, Children of the Stone is a rare, detailed and intimate portrait of a working-class Palestinian from the occupied West Bank, grappling with poverty and class.
Yes, Aburedwan is ultimately an example of an extraordinary Palestinian, but his tale — and Tolan's adept telling of it — encompasses many of the political, social and military changes (backed by 100 pages of footnotes, references and suggested readings) which have affected all Palestinians in the West Bank since the 1980s.
As such, this book also tells stories of the exhilaration and rapid disillusionment of the Oslo process, the unity and tragedies of the intifadas, and the struggles and memories of people whose voices are rarely heard.
Sarah Irving is the author of a biography of Leila Khaled and of the Bradt Guide to Palestine and co-editor of A Bird is not a Stone, a collection of contemporary Palestinian poetry in translation. She is currently a PhD candidate at the University of Edinburgh.
Tags