On the first day of hearings at the International Court of Justice, in The Hague, Professor Mordechai Kedar at Israel's Begin-Sadat Center for Strategic Studies told the

BBC

Arabic Service that Palestinian assertions that Israel's West Bank wall will make an independent state impossible were invalid. He argued that the existence of states like Liechtenstein (area: smaller than Washington,

DC

; population 33,000,) and Monaco (slightly bigger than London's Hyde Park; population 32,000) proves that there will be plenty of room left for a sovereign, internationally-recognized Palestinian state no matter where Israel builds its barrier. Such arguments from Israeli "strategists," offered with apparent seriousness, underscore the strength of the Palestinian claim that the wall is intended to annex the West Bank, not separate it from Israel, and the weakness of Israel's legal position.

At The Hague, the Palestinian envoy to the UN, Nasser Al-Kidwa, said he hoped an opinion against the wall would lead to the same kind of international sanctions that followed after the Court's 1971 ruling against South Africa's occupation of Namibia. But if this hope is what Palestinian Authority (PA) strategy is built on, then we are in trouble.

There is no reason to believe that whatever the ICJ rules, this will automatically result in any effective action against Israel. The Palestinians, after all, are not wanting for international law. There are already dozens of UN decisions that make clear that Israel is an international outlaw.

In Resolution 465, of 1980, for example, the UN Security Council, "determin[ed] that all measures taken by Israel to change the physical character, demographic composition, institutional structure or status of the Palestinian and other Arab territories occupied since 1967, including Jerusalem, or any part thereof, have no legal validity and that Israel's policy and practices of settling parts of its population and new immigrants in those territories constitute a flagrant violation of the Fourth Geneva Convention relative to the Protection of Civilian Persons in Time of War and also constitute a serious obstruction to achieving a comprehensive, just and lasting peace in the Middle East."

Security Council Resolution 476 also of 1980, "Reaffirms the overriding necessity to end the prolonged occupation of Arab territories occupied by Israel since 1967, including Jerusalem." What could be clearer than that? These resolutions, which remain in force, would certainly seem to apply not just to the settlements, but also to the wall. Despite all the hype, then, any ICJ opinion is unlikely to break much new legal ground.

In Resolution 476, the Security Council also "reaffirm[ed] its determination in the event of non-compliance by Israel with this resolution, to examine practical ways and means in accordance with relevant provisions of the Charter of the United Nations to secure the full implementation of this resolution."

And yet here we are 37 years into the occupation, and never has the United Nations taken a single "practical" measure to halt or reverse any of Israel's ongoing flagrant violations.

Quite on the contrary, as Israel continues to impose its will on the ground it has, through its alliance with the United States, managed to completely sideline international law, and get even the Palestinian Authority's friends in the EU to affirm that it is the Palestinians who must first "reform" themselves before coming to ask for their rights. As Israel has escalated its violence, Palestinians have escalated theirs. And yet only Palestinian violence is an obstacle to normal relations with the world.

Despite feeling isolated and set upon, Israel has not seen a single country, not even an Arab state, break off diplomatic relations in protest at its actions. Israel continues to receive the full, lucrative benefits of its trade agreement with the EU, and Israeli universities get research grants from Europe. Instead of shunning it, many countries trade arms with Israel. The Belgian foreign minister, Louis Michel, has even rushed to Israel to reassure it of his friendship. And EU officials ineptly try to appease US-based pro-Israel groups whose escalating campaign, based on dubious evidence, claiming that the continent is swept up in a wave of 'new anti-Semitism,' is aimed at stifling European criticism of Israel.

Meanwhile, in addition to all its atrocities against the Palestinian people, Israel has publicly threatened to murder or expel the Palestinian leader Yasser Arafat, it has invaded and shut down the PLO offices in Jerusalem's Orient House, closed universities, and detained and harassed members of the Palestinian Legislative Council, all without any "practical" measures from anyone. Israel cannot have imagined a few years ago that it could do all this and still receive the foreign minister of Egypt as an official guest in occupied Jerusalem in December 2003!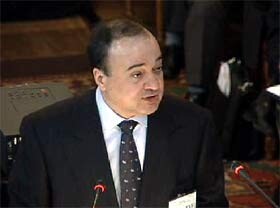 An

ICJ

decision against Israel is not going to change any of this. The problem is that for years, the Palestinian leadership has treated binding legal decisions as if they were nothing more than press releases to be waved about for a few days until the next photo-op. I am not arguing that an

ICJ

decision would be of no value, but clearly it will, like earlier resolutions, do no good unless it is accompanied by a determined Palestinian-led strategy to translate it into action.

Sanctions against Apartheid South Africa did not materialize because of a court opinion. They were the result of an assiduous and broad-based campaign led by the African National Congress (ANC), within South Africa and abroad. The ANC built up international public opinion, which in turn put pressure on European and eventually American governments to apply sanctions. The ANC could mobilize people because it truly represented them. The Palestinians, by contrast, are in the frustrating position of having broad sympathy in world public opinion (with the important exception of the US), but this opinion is not being translated into power.

The Palestinian leadership, since it signed the Oslo Accords, has given up on representing people. The US-dominated "Quartet" prefers an "empowered," but unelected Palestinian prime minister, who will follow orders and always "do more" for Israel. The PA survives internationally only by keeping hope alive that it will eventually sign another rotten deal as soon as the Israeli Labor Party can be brought back to office. This means, of course, that it cannot afford to really know what millions of Palestinians think about proposed "peace plans" that leave almost all the settlers where they are, replace Jerusalem with a fake "Al-Quds" and cancel refugees' right of return.

Yet this deliberate shutting out of the very people who are most affected, and who have the greatest stake in a just solution, means that the PA has no popular base or credibility on which to organize as did the ANC. Reporting on the meagre turnout to the mass demonstrations that Arafat called for in a televised speech, The Independent quoted 31-year-old Bethlehem resident Ahmad Ibrahim: "People are asking themselves why the authority has waited so long to protest… It is too late." A human rights activist quoted in the same article said, "There is mistrust between the people and the PA. How can people believe that the PA will lead the protests, while at the same time there are rumors that some officials have been selling cement used for the wall's construction?" (24 February 2004)

This is a crisis that a piece of paper issued in The Hague will not resolve. Time has run out for the PA and the two-state formula. We need to recognize that and engage in an open dialogue involving all Palestinians and their allies about what comes next.

Related Links

BY

TOPIC

: Case before the International Court of Justice

Ali Abunimah is co-founder of The Electronic Intifada