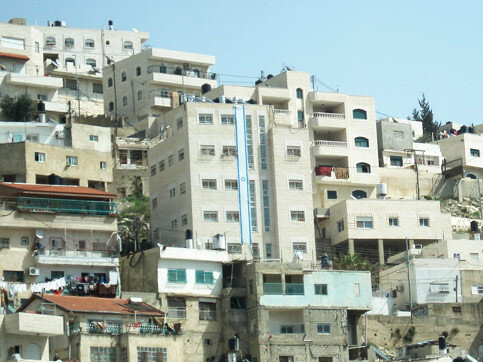 Last week when

US

Secretary of State Hillary Clinton held a press conference in Ramallah with Mahmoud Abbas, whose term as Palestinian Authority president officially expired on 9 January, a Washington Post reporter questioned her about the 143 Palestinian homes in Jerusalem that Israel intends to demolish in the coming weeks. She responded: "clearly, this kind of activity is unhelpful and not in keeping with the obligations entered into under the roadmap." While some hailed this remark as a condemnation of Israel's ongoing ethnic cleansing project, it appeared to many on the ground as callous and flippant.

Since the press conference, the number of Palestinian homes Israeli occupation forces intend to level has increased from 143 to 179. It seems that the number of homes and families who will be forced from their homes, and many from their villages entirely, increases every day. Just this past week in the East Jerusalem area, 88 homes in al-Bustan, 55 homes in Shufat refugee camp, 35 Bedouin homes on the Jerusalem-Jericho Road, and 66 homes in al-Isawiyya were slated for destruction, affecting more than 2,000 Palestinians, most of whom have lived there for generations. Ras al-Amoud, al-Abasiyya, Sheikh Jarrah and Ras Khamis appear to be next on the list of targeted areas. The affected families see this method of adding new neighborhoods to the demolition list every day as a means of making it more difficult to challenge and protest these eviction orders.

I recently visited the al-Bustan neighborhood of Silwan, one of the many slated for demolition any day now. The roads into the valley where al-Bustan lies were all closed to Palestinian cars with border police blocking off almost every street. Like many neighborhoods in Jerusalem, the homes reflect a mixture of architectural styles from the Ottoman era to the present, although the Israeli government contends that these homes have been built "illegally" because they have not been granted permission to be built in the first place, a permission that is next to impossible for Palestinians regardless of whether they have an Israeli residency ID or citizenship. Such is the logic of colonialism and ethnic cleansing in Palestine over the last 61 years. And accordingly, a number of Israeli colonists have been confiscating and taking over homes and buildings to pave the way for the wholesale seizure of Palestinian neighborhoods.

It is this history of ethnic cleansing, particularly that of the catastrophe of 1948 when three-quarters of the indigenous Palestinian population were forced from their land and property, an event termed the Nakba, that fuels the solidarity work among Palestinians in Jerusalem. Following the lead of Umm Kamel al-Kurd who put up a tent near her home in Sheikh Jarrah after she was forcibly removed from her home four months ago, other neighborhoods in Jerusalem facing a similar fate have set up such tents as spaces for organizing and encouraging others to stand in solidarity with each neighborhood. Such tents exist now on the Mount of Olives and in Ras Khamis. One of the organizers of the solidarity tent in al-Bustan, Ahmed Siam, told me "We will not let history repeat itself. We learned from history. We will not leave our land like we did in 1948. If they come and kill my son, I will not leave. This is our land. Even if they kill me and only my blood remains, it will remain on this land." The 7,000 residents of the area intend to fight for their right to stay on their land rather than see it turned into a new, illegal Israeli colony.

The Silwan community is resisting this widespread confiscation of their land — for the purposes of a tourist destination called "the city of David" as well as Jewish-only colonies already surrounding it — by remaining steadfast and staying on their land as member of the al-Bustan Neighborhood Committee Fakhre Abu Diab stated in a letter written to Clinton: "If the Israeli eviction and demolition orders are implanted it will be a catastrophe for our families, children and elders who will suffer the most. In the face of this destruction we are refusing the municipality's plans and we will not leave our lands and houses nor our community under any circumstances."

Already the elders and children, in particular, are bearing the brunt of the trauma from the news of this latest catastrophe or Nakba. In the heart of al-Bustan the winding, narrow alleyways with homes tightly packed inside remind one of Palestinian refugee camps. The al-Qadi family who has lived down one of these alleys for 25 years, and in this neighborhood for generations, includes seven children, none of whom have attended school since the orders for their home's demolition were issued by the Israeli occupation authorities. This is indicative of most families in al-Bustan. They explained to me that they are afraid to send their children to school because at any time they could be forcibly removed from our homes while the children are gone. Ironically, they told me, that two days ago the municipality opened a new school in their neighborhood, but they see this as part of the plan by the Israeli occupation authorities.

As the children suffer without their ability to go to school, so do the elderly. Like many families in al-Bustan, the Bedran family has lived here for centuries. Indeed, many of the houses lining the valley were built in the 1870s. Abed and Fatima Bedran built their home in 1980 on land their family has lived on for centuries; like most Palestinian families they built a new home to accommodate their expanding family. Abed, who is 82 years old, suffered from a stroke and is now bedridden after hearing the news of their eviction and house demolition orders for their neighborhood. They, too, refuse to flee their home.

These are just two of the families resisting the latest Nakba in Palestine, individuals who refuse to become Palestine's latest refugees. But the latest ethnic cleansing and colonization plans are not limited to Jerusalem. The number of homes scheduled for demolition in all of Palestine is growing every day. While the focus is on East Jerusalem in much of the international media, this week Palestinians in villages near Nablus and Hebron have also received orders to evacuate their homes. In al-Aqraba and Burin near Nablus, Palestinians are being forced to abandon 20 homes and barns by 26 March. As with the homes in East Jerusalem, some of these pre-date the 1967 colonization of the West Bank. Likewise, in al-Baqaa, near Hebron, eight homes are scheduled to be destroyed in a village whose lands have already been stolen for the purposes of illegal colonies and Jewish-only roads. Dozens of Palestinians will become homeless once their homes are confiscated. And in the village of Nilin near Ramallah, Israeli occupation authorities are in the process of expropriating 35.5 acres of land.

Although most of these families are separated by hundreds of checkpoints and established colonies, what the residents of these villages have in common is their steadfast determination to remain in their homes. From Nablus to Jerusalem to Hebron to Nilin they see their most potent means of resistance as remaining in their homes, refusing to live in a constant state of catastrophe, always on the brink of becoming the next refugees. Jawad Abu Ramoz, the son of a refugee from Hebron who fled to Silwan in 1948, is one of the thousands of Palestinians in al-Bustan who rejects a return to the fate of their parents and grandparents, literally and metaphorically.

All images by Marcy Newman.

Dr. Marcy Newman is Associate Professor of English at An Najah National University in Nablus, Palestine. Her writing may be found at bodyontheline.wordpress.com.