BRITISH GOVERNMENT TALKS PEACE WHILE HELPING
UK FIRM PROFIT FROM ISRAELI OCCUPATION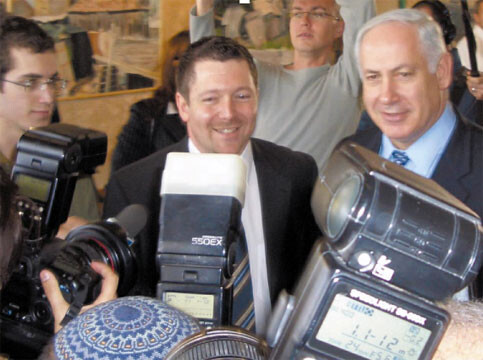 The British government assisted a leading company in the UK to obtain a lucrative contract with Israel which violates UK policy and international law on the status of Occupied East Jerusalem, an EI investigation has uncovered. Under the contract, signed with the Israeli Finance Minister Benjamin Netanyahu, UK consulting firm A4e will establish an employment center in Jerusalem. Despite assurances from officials at the British Embassy in Tel Aviv that "we cannot and will not support any work" by A4e in Occupied East Jerusalem, there is conclusive evidence that they did exactly that, damaging UK credibility as an honest broker. EI's Ali Abunimah reports in a dual exclusive with Middle East International magazine.
14 April 2005 —The British government assisted a leading company in the UK to obtain a lucrative contract with Israel which violates UK policy and international law on the status of Occupied East Jerusalem, an EI investigation has revealed.
Under the contract, signed with the Israeli Ministry of Finance on 1 February, Sheffield-based consulting firm A4e will establish an employment center in Jerusalem and operate programmes as part of the "Israel Works" welfare reform scheme.
Israel Works, modeled on a programme in the American state of Wisconsin, is the brainchild of Israeli Finance Minister Benjamin Netanyahu, who on March 29 called on Israel to formally annex most of the occupied West Bank.
A4e is a consultancy firm that has been closely associated with the welfare reforms of Prime Minister Tony Blair's government, and managed over £200 million (380 million US dollars) of public sector funding on behalf of a range of UK government agencies in 2003-2004. A4e claims to be one of the fastest growing companies in the UK and boasts that it "places a lot of importance on corporate social responsibility."
"Jerusalem was our first choice location and I am delighted we secured the pilot area," said A4e's CEO Mark Lovell on 1 February in a press release posted on the website of the British Embassy in Tel Aviv. "Jerusalem has similarities to areas like Manchester where we have achieved results in the UK over the last ten years," he added.
Lovell said nothing of the fact that Manchester, whatever similarities it may possess to Jerusalem, is not under foreign military occupation. Nor is it the subject of numerous UN Security Council resolutions.
The Israeli Finance Ministry's public affairs office confirmed to EI on 24 March that the scheme to be operated by A4e "includes neighbourhoods in East Jerusalem." Separately, this was confirmed by Iris Ginsburg, an official in the budget department of the Finance Ministry.
Under international law East Jerusalem is occupied territory and is emphatically not part of the State of Israel. After the 1967 war, Israel illegally expanded the municipal boundaries, confiscated large tracts of Palestinian-owned land, and has, in violation of international law established vast, Jewish-only settlements in the occupied section of the city. In 1980, Israel extended its domestic law to East Jerusalem, prompting the United Nations Security Council to pass Resolution 478 which declared:
"All legislative and administrative measures and actions taken by Israel, the occupying Power, which have altered or purport to alter the character and status of the Holy City of Jerusalem, and in particular the recent 'basic law' on Jerusalem, are null and void and must be rescinded forthwith."
In its formal policy statement on Jerusalem, the UK government reaffirms its support for the unanimously passed Resolution 478 and elaborates that it "recognises that Israel exercises de facto authority in West Jerusalem and, from 1950 to 1967, recognised that Jordan exercised de facto authority in East Jerusalem." "Since the war of 1967," the statement continues, Britain, "has regarded Israel as being in military occupation of East Jerusalem, and in this connection subject to the rules of law applicable to such an occupation, in particular the Fourth Geneva Convention of 1949." The UK government "also holds that the provisions of Security Council Resolution 242 on the withdrawal of Israeli armed forces from territories occupied in the 1967 war applies to East Jerusalem."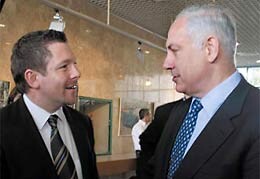 In deference to this policy, the British Embassy in Tel Aviv has no jurisdiction over East Jerusalem and is supposed to undertake no activities there. British interests in the Occupied Territories, including East Jerusalem, are represented by a separate Consulate-General in the Shaykh Jarrah district that maintains relations with the Palestinian Authority.

Yet EI's investigation shows conclusively that the embassy in Tel Aviv assisted A4e to obtain the Israeli contract covering East Jerusalem. In an email response to EI on 17 March, Peter Stephenson, the director of the UK Trade and Investment office (UKTI) at the Tel Aviv embassy confirmed that the British government had assisted A4e in winning the Israeli contract. A4e "have shown commendable commitment in this [bidding] process and UKTI have been very supportive of their efforts. A4e have come to us for advice on a number of issues relating to working in Israel and we have been delighted to offer this," Stephenson wrote.

EI wrote to A4e CEO Mark Lovell to ask directly whether his company would work in Occupied East Jerusalem. Sara Mckee, the company's Market Development Director replied on March 21:

"A4e is still in the early stages of planning the implementation of the Pilot Welfare-to-Work Program in Israel with our first employment center due to be opened in a few months time. At this stage, we have yet to receive confirmation of the exact areas of our intended operation. We expect to receive such confirmation in due course of time. In the meantime, we continue to maintain contact with the British Embassy."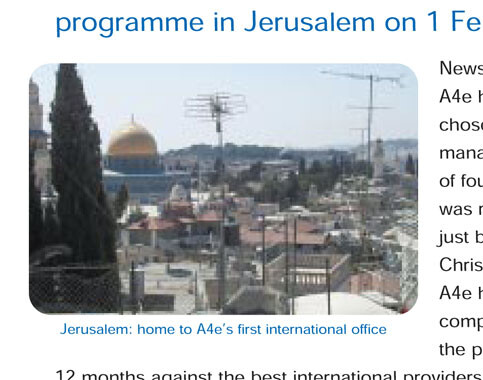 Despite a direct request from EI, A4e offered no assurance that it would refuse to work in East Jerusalem or any Israeli settlements.
EI referred McKee's reply to Peter Stephenson at the British Embassy and asked for a clear assurance that A4e would not be working in East Jerusalem in light of the fact that it had received such extensive assistance from British officials. After an initially evasive response, which merely referred EI back to McKee's vague statement, Stephenson wrote on March 23: "We have already advised A4e that, as British Government policy clearly states, we cannot and will not support any work emanating from this winning bid if it covers operations in East Jerusalem and the surrounding settlements that have been annexed to the city by Israel."
The evidence, however, is that the British Embassy did help A4e to obtain work in which it will profit from Israel's illegal annexation and occupation of East Jerusalem. Basic knowledge of Israel's policy on Jerusalem and simple enquiries to the Israeli government would have been sufficient to establish that "Israel Works" covers Occupied East Jerusalem and thus, in breach of international law and UK policy, extends Israel's administrative and legal structures into the city. Had the British Embassy made these enquiries it would, by its own policy, have had to refrain from rendering any assistance or support to A4e.
It is unclear whether the British Embassy failed to ask these commonsense questions due to some unusual lapse or whether it turned a blind eye in order to advance the commercial interests of a private company. In either case, British actions on the ground come at a particularly sensitive time when Israel continues to announce aggressive plans to expand the settlement of Ma'aleh Adumim, east of Jerusalem, with the stated intention of encircling the city and making it harder for international law requiring an Israeli withdrawal from it to be implemented.
The actions of the Tel Aviv embassy also undermine the UK's high-profile bid, showcased at the March 1 London Conference "in support of the Palestinian Authority," to appear as an honest broker in the peace process and a champion of Palestinian rights and independence.
This article, by EI co-founder Ali Abunimah, is published jointly with Middle East International magazine (MEI) and appears in its 14 April 2005 issue. Middle East International has been a respected source for news, analysis, and commentary on the Middle East since 1971.
Related Links:
In bed with Israel:

EU

's close relationship with Israel supports abuse, Arjan El Fassed (11 March 2005)