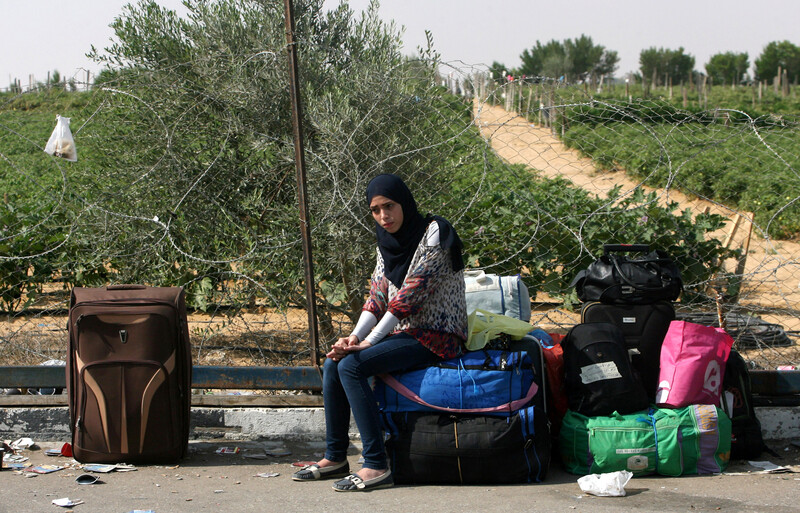 Malaka Mohammed has her luggage packed and is ready to leave at any moment. Yet the 23-year-old does not know when she will be able to take up her place in Britain's Sheffield University. The closure of the Rafah crossing between Gaza and Egypt has left her stranded.
Because of the uncertainty, Mohammed says she spends "most of my time leaning on my laptop," waiting to hear if the crossing has been reopened.
Obtaining a scholarship in Sheffield was a lengthy process. Mohammed made contact with the university's students' union on the Internet. The union was supportive of her efforts and after a number of months, her scholarship was approved by the academic authorities.
Once she makes it to the northern English city, she will begin studying for a master's degree in international politics and law.
Mohammed's parents have encouraged her to continue her studies, now that she has graduated in English literature from the Islamic University of Gaza.
"My father has been pushing me towards pursuing my education," she said. "I am so grateful to my father for the confidence he has put in me, encouraging me to go abroad. You know here it is a conservative society, but my father has been so open-minded and has never objected. He is now so concerned, maybe more than myself, about the reopening of Rafah crossing."
Activist
Mohammed is no stranger to political activism. Over the past few years, she has helped the campaign for a boycott of Israeli goods to grow within Gaza and has organized protests in solidarity with hunger strikes by Palestinian political prisoners.
Understandably, the main focus of her activism lately has been to have Rafah reopened.
She is one of many students planning to take part in a 25-kilometer march from Gaza City, where she lives, to Rafah in the near future. Some activists have also set a goal of collecting 100,000 signatures urging Egypt to reopen the crossing.
The United Nations' Office for the Coordination of Humanitarian Affairs (OCHA) has stated that only a small number of Gaza residents have been allowed to cross into Egypt, after its authorities closed the Rafah crossing following the coup which took place in Cairo during July. OCHA has estimated that an average of 150 persons crossed into Egypt via Rafah per day in the first week of this month. This was just 15 percent the number of people allowed to enter Egypt in June.
"Ridiculous pretext"
Patients requiring medical treatment in Egypt that they cannot receive in Gaza have also been affected by the closure. The health ministry in Gaza has stated that thousands of people have been blocked from going to Egypt for treatment.
Medical staff have reportedly been denied permission to enter Gaza from Egypt, too. The staff had intended to provide specialized treatment and train local staff ("Egyptian border restrictions create misery in Gaza," IRIN, 17 September 2013).
Mahmoud al-Ajramy, a professor at the Palestine University in Gaza, argued that the residents of Gaza are being collectively punished for events in Egypt. Collective punishment is illegal under international law.
"The Egyptian officials did not produce a single piece of evidence against the Palestinian people," he said. "For example, when they claimed that body guards of Muhammad Morsi [the ousted president], were members of the Palestinian Hamas party, this was a ridiculous pretext to use against the Palestinian resistance. These claims can never be believed."
Although it might be some time before she can leave the Strip, Malaka Mohammad has no intention of abandoning her plans.
"I am still hoping that our Egyptian brothers will respond to our legitimate, simple demand for travel," she said. "While Israel is still imposing a blockade on Gaza, we look to our Arab brothers to help us and to relieve us."
Rami Almeghari is a journalist and university lecturer based in the Gaza Strip.
Tags