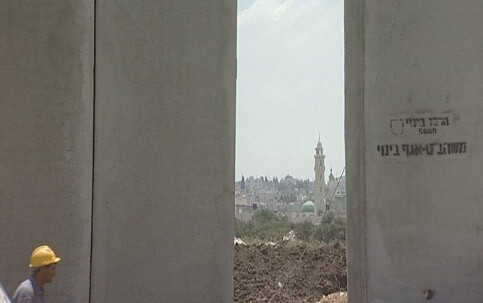 Winner at festivals in Marseille and Jerusalem, Simone Bitton's Franco-Israeli "Mur" (Wall), is about Israel's Apartheid Wall. I saw this documentary during the seventeenth international documentary filmfestival in Amsterdam (Netherlands) which opened on 18 November. Mur ("Wall") is nominated for the Amnesty International-

DOEN

Award, one of the awards presented at the festival. After the screening the audience got to ask Bitton some questions. "The moment I heard about the barrier going up, June 2002, I had to make this film," she said in Cinerama 2 in Amsterdam.

The documentary starts with the slow installation of concrete slabs, one by one, obliterating the view of landscapes and Palestinian villages, until there is not a chink of light remaining. The camera follows the gradual motion and stays fixed on the shot. We see Palestinians cut off from their land, and their olive groves, olives left to rot on the branch.

"I tried to film the beauty of the countryside as it was being destroyed - that's what gives the film its force: I filmed the burial of this land," Bitton said.

Born in Morocco and reared in Jerusalem, Simone Bitton made her career in French television. "Wall," her first long film, has backing from the Sundance Institute and the Ford Foundation. She decided to put herself in the picture, not onscreen but through her voice, which is gently inquisitive. "It's important for me to have a voice, to speak Hebrew and Arabic, to hear Hebrew and Arabic, going from one side of the wall to the other. Because, for me, there are not two sides, there's one small country."

This film was part of the Quinzaine des réalisateurs at the 2004 Cannes film festival, and won the Grand Prize at the 2004 Pezzaro Film Festival, as well as the Grand Prize at the Marseilles International Documentary Film Festival in 2004.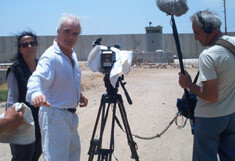 Simone Bitton is an internationally acclaimed filmmaker, who has directed about fifteen documentary films for television, about varied topics as Mahmoud Darwish (The Language as the Land), Azmi Bishara (Citizen Bishara), Maroccan Mehdi Ben Barka (Ben Barka: L'equation marocaine), Egyptian singer Um Kalthoum, Farid el Atrash, and the history of Palestine (Palestine, Story of a Land).

"Wall" has been called "sensational" by the French daily Libération, "an eye opener" by the US entertainment industry bible Variety, and "An hour and a half of sadness, transparency and beauty" by Al Hayat.

The film shows that the aim of Israel's wall is not security but the humiliation of people. The wall is aimed to break people's will to resist occupation and destroy livelihoods. It is a film of images not of ideas, there is no narration or voice over, except the voice of Simone Bitton asking questions to people affected by the wall. It shows the daily life of the people around the Wall, Palestinian inhabitants, Israeli settlers, the Palestinian workers building it, passers by, and Defense Ministry Director-General Amos Yaron, who supervises this colonial project and who tells the camera that "we view both sides as ours."

The film was screened at the wall in Abu Dis earlier this year. The wall in Abu Dis was used to screen the film. The film was also screened in Jerusalem's Cinematique and the Kasabah Theater in Ramallah.

One person interviewed in the film, Shuli, drives his jeep through the northern part of the country. He lives in Maanit, a kibbutz, and describes himself as a colonialist. But he rails against what he calls the Israelis' passion "for cutting themselves off and shutting out others." Imprisonment, he says, is a strange concept coming from people like his own, whose grandparents fled the ghettoes of eastern Europe. "We love this land," he explains. "We love it so much that we want to suffocate it, we want to commit suicide with our country." In his eyes, "it is a disease blocking what little that remains of the osmosis between the two sides."

Besides talking to those affected by the wall, Bitton visits the cement factories in the south where the wall's concrete slabs and watchtowers are produced. Most of her interviewees speak with humor about the situation and have not lost hope.

"I did not make this film in order to convince them, or provide them with arguments. I made the film in order to share what I feel, what comes from my heart… The wall that I filmed is as much a part of me as it is a part of the mental and physical horizons of my characters. This wall is, in a sense, testament to our failure. Mur is a political film because everything is political. But it doesn't talk about politics. It talks about me, it talks about us."

Related Links