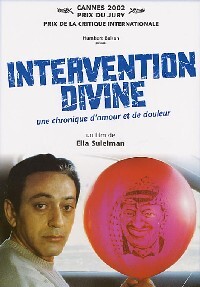 On July 26 and 29, the 51st Melbourne International Film festival screened 'Divine Intervention' by Palestinian director Elia Suleiman. Earlier this year, at the Cannes International Film festival, this film won both the Jury Prize and

FIPRESCI

awards.

Trailor: Divine Intervention (Windows Media Player)

Elia Suleiman is one of a dozen Palestinian filmmakers who have achieved a respectable amount of praise and recognition. Suleiman was born in Nazareth in 1960 and lived in New York between 1981 and 1983 where he lectured in universities, art institutes and museums. There he directed his first two short films and was the recipient of many grants and awards.

On moving to Jerusalem in 1994, the European Commission charged him with initiating a film media department in Bir Zeit University. The first Palestinian ever to show at Cannes, Suleiman made history by winning the Jury Prize, the third prize in the Palmarés.

The film possesses poignancy and humour which gracefully carries it through. Suleiman, who calls himself 'a chronicle of love and pain', also stars in the film, which is comprised of a series of vignettes with enough comic relief to soften the political message.

In one hysterical scene, Suleiman sits in his car and inflates a red balloon featuring the face of Yasser Arafat. The red balloon soars over a roadblock headed for Jerusalem. The Israeli soldiers angrily request permission to shoot it down, but they are so distracted, they miss a car full of explosives slipping past them. The balloon reaches Jerusalem, landing near the Golden Dome of the Rock, one of Islam's holiest shrines. Now the soldiers cannot shoot. A tremendous crowd pleaser, its irony and self-derision touched both the public and critics, who gave it a long-standing ovation.

After winning the Best First Film Prize at the 1996 Venice Film Festival for 'Chronicle of a Disappearance', Nazareth-born director–writer Elia Suleiman decided on a film project uncompromising in its portrayal of the hardships – of both the body and the heart – of everyday Palestinians.

Related Links


Oscars' double standard turns Palestinian film into refugee, by Benjamin J Doherty

&

Ali Abunimah, The Electronic Intifada, 10 December 2002.