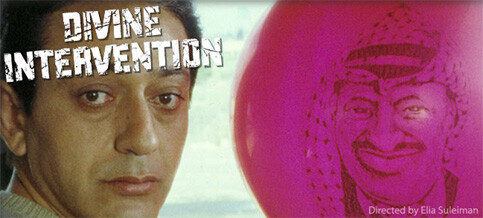 Avatar Films is continuing its release of Divine Intervention, the first Palestinian-made film ever to be widely distributed in the United States. Divine Intervention is available for screenings at universities, organizations and institutions, and is available on 35mm film, DVD, Digital Betacam, and VHS. Divine Intervention will be not released on home video and DVD until well into 2004.
Divine Intervention has overcome many obstacles to successfully reach a wide American audience, grossing $400,000 theatrically to date. Divine Intervention won a number of prestigious awards around the world, including the Grand Jury Prize and FIPRESCI Prize at the 2002 Cannes Film Festival, as well as being named Best Foreign (Non-European) Film at the European Film Awards.
Divine Intervention has been critically acclaimed by The New York Times, Newsweek, The Los Angeles Times, Time Magazine and many others, and was named among the "Top Ten Films of 2002" by Richard Corliss of Time, and "Best Film of the Year" by Sam Adams of the Philadelphia City-Paper.
Divine Intervention is a dark comedy about life on the Palestinian/Israeli border. Cinematic vignettes showcase the struggle, humor, and absurdity that Palestinians undertake as their normal existence. Divine Intervention is a unique presentation of the Palestinian experience in the cinema world. The film marks the second movie venture by the Palestinian director Elia Suleiman.
To see the theatrical trailer or read reviews and stories about the film, visit www.avatarfilms.com.
To program this film or for additional information, feel free to contact Jason Leaf at:
Avatar Films
150 West 28 Street, Suite 1803
New York, NY 10001
212-675-0300
http://www.avatarfilms.com