Siam Dawoud's voice rose with his frustration.
"We have not had a mother or a father for 51 years in East Jerusalem," the 45-year-old father of six said. "There's no authority here. No one helps the eastern side – not the Palestinians and not the Israelis."
Dawoud was explaining why he and others like him are thinking of voting in this month's Jerusalem municipal elections, despite that Palestinian participation in Israel's municipal elections remains highly controversial in occupied Jerusalem.
"The roads in our neighborhoods aren't fit for donkeys. There is garbage everywhere. We don't have schools. Our homes are being demolished. Yet we pay the same taxes as the Israelis in West Jerusalem," said Dawoud, who lives in the city's Silwan neighborhood.
"We want this to change."
Dawoud supports Ramadan Dabash, a Palestinian citizen of Israel who resides in Sur Baher in the city's east. Dabash was one of two Palestinian candidates running in this year's election, though he is the only one left after Aziz Abu Sarah and his al-Quds Lana (Jerusalem is Ours) list dropped out in late September citing pressure from both the Israeli and Palestinian sides.
Their candidacies have set off a heated debate among Palestinians in occupied East Jerusalem on whether to participate.
Damned if they vote, damned if they don't
Palestinians have boycotted municipal elections in Jerusalem ever since Israel occupied and then annexed the eastern part in 1967. A vote, it is argued, would grant legitimacy to the annexation and lend weight to Israel's attempt to paint itself as an inclusive democracy. In the last municipal elections, less than one percent of Jerusalem's Palestinians voted.
According to a February poll, however, almost 60 percent of Palestinians in East Jerusalem support participating in this year's elections while only 14 percent oppose it. The poll, by the Hebrew University, is not necessarily reliable. Palestinians in Jerusalem live a precarious existence, dependent on residency IDs to maintain their lives in the city. An Israeli pollster may find that Palestinians will lie about their involvement in elections out of fear that otherwise they might endanger their residency status.
Nevertheless, as hopes of a negotiated settlement fade and with the Donald Trump administration siding with Israel on the status of Jerusalem, some Palestinians believe that playing a more active role in the municipality is the only way to change years of discriminatory policies and neglect of the eastern side of the city.
Palestinian residents of East Jerusalem constitute at least 40 percent of the city's population. They can vote in city elections, but are barred from voting in national elections because they are not Israeli citizens.
Controversial candidacies
Dabash, who represents al-Quds Baladi (Jerusalem, My City), and Abu Sarah both provoked a backlash for their candidacies.
Islamic authorities in East Jerusalem issued a decree in July prohibiting Palestinians from participating or voting in the upcoming elections. Palestinian political factions have also urged East Jerusalemites not to participate.
Dabash said that since his campaign was launched in March he has been threatened by Palestinian leaders in an attempt to intimidate him into withdrawing. Abu Sarah also said he had received threats from Palestinian nationalists and that in combination with pressure from Israel, this had forced him to withdraw.
Both cited the same reason for announcing their candidacies in the first place: Palestinians in East Jerusalem have faced years of discrimination and neglect.
When Israel occupied East Jerusalem more than half a century ago, Palestinians were issued Jerusalem residency IDs that can be revoked for a variety of reasons, including a vague proscription against "breach of allegiance" to Israel. Most Palestinians in East Jerusalem do not hold Israeli citizenship and cannot obtain a Palestinian Authority passport without giving up their Jerusalem residency rights.
According to Human Rights Watch, Israel has revoked residency status from approximately 15,000 Palestinians in Jerusalem since 1967, expelling them from the territory.
Following the occupation, when Israel expanded Jerusalem's municipal boundaries, land slated for Palestinian construction in Jerusalem was allocated for just 13 percent of the new area, most of which was already built up. As a result, Palestinians have long faced a severe housing crisis in East Jerusalem and are forced to build without construction permits. That, in turn, attracts the wrath of the municipality, which carries out routine home demolitions in Palestinian neighborhoods owing to residents building "illegally."
At least 125 Palestinian-owned homes and structures in East Jerusalem have been demolished so far this year, according to the UN.
Non-political campaign
Unemployment and poverty, meanwhile, are endemic among Jerusalem's Palestinians. About 76 percent of Palestinians in East Jerusalem are living below the poverty line, according to the Association for Civil Rights in Israel.
For Dabash, solving these issues necessitates a Palestinian presence in city hall.
"We have to be inside the municipality in order to take our services," Dabash, who holds a doctorate in engineering and heads a community center in Sur Baher, told The Electronic Intifada.
"The Palestinian Authority constantly says that East Jerusalem is the capital of Palestine. But we can't wait anymore for these politics to be decided. We need to demand services from the inside," he said.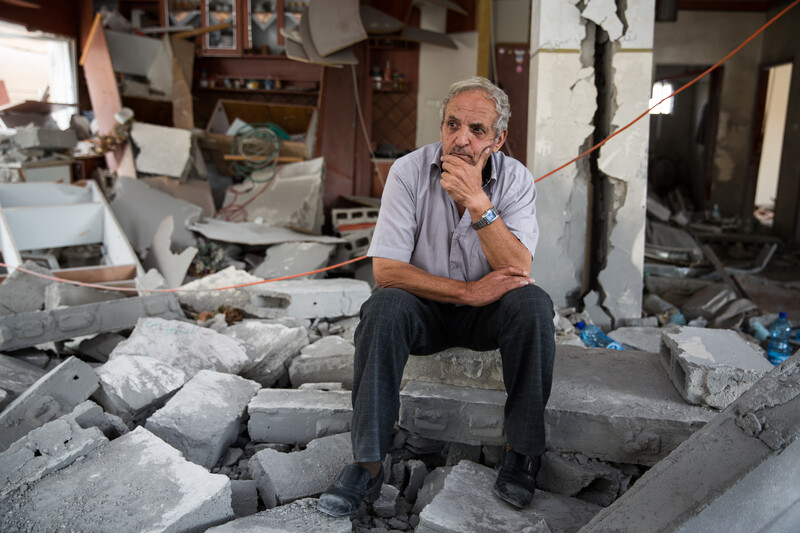 Dabash's campaign is strictly "non-political," he added.
"I don't talk politics or religion. I want to bring services to the East Jerusalem neighborhoods, and this is what I will focus on."
Yet for someone who disavows politics, he does not shy from voicing controversial opinions. The PA, for instance, "cannot give us anything. They can't help us. We get everything from Israel. We work in Israel; the hospitals are Israeli; our cars are from Israel. Everything is coming from Israel."
Moreover, Palestinians in Jerusalem would "much rather be part of the Israeli state than a Palestinian one," he added, referring to social benefits Palestinians with Jerusalem residency, like those with Israeli citizenship, receive from the Israeli state.
Part of the struggle
Dabash's stated "apolitical" stance has left some Palestinians sceptical.
Ibrahim Wazwaz, an 87-year-old shopkeeper in Jerusalem's Old City, staunchly opposes Palestinians running in the elections because it legitimizes, he said, Israel's occupation. He rolled his eyes at Dabash's statement about the PA versus Israel.
"It's not about preferring one state over another. The PA was brought here by Israel. That's why we don't want to be a part of it. The PA is just another guard of the occupation. We don't have to support either, because the PA and Israel are the same thing."
Aziz Abu Sarah, meanwhile, announced his intention to run for the seat of mayor in part to protest his ineligibility to run. Under Israeli law, mayors must hold Israeli citizenship, leaving some 370,000 Palestinian residents of Jerusalem barred from the position.
Abu Sarah, a resident of the Wadi al-Joz neighborhood, had planned to sue the Israeli government at the high court in order to contend for the mayoral seat.
"Israel claims to be a democracy and in some ways we're trying to show how ridiculous that claim is," he told The Electronic Intifada before he was forced to withdraw.
Unlike Dabash, who claims to avoid politics, Abu Sarah has been an activist since he was a child, throwing "my first rock when I was maybe 7," he said, chuckling.
"I don't think you can separate politics from the demand for services. The fact that I'm a Palestinian is the reason I don't have those services," he said.
Abu Sarah said when he was 10 years old, his brother died of wounds the family believes he sustained during torture in an Israeli prison. This was during the first Palestinian intifada. "I know what occupation means. I've seen what happens to people under occupation. I know how hard it is to be Palestinian in Jerusalem."
His campaign, Abu Sarah said, was meant as a part of the Palestinian "national struggle."
"Helping our people continue to exist in Jerusalem is the essence of our struggle," he said. "We have to do everything we can to stay here. If we lose our Jerusalem IDs or we lose our presence here then this dogma of 'Jerusalem is ours' – without our presence – becomes meaningless."
Normalizing the occupation
Most Palestinians, in Jerusalem or elsewhere, strictly oppose participating in the elections. "If you go to the elections, you are giving the occupation some kind of legitimacy," Khaled al-Sahib, a resident of the East Jerusalem neighborhood of Abu Tor, told The Electronic Intifada.
"You're talking about an institution that represents the occupation – and it's one of its ugliest faces. You see the demolition of homes, the discrimination, the inequalities between the western and eastern parts – this is all from the municipality," the 56-year-old said.
"We should reject the municipality, not try to become a part of it."
Saeb Erekat, secretary general of the Palestine Liberation Organization, called the Israeli municipality of Jerusalem an "illegitimate entity in occupied territory."
"The first people who called for a boycott were the grassroots organizations in Jerusalem simply because they all realize that participation in the elections is a legitimization of the occupation, annexation and apartheid imposed by Israel," Erekat told The Electronic Intifada.
In response to Dabash's statement that the Israeli occupation has continued for more than 50 years and there is no end in sight, Erekat said: "I think this would be enough to understand his intention to normalize and legitimize the annexation of the city. Israel is the occupying power in Jerusalem and it is their responsibility to provide services to the people under occupation."
Omar Barghouti, a founder of the boycott, divestment and sanctions movement, also said Palestinians should boycott the city's municipal elections.
"This is not just an illegitimate municipality ruling over an illegally occupied and colonized Palestinian city," Barghouti told The Electronic Intifada. "It is deeply involved in Israel's far-right regime's system of apartheid and policy of ethnic cleansing against the indigenous Palestinian population."
Dawoud said he was tired of such positions.
"Everyone is playing [political] games here – the Israelis and Palestinians. Meanwhile, 40 percent of the [Jerusalem] population have no rights," he said.
"We are talking about neighborhoods that are very poor. Nobody cares. We are tired of these politics. Look at [PA leader] Mahmoud Abbas. You think he doesn't have a good relationship with Israel? With their military? With the Shin Bet? You think he doesn't coordinate with Israel? But then these same people want to tell us we shouldn't vote?"
"We are tired of listening to it," he added.
Vote for change?
Abu Sarah said he was "puzzled" by the normalization argument, saying that under international law participating in a municipal election is not "recognizing" or "legitimizing" the occupation.
"Even under the British occupation, the mayor of Jerusalem was Palestinian," he said.
"I think normalization in its essence is us doing nothing to counter the changes that Israel is doing in our city," he added.
"What we are doing is saying that: No, we will not continue to allow you to run our lives, use our money, dictate how we live, dictate which kind of books we use in our classrooms, dictate what kind of education we can have, what kind of houses we can and cannot build."
Dawoud, who works as a bus driver inside Israel, has paid, he estimated, more than $200,000 over the years just in fines issued by the municipality owing to his home being built without Israeli-issued building permits.
Palestinians pay approximately $100 million in taxes to the Jerusalem municipality each year, money that is rarely invested back into the city's eastern side.
"I have never even been able to take my family on a trip abroad, because I have given all of my money to the municipality," Dawoud said.
"Palestinians in Jerusalem, we all work inside Israel," he added. "There's no jobs in our communities in East Jerusalem. We drive the buses for the Israelis. We fix their cars. We serve them at their restaurants. We do everything for the Israelis, and then we come back to our village and we have nothing."
"We want them to stop demolishing our homes, stop raiding our communities and imprisoning our children, stop using our money to build settlements. Maybe if we all start voting we can change this."
Jaclynn Ashly is a journalist based in the West Bank.
Tags