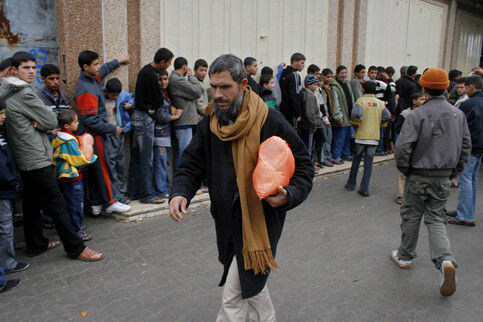 As Israel's relentless bombardment of the occupied Gaza Strip has entered its fourth day, the number of dead and injured has exceeded 2,000. Speaking via Skype, The Electronic Intifada correspondent Rami Almeghari described the situation near his home in al-Maghazi refugee camp in the central Gaza Strip:
I am in al-Maghazi refugee camp, in the central Gaza Strip. This afternoon Israeli drones targeted a house in al-Maghazi with three missiles. Fortunately there were no casualties. But unfortunately there have been many casualties elsewhere in Gaza where they have targeted houses and mosques.
I went out of the house to deal with some urgent matters today. But movement is really risky right now. Anyone who moves could be a potential target for the Israeli warplanes that are buzzing overhead all the time. You don't know what the next target is. It is terrible, horrible for the population here.
Most of the shops and businesses are closed. Only a few food stores are open. There is very little movement in the streets. There are very few cars, for example, the on the Salah al-Din road, a main thoroughfare running through the Gaza Strip. People are staying in their houses, their neighborhoods. What is going on is unprecedented since Israel occupied Gaza in 1967. There is a great deal of fear, worry, anxiety.
Fortunately we do have access to the Internet, but the power outages are very prolonged. Right now I am talking to you using a gasoline-powered generator. But gasoline is in very short supply all over, so shortly I could be cut off from the world.
Some food shops and bakeries are open, but just for a few hours a day. They take whatever opportunity they can to make bread for the people. This morning I went to a bakery in the nearby Nusseirat refugee camp to try to by bread for my children and family. They said, "There is no bread right now, maybe after 8pm." They are waiting for the electricity to come back so they can bake.
Over the past two days there have been some food shipments into the Gaza Strip, but in very limited quantities — much much less than can meet the needs of 1.5 million people. The average household here has seven or eight persons, so the need is very great.
You cannot find any presence of the government here now. Most of the government buildings have been destroyed by Israeli warplanes. For example the whole compound of ministerial buildings in Gaza City — including the ministries of finance, interior, education and others — has been completely destroyed.
These are not "terrorist" or military sites. These were civilian buildings that served the population in civil matters. They had nothing to do with any military purposes as Israel always claims. Even the police stations they have been targeting over the past few days, were just civil police stations, guarding security of the people, dealing with traffic and so on. The people working in those police stations were just previously unemployed youths who took the opportunity to make a living and feed their families.
Israel bombed the Hamas-run al-Aqsa TV station, but just one hour ago on al-Aqsa TV a masked spokesman from the Izzedin al-Qassam Brigades, the military wing of Hamas, spoke live from a hidden location. And despite the repeated attacks by the Israelis, the firing of rockets is still going on into Israel. So Israel has not hit Hamas. It has hit the civilian population.
Rami Almeghari is contributor to The Electronic Intifada, IMEMC.org and Free Speech Radio News and is a part-time lecturer on media and political translation at the Islamic University of Gaza. Rami is also a former senior English translator at and editor-in-chief of the international press center of the Gaza-based Palestinian Information Service. He can be contacted at rami_almeghari A T hotmail D O T com.
Related Links