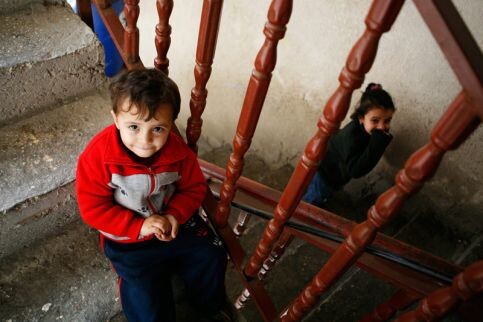 Late on Monday night, 27 September, an Israeli drone spotted and killed three Palestinians near the Gaza-Israel boundary near the central Gaza Strip refugee camp of al-Bureij. This was just one of the frequent attacks Israel has launched on the coastal territory since its brutal three-week assault ended in January 2009. Israel claimed that the three victims had been preparing to fire projectiles into Israel when they were killed.

A mix of feelings tore through me while I was at the Shuhada al-Aqsa hospital in the town of Deir al-Balah. It was almost 10:30pm when a doctor was stitching up the lips of my little boy Muhammad, who had taken a fall while playing at home with his sister.

Abruptly, a crowd of people carrying the three victims of the drone shelling entered the department where my son was being treated. Screaming suddenly broke the calm in the place, pushing the doctor to leave Muhammad and rush to try to help rescue the latest Palestinian causalities.

My first instinct was to draw the curtain around Muhammad's bed so he would not see the blood and dismembered bodies so close to him.

One the one hand, I wanted to protect my son from the horrible scene of blood and screaming people, and on the other, my work as a reporter required me — carrying my son in my arms — to observe as best as I could what was happening.

The more people crowded into the small hospital admissions room, the more I became concerned about my son and my responsibility as a reporter, but I decided my son — whose lip was bleeding — had to come first.

After a few minutes, the martyrs were taken to the morgue and then I was able to go back to the same doctor. As he restarted stitching Muhammad's lip, three more people were admitted near my son's bed. Obviously, they were brothers or friends of the shelling victims, and they were all screaming very loudly, to the extent that one of them fainted near my son's bed.

"Whatever, I must complete stitching this little boy," the doctor said, while Muhammad screamed and uttered "enough, I don't want it!" Maybe, my son said "enough" for what he saw and heard. On 3 October, Muhammad will turn four.

My dear son, I don't think this will be "enough" and I believe this is just the beginning in your life as a Palestinian, living amidst and witnessing constant violence.

A friend of mine, working as a cameraman for Reuters in Gaza, saw me while carrying Muhammad, and asked me about my boy while he carried his camera, shooting the distressed relatives and friends of the dead. It is a mix of feelings! Neither reporting nor parenting are easy to do in Gaza, where Israeli siege and violence constantly disrupts our lives.

Rami Almeghari is a journalist and university lecturer based in the Gaza Strip.