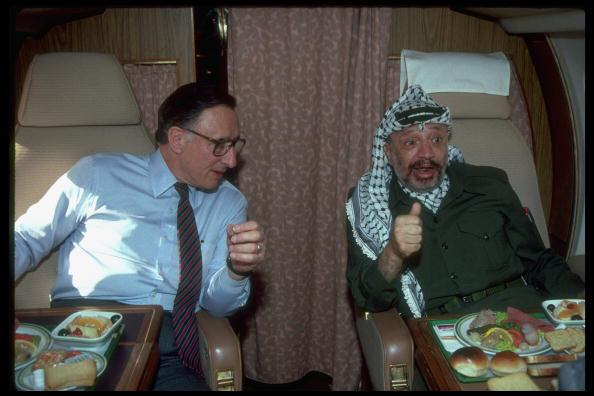 An excerpt from the unpublished memoirs of the former TIME journalist Murray J. Gart describing the occupied West Bank city of Nablus at the height of the first intifada, or uprising, could have been written today.
Closure under the pretext of "security," tear gas and lethal fire against unarmed protesters was what Gart observed in the city in 1990.
Gart's granddaughter, Brooke DeNisco, says of her grandfather that "the Middle East was his passion and he spent years living and traveling there."
When he retired from TIME, the publication with which he spent most of his career, Gart "began working on a book about the Middle East peace process, but died in 2004 before its completion. I inherited some of the notes and drafts for the book, including a narrative of five weeks he spent living in the West Bank," DeNisco explains.
"My grandfather was proudly Jewish and enjoyed traveling often to Israel," she adds. "He voted for Ronald Reagan and was a member of George Bush Sr.'s Council on Foreign Affairs."
The following "is a small excerpt from his pages of notes about his experiences in Nablus, forty miles north of Jerusalem in the occupied West Bank," DeNisco told The Electronic Intifada. "He wrote on the manuscript that this is a draft and had not been thoroughly fact-checked."
The excerpt from Murray J. Gart's memoirs follows.
Nablus, occupied West Bank, 1990
Though I was there only five weeks, it was long enough for a good look at Nablus life.
I had to remind myself of the baggage I carried, limitations of culture, sense of history, background and language. But, after twenty years of visits to Israel, I was also aware that my experiences and preparations for the trip, including long interviews for TIME with Ariel Sharon and Yasser Arafat would help to shield me from being unfair.
I had tried to reach Nablus the previous year but was turned away by Israeli soldiers who said the city was a closed "security zone." An invitation to consult at An-Najah National University got me into the West Bank's most active cultural and political center. But when I arrived, the university's campus was as closed as a tomb and prohibited from opening or operating.
By the end of the week I became accustomed to bursts of Israeli gunfire, exploding gas and other disturbing noises of daily urban warfare.
Distracted
One of my first mornings in Nablus I was distracted by heavy gunfire. When I leaned out my open first-floor window, I saw fires in my street at the corner of a walled schoolyard, teenage boys running and teachers shouting.
The yard filled with smoke, driving students into the school directly opposite my window. I could see cannisters landing, exploding and spewing out more smoke. In seconds, the gas got my face and forced me to fall back and grope my way blindly to the bathroom for a wet towel. When I was able to look out the window again, perhaps ten minutes later, there wasn't a person in sight outdoors. Later the ashes and rubble were cleaned up. The job was done by Palestinians rousted from passing cars and made to do it by soldiers pointing guns.
The Israelis had turned the most vital center of Palestinian life into something resembling a vast, maximum security prison. That at least, was how it felt from the inside.
Armed troops did all the work of police, tightly controlled every life in the city and dispensed summary justice. They guarded entry and exit roads like prison gates and enforced Israel's iron-fist occupation rules, which in practice meant repressive martial-law measures like collective punishment and preventive detention.
They used force to suppress the slightest hint of civil resistance, and responded to nonviolent protest with the force of lethal arms. To conceal these conditions to the world, the city was almost always a "closed military zone" which barred entry by the press, diplomats, clergy and anyone else the army chose to keep out.
There was no one to witness the real conditions of the Nablus lockup. Twenty-four hours a day every day of their lives, residents saw soldiers, as I did, close by on foot and in vehicles keeping relentless house-to-house pressure on every neighborhood. They broke into private homes, mosques and even hospital operating rooms, leaving a tornado-like aftermath.
A lot of residents have died. Doctors in Nablus said the number of wounded or dead was probably ten to twenty times more than reported. Injuries from beatings and stonings, illnesses made worse by gas, including the loss of human fetuses ran into the thousands.
Dozens of Nabulsis were dragged off daily for interrogations, beatings, jailing or imprisonment, without trial, for terms that can last years. On walks or from my window, it was common to see people carted off in military vehicles. A command car drove past me with two feet in white sneakers sticking out the rear. Inside, the prisoner's face was being smashed into the floor by an Israeli soldier's boot.
No safety
In Nablus I met old and young people, activists, businessmen, doctors, writers, lawyers and students. Not one of them felt safe or secure anywhere in town, and I came to understand why. Thousands of violent incidents, few of them ever reported, had touched the life of every person in town.
They stated their views respectfully, but asked me heated questions about American policy. The bitterness they felt toward the US for supporting Israel against the Palestinians poured out. They saw the American-Israeli alliance as hostile and directed against them.
A tall fellow about twenty put it this way: "Americans send bullets and gas for Israelis to shoot at us. Why do you hate us too?" When asked, I stated frankly the unwelcome opinion that the US will not, as Palestinians I met almost universally hope it will, punish Israel if it does not leave the West Bank and Gaza.
My biggest discovery was that there was no big discoveries to be made about the conflict beyond its awesome scope and pervasiveness, and the degree to which Israel had come to rely on brute force dealt out by a clumsy army to beat Palestinians into submission.
I saw what I already knew, but somehow had refused to believe could be happening in the same Jewish state meant to shelter an oppressed people. It was why the Palestinians in lands Israel rules under martial law so passionately oppose occupation, why they hate Israelis and why they feel so strongly that their struggle must continue, whatever the cost. They do believe they have little left to lose.
Murray J. Gart, 1990
Tags