The house was hard to miss. It stood on a hill in the village of al-Hashimiya in northern Jordan, and was decorated with celebratory triangle flags, fuchsia bougainvillea blossoms and banners reading "Freedom for Abdulrahman Mirie!"
Abdulrahman was sitting in his studio, surrounded by dozens of books, bottles of handmade ink and calligraphy artwork, mere days following his release from Israeli jail.
The 28-year-old calligraphist was attempting to cross the Allenby Bridge separating Jordan and the occupied West Bank with his mother on 2 August to attend a relative's wedding in Nablus when he was stopped by Israeli border guards for questioning.
Abdulrahman holds a West Bank green identity card, low on Israel's hierarchical ID system, allowing him access to parts of the occupied West Bank.
Israel bars holders of the green identity card from voting in its elections or going anywhere else in historic Palestine without special permits that are nearly impossible to obtain.
The trip "started out as routine," Abdulrahman told The Electronic Intifada.
"Then a series of violent investigations started. There were screams, insults and accusations of all possible charges. They roamed an entire list of charges from beginning to end."
They wanted "to see what would stick," Abdulrahman added.
"It's a state that operates on suspicion, on doubt. So I denied everything, of course. I was very shocked."
A few hours later, as he realized this would be a longer ordeal than he initially thought, Abdulrahman kissed his mother's forehead and told her he would see her at the wedding.
Little did they know that the arbitrary detention of Abdulrahman, and a second Jordanian citizen, Hiba al-Labadi, would last more than two months, causing diplomatic tensions between Israel and Jordan and national outrage among Jordanians.
And in all that time, Israel never charged or tried Abdulrahman or Hiba.
Asafeer
Israeli prison authorities subjected Abdulrahman to a variety of psychological and physical pressure during his time in detention.
At the al-Jalameh detention center in northern Israel, Abdulrahman was put in a cell with what at first seemed just another prisoner.
"He started venting and crying to me, and I started to cry with him," Abdulrahman told The Electronic Intifada.
"He asked me why I was brought here, I told him I didn't know why," he added. "I eventually understood that he was an investigator."
Placing informers into cells with suspects is a common tactic in Israeli prisons and used to extract information from detainees.
Called asafeer, Arabic for "birds," Palestinian collaborators attempt to befriend other prisoners to gain their confidence, extract recorded confessions and report back to the prison authorities.
Abdulrahman was moved to Eshel prison in the south of Israel soon after, he said.
"I entered and was welcomed by a whole wing of prisoners, or those purporting to be prisoners. They were all asafeer," Abdulrahman said, adding that Jordanian consulate representatives confirmed this when they visited him.
The Shin Bet, Israel's domestic intelligence agency, also interrogated Abdulrahman during his imprisonment, claiming they had a "secret file" of evidence against him that neither he nor his lawyer could view.
Almost three weeks into his imprisonment, Abdulrahman started hearing of fellow Jordanian prisoner Hiba's case on the radio. This is when Abdulrahman became aware of a national campaign to liberate him brewing outside the prison walls.
Some newly admitted prisoners would recognize Abdulrahman, making him realize he was becoming something of a cause célèbre.
"When a new prisoner was admitted," Abdulrahman explained, "he would come and tell me, 'You are Abdulrahman!'"
While Abdulrahman remained in Israeli detention, the 25th anniversary of the Wadi Araba agreement was approaching.
The agreement formally normalized relations between Israel and Jordan despite there being no restoration of Palestinian rights or an end to Israeli military occupation of the West Bank, including East Jerusalem, and the Gaza Strip.
A few days after the anniversary, Jordan recalled its ambassador from Tel Aviv "for consultation" in protest over Israel's months-long detention of Abdulrahman and Hiba without charge or trial.
Abdulrahman told the Jordanian consulate that he hopes the ambassador wouldn't return.
"I wished that I would get out and find that there is no Wadi Araba agreement anymore. We don't need Wadi Araba," he said.
Return of territories
In the days leading up to Abdulrahman and Hiba's release, Israel was set to return control of al-Baqoura and al-Ghamr to Jordan, territories that had been leased to Israel under the treaty.
Last October, King Abdullah announced that Jordan would not renew the relevant provisions in its 1994 treaty.
Al-Baqoura, an area in northwest Jordan where the Yarmouk and Jordan rivers meet, and al-Ghamr, an area south of the Dead Sea, were leased to Israel for 25 years.
"There was talk that they were negotiating Hiba and Abdulrahman for al-Baqoura and al-Ghamar as well as the Bab al-Rahma gate [in the al-Aqsa mosque compound]," Ruwaida Mirie, Abdulrahman's mother, told The Electronic Intifada.
"For me and the whole family, we were in agreement that if they wanted to return Abdulrahman and Hiba on the condition that Israel kept al-Baqoura, then we preferred that my son remains in prison."
In November, Israel returned control of the two areas to Jordan. Israeli farmers will still be permitted to enter al-Baqoura and harvest produce they cultivated before the lease ended.
Relations between the two countries are at an all-time low, Jordan's King said last week.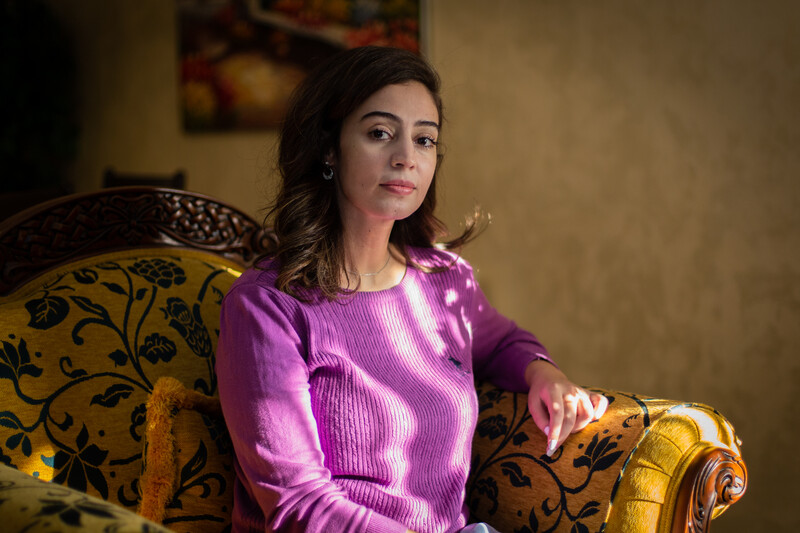 Hiba al-Labadi was arrested on 20 August at the Allenby Bridge on her way to attend a relative's wedding in Nablus, accompanied by her mother and aunt.
Hiba also holds a West Bank green identity card but lives in Amman, Jordan, where The Electronic Intifada spoke to her.
"I gave the Israeli passport guard my identity card, and he immediately said that I was a subversive and that I was being stopped."
Israeli intelligence officials took Hiba to an isolated room and questioned her about recent travels, inundating her with accusations that she consistently denied, she said.
Hours after her questioning, they locked Hiba in a room and told her that her mother had left.
"At that point, I felt that I was dealing with a gang, not with a state," Hiba told The Electronic Intifada.
"Normally, a state owns an army. But in their case, it is an army that owns a state," she added.
"There was no charge against me and they did not tell me why I was being held, and then they locked the door and caged me. How does that make any sense?"
Israeli forces put Hiba in solitary confinement for more than 30 days at the Petah Tikva detention center near Tel Aviv.
For the first 16 days, Israeli intelligence officials interrogated her for more than 17 hours each day. After that, they confined her to her cell for days on end as punishment in between interrogations.
During interrogations, Israeli officers focused on a trip Hiba had recently made to Lebanon.
"He said I wasn't being held for my Facebook posts or my writings," Hiba said, describing an interrogation with a Shin Bet agent.
"He said that I needed to understand that I was being held because I was ordered to do something in Palestine, and that I had done military work," she chuckled.
"I was wearing nail polish and I was coming to a party. My hair was blow-dried. What military work was he talking about?"
Hiba said she was questioned about every detail of her trip to Lebanon.
At some point, she said, her Israeli interrogators produced a list of every cafe she had been to in the country, along with every Wi-Fi connection she had made while there. Hiba said her phone had been confiscated, and the information likely came from there.
"One of the Wi-Fi networks I connected to was called 'Yehia and Zakaria,' so the interrogator asked me, who are Yehia and Zakaria?"
Hiba explained that Yehia and Zakaria is a popular beauty salon in Beirut where she had her hair dyed.
Towards the last week of her interrogation, Israeli officers brought out a list of 24 commanders of the Lebanese resistance organization Hizballah and asked Hiba to identify them, claiming she had met with some of them.
"For a whole day. Imagine 24 hours of continuous questioning. The next day, they displayed the pictures on a computer or TV screen, and repeated the process," she said.
After more than a month at Petah Tikva, Hiba was taken to Damon prison in northern Israel where Palestinian women are held. She remained there for a little over a week.
There she met Israa Jaabis.
"Meeting the female prisoners was very sad, it was very difficult for me. When I saw Israa Jaabis, I was very affected. Her hands are deformed and very burnt. I was outraged."
Jaabis, was badly burned when a gas canister in her car exploded near an Israeli checkpoint. The Israeli military accused her of trying to set off a bomb. She has been denied treatment for her severe injuries by Israeli prison authorities.
Days after her transfer to Damon, an Israeli military court issued Hiba a six-month administrative detention order.
She announced the launch of her hunger strike on the same day.
Israeli forces transferred Hiba to the al-Jalameh detention center in the northern West Bank shortly after, where she stayed in isolation for the remainder of her detention and her 42-day hunger strike.
Ahmad Tibi, a Palestinian lawmaker in Israel's parliament, visited her about two weeks into her strike and informed her of the making of a deal involving her release and the return of al-Baqoura and al-Ghamr.
"He told me I was being traded for land," Hiba said.
"I told him to listen to me, tell the foreign minister that I will not leave prison in a humiliating way, and the Jordanian people won't accept it. I will not be traded for land. I would keep my strike going forever."
Hiba said the same when she was informed that there was a possibility she would be released without Abdulrahman.
A few weeks into her strike, her health deteriorated and she was hospitalized multiple times.
While at the Bnai Zion Medical Center in Haifa, an Israeli prison commander visited Hiba to try to convince her to end her strike.
"He told me they would do anything I wanted," Hiba told The Electronic Intifada.
"I told him, would you make my father a West Bank green identity card?"
While Hiba's mother and siblings have West Bank identity cards, her father does not, preventing him from visiting without first having to obtain an Israeli visa.
"He said, I'll give you my word and we will make it official. End your strike and we will give it to your father. I said, do you see how important this is to me? Even that I don't want. I am not ending my strike."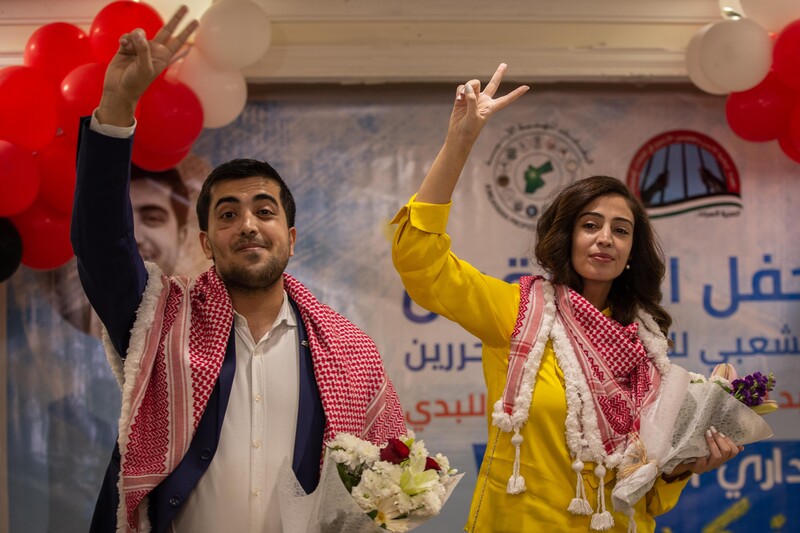 On 4 November, Jordanian foreign minister Ayman Safadi announced that Hiba and Abdulrahman would be back in Jordan before the end of the week following an agreement with Israel.
Hiba then ended her strike, and both she and Abdulrahman were given a hero's welcome from family, Jordanian officials and press at the Allenby Bridge on 6 November.
Abdulrahman is determined to visit the occupied West Bank again, not least to taste the most famous dessert in Nablus.
"I used to get knafeh from Nablus and it would still be hot by the time I returned."
Hiba is still recovering from her strike, however, with regular doctor visits. She says she hopes to visit again, "in a free Palestine."
Tamara Nassar is associate editor of The Electronic Intifada.
Tags