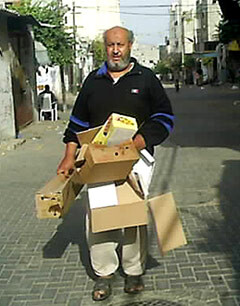 Forty-eight-year-old Riyad Hammad from the Maghazi Refugee Camp in central Gaza woke up on Friday morning whilst his wife sat before a wood-burning stove. He headed for a nearby store, not to buy cookies, or anything else, but rather to bring some used papers and pieces of carton outside the store's front door to his waiting wife.

Since being cut off of work following the outbreak of the intifada in 2000 and the imposition of Israeli closures, Riyad has been collecting torn-apart carton packing material and used papers in order to save a few shekels due his inability to afford gas and electricity.

In their 120 square meter, two-storey house that Riyad constructed twenty years ago, a small traditional Palestinian stove — of the years prior to the displacement by Israel of Palestinians in 1948 — lies in a small rubbish-filled room.

The cookies have arrived — rather, the cartons and used papers have arrived — as Riyad's wife takes them from her husband's hands and starts happily baking loaves of bread, while the children wait for their breakfast.

It is nearly 8:00 am when the whole 12-member family wakes up, the father standing beside the stove, the sons and daughters upstairs, preparing their breakfast.

Gray-bearded Riyad sighs and says, "What a Labor Day you are talking about. Labor Day used to be well-celebrated before I became jobless eight years ago. But now I can hardly remember myself.

"I have four children who study at university; I cannot afford their tuition, even their transportation. I need about 70 to 80 NIS a day [$20 US dollars], but I do not have a single penny of income."

He adds, "I cannot pay for gas and electricity and I don't have a telephone; I have been idle for eight years, during which all my savings, including my wife's dowry, were spent. My life has become miserable; I spend the time going from home to mosque and vice versa. I only sleep two hours a night — I am in total despair."
The assistance Riyad receives is only some kilos of sugar, rice, flour and cooking oil, provided by the United Nations Relief and Work Agency for Palestine Refugees in the Near East (

UNRWA

) every three months, and this is not enough for such a large family.

"Every three months, the UNRWA gives us three kilos of rice, three kilos of sugar, two liters of oil and 30 kilos of flour for each registered family member, and that is not enough. That is not enough."

Eman, Riyad's 20-year-old and eldest daughter, who refused to be pictured, says, "My father's situation is so desperate, and we try to help him as much as we can. I am forced to stay at the college for prolonged hours in order to take late lessons, just to save money on transportation.

"This has embarrassed me in such a very conservative society; however, what can I do? We need to learn to [cope with the] great loss we are going through," Eman explains.

Approximately 100,000 Palestinian workers in the Gaza Strip have been cut off from their work in Israel since the outbreak of the second intifada in September 2000, creating large-scale unemployment in the 360-square kilometer coastal Strip.

This unemployment rate has doubled with the imposition of an international economic embargo after a Hamas-led government took power following the January 2006 parliamentary elections.

Rasem Albayary, head of the Palestinian Labor Union, says that the Israeli government's policies are responsible for the current deterioration in all labor sectors.

"Since the second intifada in late 2000, the Israeli authorities have closed the crossings, barring the access of workers to many sectors such as farming, industry and construction, to the extent that I recall that the days of closure mounted to 220 in one of the previous years," Albayary states.

He explains that now with the continued economic embargo and closure by Israel of crossing points, the poverty rate has soared to about 85 percent, while the industrial, farming and fishing sectors have been greatly affected as more than 350 factories have been closed, leaving thousands of workers jobless.

Albayary asserts that the Labor Union is no longer able to provide any assistance to the workers, either direct financial assistance or by helping create new job opportunities, while the only service the union offers is a "free-of-charge health insurance."

The agriculture sector, a principal source of income for the Palestinian population in Gaza, has been severely plagued by Israeli policy and the economic boycott, with losses totaling more than $300 millions, according to the Palestinian Ministry of Agriculture.
Mohammad Al-Agha, Palestinian Minister of Agriculture, says the agricultural sector has suffered great damage over the past years.

"Tens of thousands of farmers have failed to export their products due to the closure, while thousands of acres of farmland have been either confiscated or bulldozed by the Israeli Army," the minister maintains.

The minister also says that over the past 14 months, the ministry has received very little assistance compared with previous years. The only assistance the agriculture ministry has benefited from has been given by Spain, WFP and the UNDP, and this assistance has been inadequate.

The minister called on the EU and the United States to resume financial aid to the Palestinian people to avert further economic deterioration. He also called on people to pressure their governments until the economic embargo is lifted.

In her most recent appeal for funds, the UNRWA's commissioner general, Karen AbuZayd, appealed for an emergency fund of $240 million to help UNRWA provide assistance to 4.2 million Palestinian refugees.

The Israeli closure of and military operations across the Gaza Strip, as well as the 14-momth-old international economic embargo on the Palestinian government, has forced the Palestinians to live under the poverty line, as unemployment hit the highest records in recent years.

The United States, European Union, United Nations and Russia still demand the Hamas-led government to recognize Israel, renounce violence and accept previous signed agreements as preconditions to lifting the crippling economic embargo.

Palestinian President Mahmoud Abbas signaled the possibility that the embargo will soon be lifted; yet, who can predict when Riyad will be able to bring cookies and fruit instead of used papers and cartons to his 10 children?

All images by Rami Almeghari.

Rami Almeghari is currently contributor to several media outlets including the Palestine Chronicle, aljazeerah.info, IMEMC, The Electronic Intifada and Free Speech Radio News. Rami is also a former senior English translator at and editor in chief of the international press center of the Gaza-based Palestinian Information Service. He can be contacted at rami_almeghari@hotmail.com.

Related Links