On Saturday I visited my aunt in Ramallah. The town seemed quiet. Even passing through Qalandia checkpoint seemed easier then before. 'We thought that they were going to enter last night', said my aunt suspecting another Israeli invasion of Ramallah and El-Bireh.
As we left Ramallah towards Qalandia we already noticed a huge line of waiting commuters, men, women, and children. Step by step we slowly moved forward between the barbed wires and cement blocks, awaiting to present passports to Israeli soldiers behind their cement bunkers, guarded by an armored personnel carrier. An Israeli soldier on top was playing with a weapon-mount ring, wich carries the .50 caliber machine gun.

Cars were not allowed to pass through at the time we started to line up. Finally as we almost got to the point from which we could walk over to the soldier, they got nervous. The shouted at the people waiting to move back. People in line refused to move back. After a few minutes soldiers waved their guns ordering everyone to step backwards. Reluctantly some did. As we finally moved forward and we showed our passports we walked around the cement blocks and barbed wire and walked next to the high fence on our way to the other side. 'Look', Annet says, 'there at these guys, they are handcuffed with plastic ties.' I looked to the other side of the road, near the watchtower and saw two Palestinian men sitting on the ground with their hands tight behind their back. Two others were standing. One soldier was apparently guarding them.

When we finally reached the other side of Qalandia checkpoint we noticed that nobody was allowed to enter. I cannot even estimate the total number of people waiting there in the sun. We passed a journalist who was arguing with some soldiers. I could barely hear one of the soldiers saying: 'Look we don't have time for this, just move to the row and wait in line. We told you before.'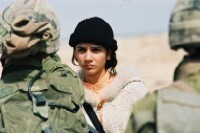 On the hill overlooking the mass of waiting people a soldier was pointing his gun down. Four other soldiers were walking back and forth to the line. They seemed to be nervous and angry. Also Palestinians commuters were fed up. We passed them. An armored personnel carrier was parked behind the mass of people. One soldier sitting on top with his finger on the trigger of the machinegun.

'I wished I could releave some anger,' says Annet. 'I don't want to cross this checkpoint anymore, it makes me so angry.'

This is probably the result of tighter Israeli restrictions on the movement of people and goods in occupied Palestine. This is the effect of Israel's apartheid in practice. Today, ditches and razor-wire fences have sprung up around Palestinian towns and villages.

That same day, a Palestinian woman gave birth at a checkpoint near Bethlehem after Israeli soldiers did not allow her to pass. Fadia and her husband from the village of Nahhalin, southwest of Bethlehem, had tried a different route, when they were stopped at yet another checkpoint near Beit Jala. They called an ambulance as the Israeli soldiers surrounded the car and watched Fadia giving birth. The ambulance arrived too late to assist with the birth. The baby died forty minutes later of a lung disorder at the Holy Family hospital in Bethlehem.

Last Wednesday, Israeli soldiers shot and killed a Palestinian man at a Bethlehem checkpoint.
Back at the office, Mahmoud Khaloof, a journalist at

WAFA

, the Palestinian news agency, and chief editor of al-Rawaj tells me that he had to strip before soldiers at a checkpoint near Nablus on his way from his hometown Jenin to his office at

WAFA

in Ramallah. He did not expect his international press card to be the joke of the Israeli army. Mahmoud is a journalist from Jenin. At a checkpoint near the village of Doma, near Nablus, Israeli soldiers stopped him. They forced him to undress at gunpoint. He was left in only his underwear. One of the soldiers said: 'We have nothing to respect. We do not care if you are a journalist or not. Your press card and membership of the International Federation of Journalists mean nothing to us.'

Mahmoud was not the only Palestinian forced to strip that day. He was among thirty others, mostly teachers and a lawyer. To strip Mahmoud was apparently not enough for the Israeli soldiers. They also beated him, leaving his right hand bruised. Dozens of Palestinians have complained about humiliation, degrading and cruel treatment of regular and reserve Israeli soldiers.

Mahmoud thought: 'I will not take off my clothes even if they had to shoot me.' That was not so easy. At gunpoint anyone would undress, unless his life has become cheap. Mahmoud thought: 'These lawless troops would definitely enjoy to shoot and kill me and would easily get away with murder.' He finally decided not to give them the pleasure. If you think this is an ugly exception, you're mistaken. This is a daily nightmare that Palestinians have to face everyday.

Also, it was not the first time Mahmoud was injured. As is the case of thousands of Palestinians, he was wounded several times by rubber coated metal bullets. Israeli soldiers previously threatened to kill him at checkpoints in Surda and Qalandia. Mahmoud is separated from his family by dozens of roadblocks and checkpoints. When Mahmoud decided to go home to Jenin, instead of proceeding to Ramallah, the soldiers forced him to undress at gunpoint.

Photo: A Palestinian boy watches his relatives through a barb wired fence erected by Israeli soldiers around Bethlehem, REUTERS/Goran Tomasevic. Other two photos: Qalandia checkpoint, Jeroen Kramers.