This weekend, Baker Naji Allan was beated and physically abused by the Israeli Border Police. On Saturday, Baker went to work at 7 o'clock in the morning. He works at a gas company, delivering gas barrels. The company is located in Beit Hanina al-Fouka. To by-pass a checkpoint in Dahiyat al-Barid, he took a dirt road, near the old Ram checkpoint. A military jeep arrived.
Four Border Policemen got out of the jeep and started to chase those who took the dirt road. He ran away but the four caught him on a hill in Beit Hanina behind the Nusseibeh buildings, the scene of the extra-judicial execution of Mahmoud Salah in March.

The four policemen started to beat Baker and pulled him to the top of the hill, where they first scarred the Star of David on his left arm, then an X on his right cheek and they scarred his forehead and kept beating him until 10 o'clock.

They kept Baker detained for several hours. However, the four Border Policemen did not ask him for his identity card nor his name. Suddenly the policemen saw other Palestinians going through the same dirt road, they left Baker on the hill and started to chase other Palestinians. At that moment, Baker ran away and when he arrived home, his brother Samir took him to the Augusta Victoria hospital where he was treated.

Israeli military checkpoints are dangerous places in Palestine. Expectant mothers represent a particularly vulnerable group in need of medical care and require, therefore, special protection. Despite this fact, expectant mothers on their way to hospitals have been stopped at Israeli checkpoints. In some cases, women have miscarriages, in other cases expectant mothers have given birth at military roadblocks.

On May 29, 26-years old Mahmoud Ahmad Snobar from the village Yitma, near Nablus, was shot and killed by Israeli soldiers. Every day he used to travel on a dirt road between the villages of 'Asreen and Za'atara to reach his work at one of the schools. This road has been closed by a dirt-pile erected by the Israeli army to hinder movement between the villages and cities. Mahmoud's growing frustration with the difficulties getting to work made him decide to open roadblock. On May 29, he went to the roadblock with a shovel and tried to remove the dirt-pile. An Israeli military patrol saw him and shot in him the head and killed him.

That same day, seventy years old Ghalia Ahmad Shallah from Rafah, was held at a checkpoint for eight hours and died because she was prevented from receiving medical treatment. She felt ill in the morning and her family decided to bring her to the hospital in their car. They left their home at 11 o'clock but when they reached the military checkpoint at the Matahin junction, just north of Khan Younis, the soldiers did not allow them to pass. Ghalia's family pleaded with the Israeli soldiers to let them pass and proceed to the hospital. Ghalia was feeling worse, but the Israeli soldiers refused to let them pass.

After eight hours waiting at the checkpoint, Ghalia suffered a heart attack. The family had called for an ambulance, which only after coordination with the Red Cross was allowed to drive to the checkpoint. The ambulance was stopped and checked thoroughly for about fifteen minutes before it was allowed to pick up Ghalia and bring her to hospital. When she arrived at the Nasser hospital in Rafah, the doctors pronounced her dead.

One day earlier, at 4 o'clock in the morning, Fa'ida Najajrey, from Nahaleen, a small village to the west of Bethlehem, went into labour. Her family had put her in a car and drove on the fastest route to the hospital, but near the village of al-Khader, a trench and concrete blocks placed around it prevented them to cross the road. Since she was in pain, Fa'ida could not walk around it. They then called for an ambulance in Bethlehem, but the station said it could not get to that particular roadblock. They were adviced to go to another one instead near Beit Jala. When the ambulance met them there, Fa'ida was already giving birth. A nurse from the ambulance managed to cross the roadblock and assisted her. The baby, who she never had the chance to name, was born with a lung problem and did not survive.
Almost a week before that, Tarab Ghalid Fayez's baby died on May 23, when she, Tarab, was prevented from reaching hospital to give birth. Early morning, Tarab went into labour. The doctor at the local medical center in their village of Jeresh recommended they transfer Tarab to a hospital in Nablus as it seemed she would require more medical care than the local center was equipped for. Her husband called an ambulance which never arrived as Israeli soldiers and tanks were surrounding Nablus and prevented the ambulance from leaving the city. The couple then used private transportation to reach Huwwara military checkpoint, where Israeli soldiers forbade them from going any further. Tarab and her husband were then forced to use a dirt road. Her husband, Khalid walked while Tarab was transported on the back of a donkey cart for five kilometers. When the couple finally reached Rafidiya hospital four hours later she had suffered internal bleeding and the infant had died.

Beyond the daily arbitrariness and the fear it involves, Palestinians are subject to daily harassment, humiliation, beatings and other forms of violence perpetrated by Israeli soldiers at checkpoints or on dirt roads. These include beatings (including with objects), kicking, punching, slapping; curses, insults and threats; forcing at gunpoint men to pair off and beat each other; forcing passengers to line up against a wall; forcing passengers to wait for hours in the heat with the windows of their cars rolled up and without air-conditioning; holding up passengers for hours at roadblocks with not reason; confiscating ID cards and car keys of drivers attempting to bypass checkpoints; asking for "passage fees" such as cigarettes or drinks; shooting at vehicles and pedestrians, sometimes resulting in injury or even death; and deliberately damaging vehicles.

On 8 March 2001, Palestinian attorney Midhat Deibeh from Palestinian neighborhood Shu'fat in East Jerusalem, was on his way to Jerusalem, when Israeli soldiers stopped him at a military checkpoint near the Pisgat Ze'ev settlement and told him to open the boot of his car. In the boot, they found a spade and some plants.

The soldier asked him what the spade was for and he said it was for gardening. When one of the Israeli soldiers started throwing his plants on the ground, Midhat told him to stop and that the soldier was violating the law. The soldier ordered Midhat to turn around and he started to hit him. Midhat was hit on his head with something he said 'felt as if it was made of heavy rubber'.

As a result, Midhat had a broken bone in his right hand and a blood clot in his right thigh. After the soldiers abused Midhat, he was arrested, claiming that Midhat had attempted to assault one of the Israeli soldiers. When he was taken into a military jeep, Midhat saw how Israeli soldiers had assaulted Atef Ali and Maher Haddad, both also from Shufat, after getting them out of their cars. They were severely injured and needed five stitches in the head. Atef and Midhat were taken to the detention and interrogation center at the Russian Compound and accused of assaulting a soldier and were later released on bail of 750 US dollars.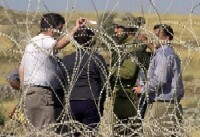 On 16 June 2001, Israeli soldiers at a checkpoint at the West Bank village of Surda near Ramallah, beated Samir Salim from Jalazone refugee camp leaving him badly bruised. That same day, Mohammad Imtair from Qalandiya was beaten by Israeli soldiers at the Qalandiya checkpoint, leaving him with a deep head wound. Also that same day, Faisal Abu Sabha, from the West Bank village of Yata near Hebron, was beaten by Israeli soldiers at the Beit Anun checkpoint. He sustained bruises from the beatings. The soldiers trashed his car and the windshield of his car was shattered.

Two days later, in the morning of June 18, Israeli forces patrolling Alon Moree bypass road assaulted Ahmad Bani Shamsa who was travelling on the mountainous dirt roads east of Nablus. Ahmad Bani Shamsa had to be taken to Rafidia hospital in Nablus. Three days later, at around 6 o'clock, Haroun Abu Diak, from the West Bank village of Selit Al Taher, was subject to severe ill-treatment by Israeli soldiers stationed at the village entrance, because he had allegegdly violated the curfew imposed on the village. As a result, he suffered a fracture in his right hand as well as bruises and injuries in various parts of the body. Three days later, on June 24, Israeli soldiers stationed at the Al Taibeh military checkpoint hit, kicked and beat with rifle butts, Fares Jar'aneh, a worker from the West Bank village of Aktaba, near Tulkarm, who was on his way home from work inside Israel. As a result, he sustained bruises on various parts of his body.

Israeli officers confirmed to the Israeli newspaper Ha'aretz that 'the incidents which have so far been exposed are the mere tip of the iceberg in what is actually a much broader phenomenon' and that despite strict orders by more senior officers 'in practice it's not difficult for a group of soldiers to abuse Palestinians' (Ha'aretz, 23 July 2001).

Impunity from liability for such acts has resulted in a general atmosphere of permissiveness in the ranks of the Israeli security forces and has contributed to recurrent patterns of abuse at checkpoints although in rare cases soldiers have been punished for their behaviour. On 22 August 2001 the Israeli army pressed criminal charges against soldiers. On that day, four soldiers of the Shimshon Brigade (as they were referred to in the press) accused of beating, stoning, humiliating and vandalizing cars and were indicted in the military court of the Southern Command. The incident occurred on 23 July 2001 near the village of Hirbat Karame in the Hebron area and was first reported by B'Tselem.

To read a recent report on the impact of checkpoints around Jerusalem click here.

The first picture shows 19-years old Baker Naji Allan with his injuries to his arm, cheek and forehead (courtesy LAW. The second picture shows an Israeli soldier aiming his M-16 assault rifle towards Palestinians waiting to cross the Qalandia military checkpoint near the West Bank town of Ramallah on May 29, 2002 (REUTERS/Mahfouz Abu Turk) and the third picture shows a Palestinian showing his identity card to a Israeli soldier after being stopped trying to cross through a hole in the barbed wired fence that separates the northern outskirts of occupied East Jerusalem with the rest of the Occupied Palestinian Territories near the Qalandia checkpoint on May 28, 2002 (AP Photo/Enric Marti).