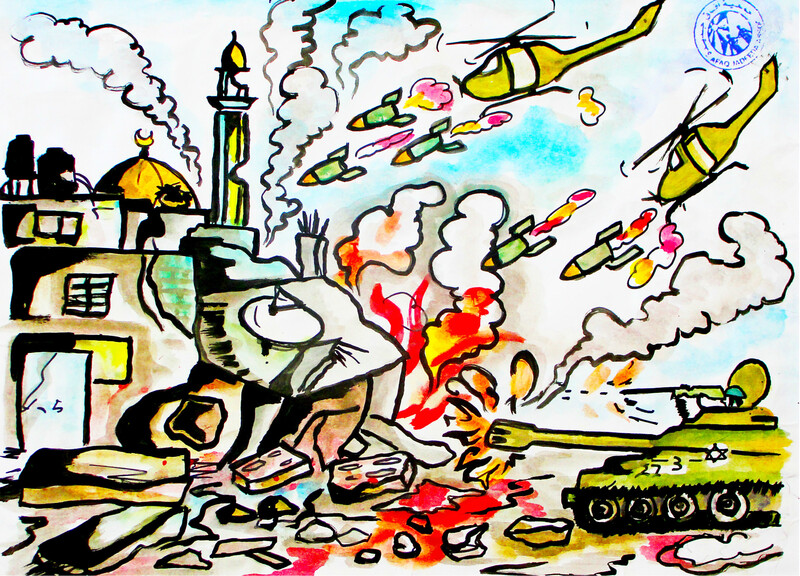 The drawing is a crayon sketch of a shoe. While that in itself might not raise eyebrows, this shoe is not an ordinary one. With a line drawn on the calf area, the top section of the shoe is blue and white and shaped like the Israeli flag. Under the shoe is the red, green and black Palestinian flag, with crayon blood drawn below it.
The artist of the shoe portrait is Aid Ahmad Halabi, a third grader. This little image drawn with crayons contains in itself political symbolism and striking emotions. Not what you would normally expect from an artist of that age.
Then again, this child lived through a war.
Organized by Canadians for Justice and Peace in the Middle East (CJPME), A Child's View from Gaza is an exhibition that features 26 drawings created by school children in Gaza. The ages of the artists vary from five to 14 years old. The exhibition is touring Quebec, Ontario and eastern Canada's Maritime provinces. The Montreal section of the tour features the aforementioned artwork, as well as accompanying photographs from Operation Cast Lead, Israel's attack on Gaza in late 2008 and early 2009.
A Child's View from Gaza is a project that was started by Palestinian rights activist Susan Johnson. It was originally exhibited in various parts of the United States last year and drew some controversy around it when a museum in Oakland cancelled its scheduled display of the exhibition under pressure from Zionist groups.
According to Megan Bénéat-Donald, a spokeswoman for the CJPME, there were no issues in bringing the exhibition to Canada. "The response so far has been overwhelmingly positive — from both our Quebec City and Montreal openings," she commented via email. "We did encounter a few negative responses — mainly from folks who felt that the exhibit was simply trying to denigrate Israel's image."
Thought-provoking
Children taking part in the project were asked to draw pictures dealing with three possible themes: their experiences during Cast Lead, life in Gaza, or their hopes for the future.
The results were thought-provoking images that showed maturity beyond the artists' years. Recurring themes in most drawings include sketches of ambulances, Israeli helicopters dropping bombs, bulldozers, injured people, destroyed houses and tears.
One drawing by 10-year-old Asil was of a little girl in pigtails with prison bars in front of her. The girl has a sad face and a bandage on her forehead, which is leaking blood. Scrawled on the drawing in small writing are expressions that when translated from Arabic to English say, "Where is my right to safety? Where is my right to freedom? And lift the siege on Gaza."
Bombing of school
Another drawing (the artist's name is not known) shows the bombing of a United Nations school. The building, which is carrying the UN flag, as well as the flag of Palestine, has a helicopter on top of it, which is firing a rocket. People are running away frantically, others are injured on the ground and some are in flames. There is also an ambulance in the corner, with two nurses, who are attempting to attend to the injured.
The most sophisticated piece in terms of artistic skill is a detailed watercolor drawing of Israeli helicopters and rockets destroying a mosque, which is already half in flames.
The fear, anger and desperation depicted throughout these images reflect a sad reality. During the 22 days of Cast Lead, bombings and air strikes by Israeli forces led to the deaths of approximately 1,400 Palestinians, including hundreds of children and civilians, and caused thousands of injuries.
Numerous investigations by human rights groups, as well as the UN-commissioned Goldstone Report, have documented the indiscriminate nature of Israel's attack, as well as shocking violations including Israeli soldiers' use of children as human shields. An Amnesty International report referred to tank shelling that targeted "anything that moves" ("Operation 'Cast Lead': 22 Days of Death and Destruction," July 2009 [PDF].)
It is no wonder that these drawings are not what one would expect a typical child to draw. Being caught in the middle of shelling and watching people die or get hurt can have a serious effect on children. Perhaps what is most surprising is how aware the children are of the political backgrounds that influence the conflict.
Politically aware
For example, in one drawing, also drawn by Aid Ahmad Halabi, there is a missile in the corner of the picture that has both the flag of the United States as well as the flag of Israel colored on it.
A Child's View from Gaza takes us away from news reports, numbers and figures and shows directly the effects it had on children, by using crayons, watercolors and colored pencils. In a sense it personalizes the attack and reflects the atrocities that took place and the psychological consequences for the children of Gaza.
According to a fact sheet on the war created by CJPME on March 2012, "this assault inflicted deep psychological damage on thousands of children. Any event that overwhelms a child's ability to emotionally cope can have a serious impact on their psychological development, but exceptionally violent, frightening or prolonged events will have even deeper consequences."
These consequences included post-traumatic stress disorder, depression and other psychological issues. The bulletin for the exhibition mentioned that one of the themes that the children were asked to draw about was "their hopes for the futures." However, amid all the drawings, none appeared with such a message.
Looking at a brightly colored drawing by a fourth grader that shows an Israeli soldier smiling and aiming a rifle at a person who is bent on their knees with hands raised in the air, one can conclude that this might be the reason why. Witnessing these atrocities makes it difficult to have hope.
Shereen Ahmed Rafea is a third-year Journalism student at Concordia University, in Montreal, Quebec. She is the website editor for the Concordia chapter of Journalists for Human Rights. She is also a staff writer for the school newspaper The Concordian.
Tags