BRITISH POLICE INVESTIGATION INTO KILLING OF TOM HURNDALL TO EXTEND ITS REMIT TO INCLUDE THE KILLING OF JAMES MILLER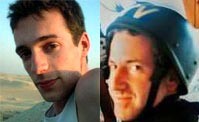 In a rare move Dr Knapman - the Coroner for Westminster, has agreed to transfer the jurisdiction of the inquest into the death of Tom Hurndall in Rafah, Gaza last April, to the jurisdiction of Dr. Reed - the Coroner for Camden. Dr Reed is currently responsible for the inquest into the death of James Miller — another British national who was killed just over a week after Tom in Gaza. After hearing oral argument and receiving written representations from the lawyers for the family of Tom Hurndall - Imran Khan
&
Partners, on the need for the inquest to explore the systemic issues behind a series of killings of British nationals in the Occupied Territories - Ian Hook, Tom Hurndall and James Miller (in line with the House of Lords judgement in Amin), Coroner Knapman gave the go ahead for the transfer to take place.
The transfer which was made possible under section 14 of the Coroners Act 1988, recognises that because a series of deaths has occurred in similar circumstances and over a relatively short space of time, it is unlikely that each incident is an isolated incident and that as more than one of the incidents fall within the jurisdiction of one coroner, it is incumbent upon the investigating Coroner to explore all systemic causes and simultaneously gather evidence pertinent to all cases - to establish to what degree 'the incidents are the product of a more complex systemic problem'
Dr Reed has confirmed that he intends to extend the remit of the Serious Crime Directive of the Metropolitan Police to include an investigation into the death of James Miller.
The family of Tom Hurndall and of James Miller both welcomed the news yesterday and believe that this represents a major development in their attempts to get at the truth behind the killings.
Jocelyn Hurndall - Tom's mother restated her concerns that 'whilst there had been an arrest and an indictment in the case of the killing of her son, she was conscious of attempts by the Israeli Defence Force to distance themselves from the responsibility of creating what was clearly a culture of killing with impunity within the Occupied Territories.' She said that 'it was important that Tom's life counted for something and that all efforts must be made to get at the root cause of the killings so that they cannot happen again.'
For more information please contact family spokesperson: Carl Arrindell: +44 (1) 634-831-975
Related Links