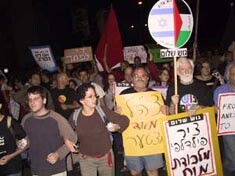 It's the third day of the vigil at the entrance to the Gaza strip from Sufa checkpoint. Demonstrators are prevented access to the road leading into the Gaza strip, that has been announced a closed military zone.
Yesterday former member of Knesset Tamar Gozansky has been able to get into the Gaza strip, but she couldn't approach Rafah itself, that is completely under siege with Tanks watching all its entrances and exits.
The protesters, from different Israeli (and some international) groups and movements, including ICAHD, have gathered to protest what is known in Israel as 'Operation Rainbow' - the invasion into Rafah city. They are holding signs calling: "Not in my name", "Down with the occupation", "Sharon-Mofaz-Ya'alon to trial", "collective punishment is a war crime" etc.
Yesterday morning we already had a feeling that events in Rafah have crossed another threshold. From where we stood, we could see the Israeli troops entering Gaza: tanks and other armored vehicles and carriers, jeeps, military police, and, of course - Caterpillar bulldozers. There was hardly a moment with no traffic.
At noon we spotted helicopters above us, fling towards Rafah city. We were too far away to hear or see anything. A few hours later we heard the terrible news on the radio.
Israelis keep asking: why don't Palestinians engage in non-violent protests? Yesterday's mass killing from the air showed exactly that Israeli vicious brutality leaves only a violent path for its opponents - even when they engage in non-violent initiatives.
And at the same day, Israeli media, institutions and schools were celebrating "Jerusalem's unification day" - 37 years to the occupation of east Jerusalem.
Tel-Aviv: Israeli brutality strikes again
As a spontaneous respond to the murder of innocent young and adults, some 500 people gathered in Tel Aviv last night. We came straight from the vigil at Sufa.
We started in front of the defence ministry, and after half an hour we got off the pavement and startied walking on the street, blocking both lanes. We shouted: "Soldier, stop! You must refuse!", "Don't shoot, don't cry, refuse to be occupiers!", "No to occupation - Yes to peace", "Sharon, Mofaz - how many kids have you murdered today?", "Ya Sharon, Yallah Yallah, get out of Rafah and Ramallah".
After 45 minutes special police forces started raiding us, beating a few protesters with sticks and isolating them from the crowd. I tried to defend a friend from being beaten up and arrested, and I was dragged myself. Eight ended up arrested, including minors, three of them wounded.
This morning the judge who has released the eight said police was using force to deny us from our freedom of speech. Well, it seems like the occupation just can't be interrupted right now. Don't let democracy stand on your way, Sharon.
Tommorrow another mass protest is expected at Sufa junction.
Related Links
BY

TOPIC

: Israel's "Operation Rainbow" in Rafah, Gaza
Naama Nagar is affiliated with the Israeli Committee Against House Demolitions