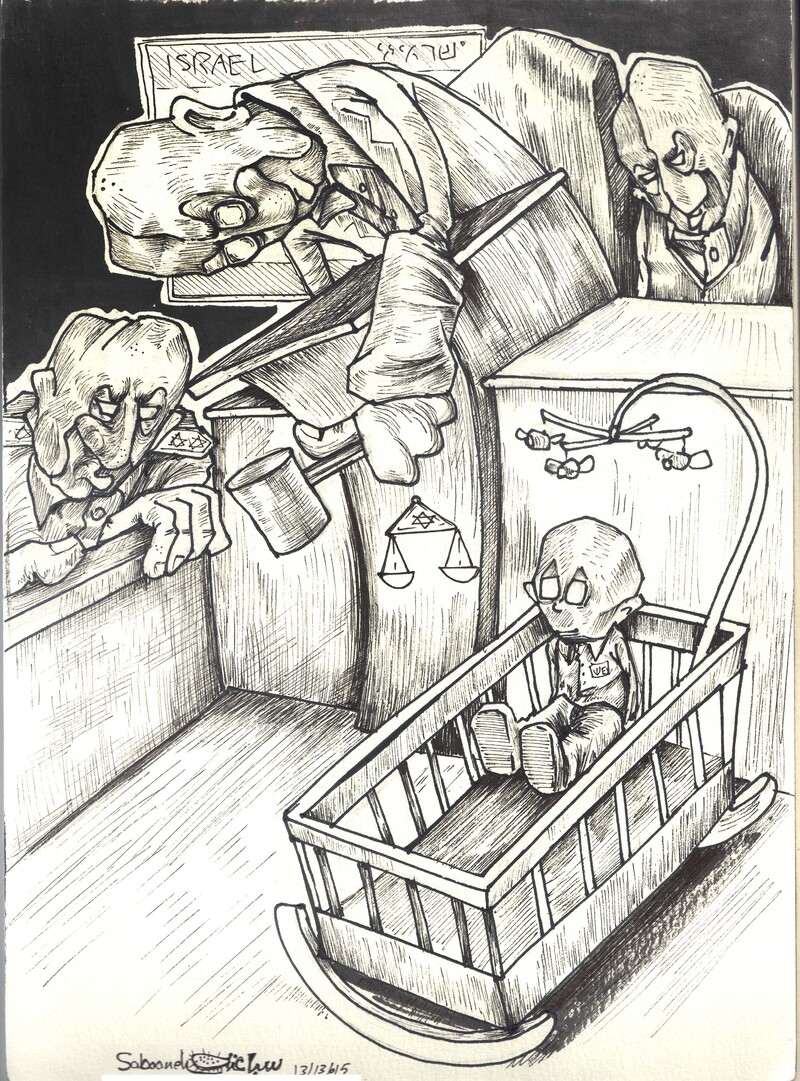 Hussam al-Sheikh held up a picture of his 15-year-old son, Khaled, and explained how Israeli soldiers arrested him on Christmas Day.
Khaled was arrested while playing with friends near Israel's wall in the occupied West Bank to the south of Beit Anan, the Jerusalem-area village where the al-Sheikh family lives. Israeli soldiers accused him of throwing stones, although Hussam maintains there was no one in the area to hurt.
"How does throwing stones at a concrete wall hurt anyone?" he asked. "Are we really supposed to believe that a 15-year-old child is a threat to Israel?"
Recalling that Khaled was arrested around 3:00pm, Hussam said he was not allowed to see his son until midnight. "I arrived at Binyamina, the settlement where they were holding him. I was only allowed to see him through glass," he told The Electronic Intifada, explaining that the child's face was bruised and covered with dried blood.
Khaled was just one of more than 1,200 Palestinian children detained by Israeli forces in 2014, according to the Palestine Liberation Organization's statistics.
The PLO has calculated that Israel has detained approximately 10,000 children since the year 2000.
Between 500 and 700 children are prosecuted in Israeli military courts each year, including some as young as 12, Defence for Children International-Palestine has reported.
After several Israeli military court sessions, a judge eventually sentenced Khaled to four months in prison and fined his family 2,000 shekels (approximately $500).
Though Israel claims to afford Palestinians due process, a 2011 military document leaked to the Israeli daily Haaretz shows that more than 99 percent of Palestinians tried in West Bank military courts the previous year were found guilty.
An estimated 6,000 Palestinians — among them 163 children — were being held in Israeli jails as of 1 February, according to Addameer, a Ramallah-based prisoners' rights group.
"We always hear horror stories"
Hussam worries about his son's health. Because Khaled suffers from anemia, he has to visit the doctor for checkups regularly and take medicine three times a day.
"The [Israeli] authorities won't let me talk to him, so I cannot be sure if he is receiving the proper health care," Hussam said.
Though Hussam and his wife have submitted several requests to visit Khaled in lockup, Israeli authorities have not replied to any of them. "We are still waiting for a response," he said.
Hussam was only able to see his son during court hearings at Ofer, an Israeli military prison near Ramallah. However, he was forced to sit in the back row and was warned he would be expelled if he attempted to communicate with Khaled.
"He looked very sick," Hussam recalled. "That's why I am worried they aren't giving him the right medicine, or maybe not the right dosage. His illness has to be monitored closely by a doctor. We always hear horror stories about health care in [Israeli] prisons."
After one of the court hearings, Hussam was stopped by Israeli officers as he attempted to leave with his wife. "They let everyone go outside but me," he remembered. "Then they threatened to arrest me because I've been speaking to the media about my son's case."
He was eventually allowed to go home.
Regular abuse
Hussam believes that the bruises and blood on his son's face were the result of soldiers beating him while they were en route to the interrogation center in Binyamina.
Khaled is not Hussam's only child to be arrested by Israel. Three more of his sons were also arrested at various times throughout their childhoods. Each of them, he said, experienced physical violence at the hands of Israeli soldiers.
These are not isolated cases. Research by Defence for Children International-Palestine indicates that three-quarters of Palestinian children detained by Israel in 2014 endured some form of physical violence between the period of their arrest and interrogation. Half of them were also strip searched.
Between 2012 and 2014, Israel also held 54 children in solitary confinement before charging them with any offense.
Israeli interrogators often blindfold, bind and threaten children, according to various human rights groups. A report published in August 2013 by the Israeli human rights group B'Tselem paints a horrifying picture of the systematic abuse Palestinian children face during Israeli detention.
From November 2009 until July 2013, B'Tselem investigated dozens of cases of abuse in a police station in Etzion, a Jewish-only settlement in the West Bank. From fifty-six child detainees, at least twelve reported that interrogators threatened them or female relatives with rape, genital injury or other forms of sexual violence.
A recent report by UNICEF, the United Nations children's fund, reaches similar conclusions. From 208 affidavits that UNICEF collected in 2013, at least 163 children reported not being adequately notified of their legal rights, especially the right to a lawyer and the right to remain silent.
Back in Beit Anan, Hussam and his family are waiting for Khaled's release date on 24 April.
"We are scared about the way he has been treated behind bars," Hussam said. "We have no idea what he has gone through since we aren't allowed to speak to him. We just want him back home."
Patrick O. Strickland is an independent journalist and regular contributor to The Electronic Intifada. His website is www.postrickland.com. Twitter: @P_Strickland_
Tags