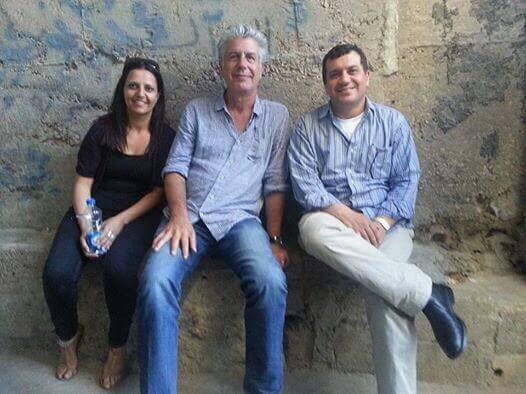 Our cigarette smoke was mingling with the fumes coming out of cars lined up bumper to bumper trying to cross the Qalandiya checkpoint separating Ramallah from Jerusalem in the Israeli-occupied West Bank.
We stood on the sidewalk watching the camera crew prep the grounds for our walk by the separation wall. "You know I can't cross with you to the other side," I said.
Without reply he set out, past a gallery of graffiti, toward the army tower, strolling unhindered alongside the giant wall.
Unlike many journalists and foreign visitors who had crossed my path while working as a field producer, Anthony Bourdain did not once put me or anyone I introduced him to in a position to "explain" our humanity.
A man of few words, he embodied what it means to "just be there" and be witness to someone's painful experience without having to provide trivial sympathies or sprinkle salt on wounds still open.
This was our first encounter as he arrived in Palestine, where I accompanied him on a journey to tell the story of a largely "unknown" and misunderstood part of the world – my world.
The spark of our first lit cigarette was preceded by months of pitching and anticipation to get my food celebrity icon to Palestine for what I thought would be an episode about the wonders of our Mediterranean delicacies.
Camel meat, foraged greens, grape molasses and land snails were just some of the items I tried pitching in an attempt to lure his appetite.
Perhaps it was my lack of faith that anyone of his stature would ever consider telling the political stories behind the grape molasses and the confiscated lands where these foraged leaves grew that kept me pulling in the direction of the superficial "exotic food" angle.
I had underestimated, not his intelligence, but his empathy and serious integrity.
The next day, I had planned for Tony to cook mulukhiya, a traditional Palestinian dish that is made with a local variety of mallow leaves and chicken.
I wanted it to be the kind of food porn I thought he would enjoy. I prepped Islam, the woman we were visiting in Aida refugee camp in Bethlehem. I told her I was bringing an experienced chef and that all raw ingredients must be present so he could see the process from beginning to end.
Stressed, I ran around trying to find the mallow stems that were at the end of their season. I visited Islam three times before our arrival. I cooked the dish twice the week before. I reorganized Islam's kitchen in great anticipation of our big cooking day together. I wanted it to be the perfect culinary experience.
But as we walked through the alleyways of Aida refugee camp, it became evident: Tony was not interested in food.
When the day finally came, I guided him triumphantly through the alleys of Aida camp toward his culinary experience. But the idol of cuisine surprised me.
His gaze was filled with images: of fallen young men painted on the walls of the camp, of the Israeli sniper military posts lurking above us, of the story of a population trapped inside a concrete jungle in their own homeland.
It was surreal. All five senses became confused among sounds of children kicking their ball, soldiers cocking their guns and Tony listening to my friend Abed describe his art, which he calls beautiful resistance. All this mingled with the aromas of food yet to be cooked and the sight of a confrontation between soldiers and young men that had just ended.
When we finally arrived at Islam's kitchen, Tony showed little interest in our freshly chopped garlic, our newly pressed olive oil and our mulukhiya display. He wanted to talk politics.
Alas, Islam spoke little English at the time and knew nothing of Anthony Bourdain.
She offered cooking classes not to attract celebrities but to afford education for her disabled child. Nor did it occur to Tony to impress her with his celebrity. In her presence he was humble and engaging.
He ate the meal with gratitude and signed her guest book. She could not know that his signature would change her life and the life of her family forever.
After the episode of Anthony Bourdain: Parts Unknown in Palestine aired in 2013, Islam started receiving requests for cooking classes. Visitors from around the world came to the camp. She learned English. She expanded her kitchen into a cooking school to help children with special needs.
When I visited her a couple of years later she told me: "That day opened my life up to possibilities I could not have imagined. Our kids are getting the education and attention they need and we are overbooked all the time." With a kind of mischievous smirk she continued, "Maybe we should build a guest house for food travelers."
Ever the traveler, Tony loved adventure but, in the same moment, longed for his loved ones back home. Joking with kids in the street, he turned to me: "It's my daughter who I miss when I travel."
And just like that we connected for a moment. I was his witness the way he was mine at the checkpoint. In silence, I understood, as he did, that even eagles need a time to land.
In Arabic we say that hearts are the homes of secrets; some secrets love to torment us and some stay with us until we die. We also say that a life that gives is a life that never ends. That is small consolation to Islam and to me and to so many others who are forever touched and changed by Anthony Bourdain's wild and daring life.
Tony, we send you love in your transition. You once confided, "I wish I didn't have to leave all the time." I hope your feet find their grounding in the other realm.
Vivien Sansour is the founder of the Palestine Heirloom Seed Library and the Traveling Kitchen Journey where she is working with farmers on bringing heritage varieties back to fields and dinner tables. She was Anthony Bourdain's field coordinator and guide in Palestine for his CNN Emmy-winning show Anthony Bourdain: Parts Unknown.
Tags