Twenty meters high and 15 meters wide, the mural on a wall of a 12-floor building in Gaza City is unmissable.
The artwork, "Besieged Childhood," has garnered renown for its creators. It depicts a child wearing a keffiyeh scarf, a melancholy expression on her face, her hands wrapped around two bars, like those of a prison cell.
Its location, on the Zafir 9 Tower in an upmarket area of Gaza City, is deliberate. During Israel's 2014 assault, fighter jets destroyed one of Zafir 9's sister towers, Zafir 4, in a bombing denounced as a war crime by Amnesty International.
No one was killed, though more than a dozen were injured and the homes of more than 40 families were destroyed. More than 200 residents were left homeless in what Amnesty described as an operation with "no military justification."
"Besieged Childhood," painted in 2015, references this wanton destruction, said one of its four creators, Belal Khaled, 25.
"Zafir Tower bears witness to criminal Israeli acts during wars that targeted a [highly populated] residential tower. The mural is a way for us to communicate this reality to the world outside Gaza," he explained.
Over the last decade, Gaza has been subjected to enormous destruction.
Three overwhelming Israeli military offensives and a decade-old blockade on goods and people entering and leaving, preventing any kind of recovery, have left thousands dead, tens of thousands injured and homeless, caused widespread psychological trauma and damaged infrastructure so completely that the United Nations has warned the coastal strip may be uninhabitable by 2020.
In this devastation, media coverage has had little ameliorating effect and it is no surprise that a frustrated populace is turning to other means to voice their frustration, anger and pain.
Writing on the wall
It was from a desire to convey Gaza's suffering that the "Besieged Childhood" mural was born, and it was also a "message," said Khaled, that artists will not be silenced.
"Gaza may be besieged, but it has artists who are capable of absorbing what is happening in Palestine and conveying this to the outside world in different, creative ways," said Khaled.
Khaled graduated from Al-Aqsa University's art college and lives in the city of Rafah in southern Gaza. He started out as an artist 10 years ago in photography and sculpture, but he soon moved on to calligraphy art and murals.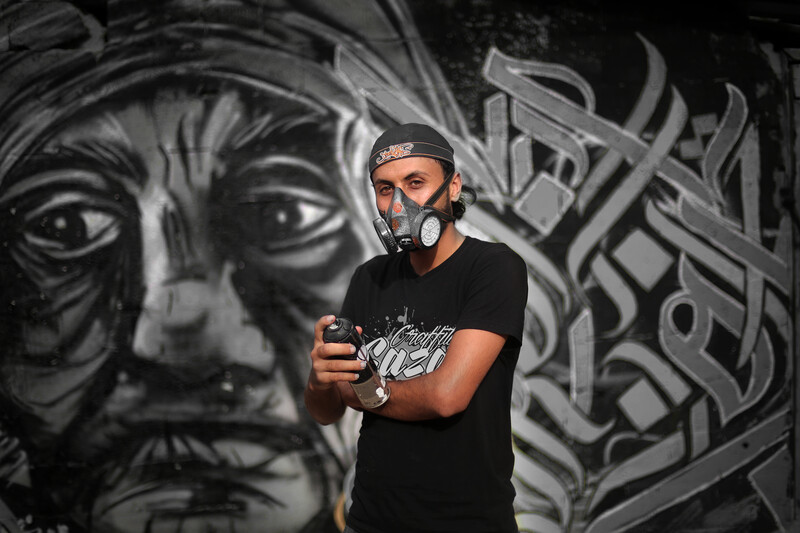 Graffiti is a well-worn and time-honored path for a Palestinian artist, originating in the years before the first Palestinian revolt against British rule in 1936.
Perhaps the most famous of what could be called "revolutionary graffiti" was what one Palestinian wrote on the walls of his Acre prison cell in black coal, moments before his execution by the British mandatory government in 1936:
To my brother Yusuf:
Look after our mother.
To my sister: Do not grieve.
For the homeland I sacrifice my blood,
And this for your eyes,
O Palestine.
While the identity of the prisoner is unclear, most believe the poem was written by Awad Nabulsi of Nablus. His verses later became a revolutionary song, "From Acre Prison," which has been passed down from generation to generation.
Some of these cell-wall writings still exist, according to Emad Qassem, 61, who said he was arrested in 1978 and accused of taking part in an attack on three soldiers on patrol in Beach camp in Gaza City, where he lives.
Qassem said he spent six months in solitary confinement in Naqab prison, studying the "drawings and scribblings" of those who came before him.
"When I entered this narrow place, I sat down and studied the walls. I spent most of my time trying to understand the murals drawn by ex-prisoners."
Some were signed and dated all the way back to British Mandate times, he said.
Qassem joined those who had come before. With stones or coal from the floor, he drew, he said, what he had in his mind. One depicted a mourning mother, one was a freedom logo, and one was a broken chain.
"Once I drew a masked man. When the prison guard saw it, he ordered me to erase it with my tongue. I refused. I was beaten until I lost consciousness."
The practice has continued and spread. Almost every street corner in Gaza is adorned with some kind of mural or writing. Most of it is openly political, some of it factional. Much of it tells the history of the Palestinian people's suffering.
Art is politics
During the 2014 assault on Gaza, Khaled combined news photos of Israeli airstrikes and digital tools to create his own kind of graffiti-photography. Adding drawings to photos of bombings gave him the opportunity to infuse some meaning into the destruction.
"The photos of bomb smoke were widely spread [on social media] during the war so I tried to create something unique with them. I drew a weary old man, a woman wearing the keffiyeh, a child playing, a young man raising his hands praying to God and a heart to express Gaza's hope to live in peace," Khaled said.
His was a response to violence that built on the examples of artists in the first intifada. It was during those years, 1987-91, that graffiti really took off as an expression of resistance.
Palestinian factions used the medium as a means to convey news, make announcements and simply for bragging rights: competition over which faction had the best artists even began to spring up.
Hassan al-Wali, 54, lives in the Jabaliya refugee camp in Gaza City. During the first intifada, al-Wali, then with the Popular Front for the Liberation of Palestine, and his friends were some of the most active graffiti artists in the coastal strip.
He remembered his favorites, some of which still adorn the walls of Gaza's camps. There were the Palestine map drawings, the always-popular key, a reminder of the the homes left behind by refugees during the ethnic cleansing by Zionist militias 1948. He drew assassinated cartoonist Naji Ali's famous Handala character, the logos of the factions and many more.
"We would split into groups," al-Wali recalled. "One to paint, one to keep watch and one for protection, should the army surprise us."
They covered their faces and moved only in the alleys of the camp. It became, he said, a dangerous task that Israeli soldiers began taking more and more seriously. If caught, it could result in death or arrest.
"The goal of each drawing was to encourage and energize people. We wanted to spark the spirit of resistance by glorifying our fallen, remembering our prisoners and spreading awareness about the injustice and our history," al-Wali said. "It worked. At least the Israelis began spending more and more time chasing the artists and designers."
Finally, in an effort to turn people against the artists, the Israeli army forced the occupants of the houses with graffiti to erase the paintings that had clearly "got on their nerves."
"Wall murals, graffiti, whatever you call it — it is the art of resistance," said al-Wali.
Khaled agreed.
"Graffiti can spark a revolution. One phrase can energize people. One drawing can move them to demand their rights."
Sarah Algherbawi is a freelance writer and translator from Gaza.
Tags