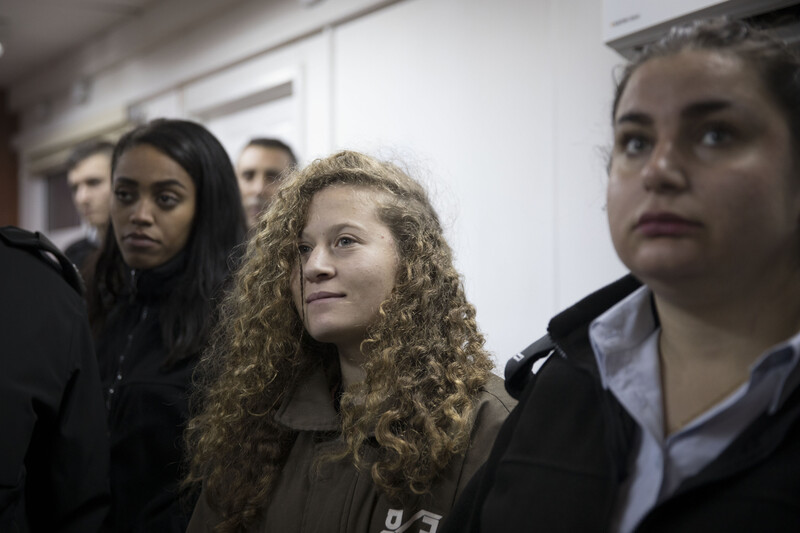 Fifty years ago, just months after Israel began its occupation of Ahed Tamimi's West Bank village of Nabi Saleh, Beate Klarsfeld walked up to the podium where German Chancellor Kurt Georg Kiesinger was going to speak and slapped him in the face.
Klarsfeld, a German Lutheran whose father fought for Hitler's army, saw her act as a symbolic refusal by a younger generation to condone the crimes committed by their parents. She demanded that Kiesinger, a former Nazi, resign from his post.
While slapping the chancellor garnered Klarsfeld international attention, her activism preceded the spotlight.
Klarsfeld had already been fired from her job at the Franco-German Youth Office for writing newspaper articles critical of Kiesinger.
Klarsfeld wrote that if major architect of the Holocaust Adolf Eichmann represented the banality of evil, "Kiesinger represents the respectability of evil."
Klarsfeld's firing did not bring public attention to Kiesinger's Nazi past, but it did solidify her commitment to pursuing a path that would. She felt further compelled to act to honor the memory of Sophie and Hans Scholl, who organized the White Rose resistance group and were guillotined by the Nazis in 1943.
On 7 November 1968, by posing as a reporter, Klarsfeld gained access to the Christian Democrat Union party congress in Berlin. With her notebook in her hand, she walked up to the chancellor.
Having tried other methods to no avail, Klarsfeld later explained that slapping the former Nazi felt like "the only way to make this unbearable truth be heard."
That same evening, a judge sentenced Klarsfeld to a year in prison and berated her for what he described as an act of violence.
Klarsfeld offered a different perspective: "Forcing us to live under a Nazi chancellor is an act of violence, but a woman slapping a man in the face is not."
Arresting Ahed
On 19 December 2017, Israeli soldiers broke into 16-year-old Ahed Tamimi's home in Nabi Saleh.
They ripped her from her bed after a video surfaced online of Tamimi slapping an Israeli soldier who walked onto her family's land with a rifle slung around his neck.
Israeli soldiers had shot her 15-year-old cousin Muhammad Fadel Tamimi shortly before, causing grievous injuries to his head.
Ahed Tamimi, like Klarsfeld, was a committed activist long before her slap provoked international attention.
When Israeli settlers seized land and a spring from Nabi Saleh in 2009, the people of the village rose up. The protests grew into weekly demonstrations, in which women and girls, including Tamimi, have played particularly active roles.
Israeli soldiers have fired live ammunition, rubber-coated metal bullets and tear gas at protesters in Nabi Saleh. They have doused villagers with skunk water and pierced their ears with sound cannons that became commonly used by police forces in the United States during the rise of the Black Lives Matter movement.
Israeli soldiers have repeatedly raided Nabi Saleh in the middle of the night to take children and adults to jail for participating in the protests.
At the weekly demonstration on 9 December 2011, Israeli soldiers killed Ahed's cousin Mustafa Tamimi by shooting him with a tear gas canister at close range. The soldier who killed Mustafa faced no charges.
Almost a year later, Israeli soldiers fatally shot another member of the family, Rushdi Tamimi, with live ammunition.
A greater violence
If Klarsfeld's slap invited the public to grapple with the violence of having a former Nazi lead Germany in the wake of the Holocaust, Tamimi's slap also points towards a greater violence: the experience of everyday life of Palestinians under Israeli occupation.
At a time when the Israeli government has sharply criticized Poland's new law that criminalizes any mention of Polish collaboration with the Nazis, Israel has moved forward in denying its own complicity in the conditions of violence that incited Tamimi to act.
Whereas the Israeli government conferred honorary citizenship upon Klarsfeld for her activism, that same government forced Tamimi to spend her 17th birthday behind bars.
Jay Saper is a member of Jewish Voice for Peace and an early childhood educator and community organizer who lives in Brooklyn, New York.
Tags