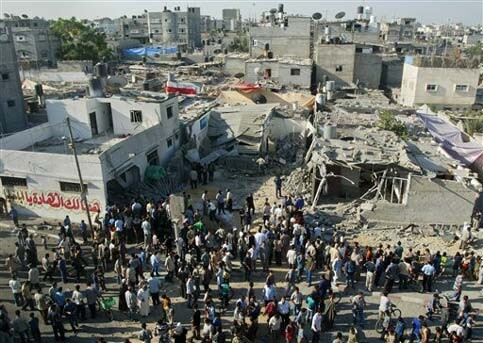 Yesterday I arrived at work to the most shocking news. A colleague of mine, Amin Salem from the human resources department, was killed when an Israeli army tank shelled his home in Beit Lahia. Amin's uncle also died in the shelling and three family members were seriously injured.
Everyone at the office is in a state of disbelief. I still cannot come to terms with our loss. Only a few hours before he was killed, Amin walked into my office with some paper work, smiling as usual despite the unbearable situation caused by the occupation army. It was the first time I had seen him in ten days; he was unable to leave Beit Lahia because of the Israeli military operation in northern Gaza (Operation Days of Penitence, now ongoing for 12 days). When I asked how they were keeping he said that the situation was very difficult, but that "Allah will protect us".
Amin was married and had a four year old daughter called Asil. He was very dedicated to his work and had a smiley disposition that was never dampened by tough times. Amin's family originated from the village of Herbia, now inside Israel, a few kilometers away from Beit Lahia. But like so many Palestinians, they were made refugees by Israeli militant groups advancing on Palestinian towns and village in 1948.
Two years ago Amin was helping me write about his cousin, 70-year-old Ashour Salem who was buried alive when the Israeli occupation force blew up his home. At the time I never envisaged that Amin would be featuring in a story that he would never live to tell.
The story of Ashour Salem, 31/12/2002:
Dear Friends, Here is the story of Mr. Salem and state terrorism. Mr. Ashour Salem, age 75, was killed inside his home in Beit Lahia village (north of Gaza) during a nighttime incursion by 65 Israeli tanks accompanied by military bulldozers into the village which is close to Jabalia refugee camp. The aim of the attack was the (illegal) demolition of the family homes of resistance fighters. Three multistory buildings were demolished, forcing 20 families to leave their homes at gunpoint with only a few minutes notice, and 120 refugees were made homeless with the push of a buttoned, the pulling of a lever. Mr. Salem, who is deaf, did not hear the order to vacate his house, and so remained asleep. His granddaughter told the Israeli soldiers that her grandfather was still inside, but they disregarded her warning and forced her to leave the area, and ordered the demolition to commence. Mr. Salem's pulverized body was found under the rubble at his home the following morning.
Dear friends, what happened last night in Beit Lahia village was another episode in the dirty Israeli war against Palestinian people. Your solidarity with the Palestinian people is highly appreciated during those difficult times.
Yours in solidarity,
Dr. Mona El Farra
Union of Health Work Committees Gaza -Al-Awda hospital
Mona@gaza-health.org
Related links: