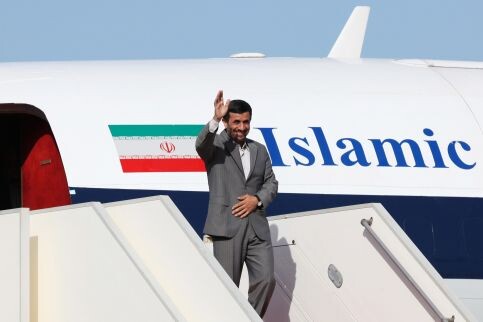 "Khosh amadid" quickly became the new catchphrase for many Lebanese when thousands of signs reading "welcome" in Farsi went up in areas around the country. The occasion was Iranian President Mahmoud Ahmadinejad's two-day visit to the country last week.

When Ahmadinejad arrived, thousands of Lebanese — most of them Shia — had lined the streets outside Beirut's airport to give the Iranian head of state an ecstatic welcome. Ahmadinejad, unable to resist, broke security protocol to stand through the roof of his car to smile and wave to supporters.

While this was portrayed in most mainstream media as a highly "controversial" visit, Ahmadinejad was invited to Lebanon during Lebanese President Michel Suleiman's official state visit to Iran in 2008. Much of the media's focus has been on Iran's close relationship to Hizballah, the Lebanese Shia Islamic political party and military resistance organization.

Since Hizballah's founding in the early 1980s, Iran has financed the group, providing it with both weapons and military training. That support is one of the factors that has made Hizballah the most effective military resistance force against Israel to date.

While many were jubilant over Ahmadinejad's visit, his first to Lebanon since he was elected in 2005, others felt it was accompanied by a lot of unnecessary hyperbole and criticism. Hassan, a cab driver in the Beirut's Dahiyeh neighborhood, said "What's the big deal? It's the leader of one country coming to another. If [French President Nicolas] Sarkozy came here today there would be no problem. It's only when it's about Hizballah that the world pays attention to Lebanon."

A die-hard Hizballah supporter, Hassan said he's not especially excited by the Iranian leader's visit. He is however happy "that they're finally going to do something about the electricity problem!"

Lebanon remains plagued by energy issues and problems with other state-provided services, with daily power cuts ranging from three hours in the capital to eight hours, if not more, outside the city. This problem was greatly exacerbated during the July 2006 war when Israel attacked energy plants across the country. For some, the highlight of Ahmadinejad's visit came in the form of a $450 million loan to support Lebanon's power and water projects. Al-Jazeera reported earlier that Gebran Bassil, Lebanon's energy and water minister, stressed that "all the benefits of this visit would be for all the Lebanese" as opposed to one political group over another.

Regional power shift

Lebanon has been the ground on which many of the region's political and military battles have been fought in recent years. After a nearly three-decade military presence in Lebanon, Syria was forced to withdraw its forces after former Lebanese Prime Minister Rafiq Hariri was killed — along with 21 others — in a car bombing in 2005. Many politicians quickly blamed Syria for the killing, including Hariri's son and Lebanon's current prime minister, Saad Hariri.

It was at that time that the Western-backed March 14 governing alliance, led by Hariri's Future movement — mainly supported by Sunnis — was born along with the Hizballah-led March 8 opposition movement.

Three years later, in May 2008, when the political situation in Lebanon reached an impasse, internal clashes broke out between various political groups which were almost immediately quelled by Hizballah's dominant military force. Parliamentary elections followed a year later and after protracted negotiations parliament confirmed Saad Hariri as the country's new prime minister at the head of a national unity government that included Hizballah. Assuming his new leadership role, Hariri soon led a process of rapprochement with Syria, and in September of this year retracted accusations that Syria was behind the killing of his father.

Amal Saad-Ghorayeb, author of Hizballah: Politics and Religion and a research fellow at the Doha Institute, sees these different events as the cause of a shift in power, not only in Lebanon but the entire region: "The outcome of the July war [victory for Hizballah in 2006], the formation of a national unity government, which in turn, was the byproduct of Hizballah's military performance in the May clashes of 2008, all these factors strengthened Hizballah's — and by extension Iran's — position in Lebanon."

"Ahmadinejad's visit demonstrated that Lebanon, qua state, is no longer under the US orbit," Saad-Ghorayeb said. "True, [Lebanon] isn't in the Iranian orbit either, considering March 14 instructions to refuse a defense agreement with Iran, but nonetheless, the visit signaled a shift away from the US-[backed] 'moderate' Arab regime axis."

She added, "This is especially the case given the US and Israel's repeated objections — not to mention threats — to the visit."

That shift became tangible when Saudi King Abduallah and Syrian President Bashar al-Assad met in Lebanon earlier this summer. To many, Syria, Iran and groups like Hizballah in Lebanon and Hamas in occupied Palestine represent the "resistance axis," while Saudi Arabia and the region's numerous Western-backed governments and political groups constitute the "moderate axis."

The US has long said it wants to broker peace in Lebanon and the region; however, many in the region view it as a dishonest broker given its massive and virtually unconditional military and diplomatic backing of Israel, including during Israel's devastating July-August 2006 bombardment of Lebanon.

In marked contrast to the US, which considers Hizballah a "terrorist organization," Ahmadinejad carefully avoided showing support for one side of Lebanon's political divide over the other during his visit. Instead, he sought to reach out to Lebanese from across the political spectrum. He praised Hariri during Hizballah-organized rallies in Lebanon, despite loud boos from some in the crowds at the very mention of the prime minister's name.

Saad-Ghorayeb compared the difference in the two nations' strategies: "In sharp contrast to US officials visiting Lebanon and those in Washington, Ahmadinejad refrained from explicitly intervening in Lebanese affairs or making any inflammatory statements backing one side against another. It would be inconceivable for western powers who support March 14 to extend a similar courtesy to Lebanon's opposition forces."

Support for resistance

On the second and final day of his visit, Ahmadinejad traveled to the southern city of Bint Jbeil where a Hizballah-organized rally brought out tens of thousands of ecstatic supporters to welcome the Iranian president to the south. This was the day after another Hizballah-organized rally, similar in size, was held in Dahiyeh.

"Lebanon is the school of resistance and steadfastness against the bullying forces in the world," Ahmadinejad told the crowd in Dahiyeh. He voiced a similar sentiment in Bint Jbeil: "I salute you, people of the resistance … we are proud of you and will remain forever by your side."

Knowing that Ahmedinejad would rally wide support in Lebanon in defense of resistance, the US and Israeli governments made statements condemning the Iranian president's visit as a "provocation" even before it happened. One Israeli parliamentarian called for the assassination of the Iranian president in Lebanon.

Seemingly unbothered by these threats, rally organizers in the south released thousands of red, white and green (the colors of the Iranian flag) balloons that drifted southward to the Israeli border two miles away, a symbolic act of defiance of US and Israeli pressure.

At the rally in Bint Jbeil, a young woman from a village in the south who declined to give her name, said "Look at the Israeli war planes flying in the skies all day long. There is another history of this region [than the one presented by Western media], it's one of occupation and that needs to be acknowledged."

She was referring to Israel's 22-year occupation of south Lebanon. It was that occupation that created the conditions for the founding of Hizballah as an armed organization to resist Israel. Hizballah was celebrated in Lebanon and the Arab world as the victor in 2000 when Israel unilaterally withdrew most of its occupation forces, and again in 2006 when Israel was defeated after 34 days of all-out war on Lebanon.

Hizballah's role as the premier resistance force is something that sets it apart from all other political groups in Lebanon. In a country deeply divided across sectarian and political lines, resistance to Israel is probably one of the few causes that can still unite a majority of Lebanese.

Matthew Cassel is based in Beirut, Lebanon and is Assistant Editor of The Electronic Intifada. His website is justimage.org.