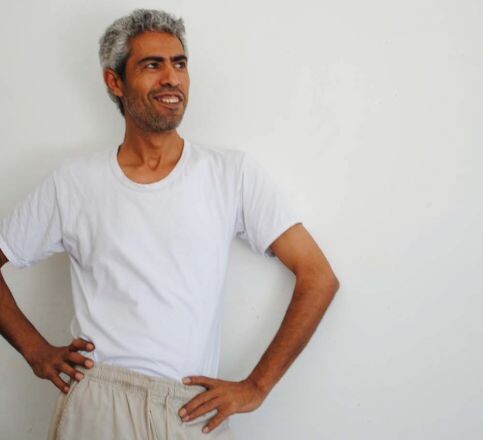 Abdel Nasser Amer is an artist who lives and works in the city of Khan Younis in the occupied Gaza Strip. During Israel's 2008-09 winter invasion of Gaza, Amer's studio and some of his art were destroyed. Amer won a competition for a six-month residency with the Swiss Visual Artists Association in Neuchatel, Switzerland where he is working on his latest project, Rehaan (the sweet smell of dreams). The Electronic Intifada contributor Adri Nieuwhof interviews Amer to discuss his life and work.

Adri Nieuwhof: How did you become an artist?

Abdel Nasser Amer: My early years I did not know I was an artist. I was a normal boy in my city, Khan Younis. It is a refugee camp where children are playing like children do everywhere. The first time I was drawing was when I was ten years old. I drew the Egyptian singer Abdel Halim Hafez from a photo. And I made a drawing of my teacher during the lessons. I did not listen to him. It was something new to me, a discovery. I had drawing class at school, but there was no teacher with any artistic training. There was an arts college in the Gaza Strip in [the 1960s]. It was closed after the Israelis came and occupied the Gaza Strip [in 1967]. After I discovered my talent, I kept on drawing [whatever] I dreamed — trees, faces, animals, anything. At 16, I stopped for about six years and I forgot about art. I did not meet artists in Gaza; art was not interesting.

When I was 26, I met Dr. Fathi Arafat from the Palestine Red Crescent Society (PRCS). [Ed. Note: Fathi Arafat was the brother of then Palestinian President Yasser Arafat.] He came to Khan Younis and asked: Where are the artists? At that time, I was teaching in the school for handicapped children in Khan Younis as a volunteer. The PRCS funded the school. Dr. Arafat gave me a studio in the same complex and helped me with drawing material. I started to draw again, 16 hours per day.

AN: You were the head artist of the Red Crescent in the Gaza Strip for ten years. How did this come about?

ANA: The meeting that year with Dr. Fathi Arafat was important. He asked me about what I dream for Gaza and Palestinian artists. I told him that I dreamed of a free academy for art in Gaza, and to invite artists to come to work in the studio and to have material for them. In 2000, I went to Gaza City where the Red Crescent opened a new studio for artists to help them with their art. After some time we moved to a bigger building with more space to work, to paint. The PRCS funded the studio and provided the material. In return, the paintings of the artists were exhibited. I did this for Gaza from my heart, to create a very active area in Gaza, the first studio. I started to give drawing lessons to the youth. This was all possible thanks to Dr. Arafat, who reminded me to think and dream about art.

AN: You have had solo exhibitions of your art in Palestine, Cairo and Paris. How were you able to reach out to Paris?

ANA: When I started the studio in Gaza City, I also started to think about what I want to do with my art life. I decided to participate in a competition of the [UK-based] A.M. Qattan Foundation in 2002 in Ramallah. I was one of the ten young artists who were selected out of the seventy participants.

My contacts with the [Qattan] foundation led to my residency in the International City of Art in Paris and the exhibition of the art I created there. After the exhibition, I went back to Gaza and I felt I could exhibit something good in Gaza too. There was not much material in Gaza, but I had charcoal, I could make my own Japanese paper, I had newspapers to paint on, and I worked with any material I could find in the streets. I had beautiful ideas for paintings, pictures, installations. But most of all I like to draw and paint. When I touch the brush, and I feel the brush on the paper, I really feel. I feel like a child who touches the sand on the beach. When I teach, I tell the young artists not to be careful with the brush on the paper, as if you put eye-liner on. No, you have to feel when you paint.

AN: You have worked in Paris, and now in Neuchatel. Is traveling important for you?

ANA: Yes, I have traveled to the West Bank, Jordan, Egypt and Morocco. I like it to meet new cultures, see new art. The first time I was in Paris, I felt it was so different. The buildings, the museums, the old houses. Why are there not the same houses in Khan Younis, I asked myself? We have a palace in the center of Khan Younis, but not as big as the French palaces. So I researched it and I found that our palace was much bigger originally. It had been destroyed. Politicians do not treasure culture, they are not careful with the beautiful land.

Every time I travel, I make a change. There is new voice, a new life. If you don't walk over the cactus, you don't feel. No new life, no art. But people are looking for oil and money, not for art. In 2007, I won the internship of the Swiss Visual Artists Association, while there was the closure of Gaza. The application gave me hard feelings. Can I travel or not? It made me look to the border. Is it open? Is it closed? I tried to get out, but it was very complicated and difficult. After the closure of Gaza I was limited to a small area, my city. Internet helps me in realizing my dream. Internet opens the world. Via Internet the culture is open. I did not want to think about if the border is open or not open. I want to be in contact with the world, my mind is open.

AN: What inspired you to the project Rehaan?

ANA: Rehaan means "the sweet smell of dreams." I have worked for four years on this project. It is about the children of the world. Children are important to me. One day, my brother's daughter and son knocked softly on the door of my studio. They were afraid of the noise of the Israeli bomber planes. They came and watched my paintings. In Rehaan, I express the problems of children from different parts of the world. Children need care, and the world needs to take care of children, otherwise they don't live. While I was in Gaza, I wrote to other countries to learn about the problems of children. It is human art, to support the children. I put my art at the service of children. If I want to think just about Palestine, I am not a good artist, not a good person. Children in other countries have problems, too. I want to feel for other children too. Children in Africa are hungry. In Iraq, Palestine, Kurdistan and Afghanistan there is war. I want to bring this big problem of children in the little space of the gallery for one minute. If you look at it, you go back home thinking about it. Maybe it makes you to want to help the children.

Editor's note: the original version of this article mistranslated "rehaan" to be "intelligent dreams." This article has been corrected.

Adri Nieuwhof is a consultant and human rights advocate based in Switzerland.