Somewhere, in the heart of Bureij refugee camp in the central Gaza Strip, Jamal al-Dura looks at a picture of his son, Muhammad.
Like other bereaved parents, the 55-year-old former construction worker will never get over the loss of his child.
Unlike other bereaved parents, Jamal also has to live with constant reminders in the media or from strangers.
It is now 20 years since the killing of Muhammad al-Dura was caught on camera.
And the footage of the 12-year-old boy, crouching behind his father's desperate but ultimately futile attempts to protect him, provided some of the defining images of the second intifada.
The images still resonate today, not least in Gaza, isolated and besieged as it.
Those pictures serve as painful symbolic reminders that – even as the UN calls, yet again, for an end to an Israeli blockade on Gaza that has seen over half the population there fall below the poverty line – Palestinians are without protection against an Israeli occupation that is brutal and relentless.
Jamal still vividly remembers that fateful last day of September in 2000.
He and his son, who loved cars, had gone to look at used cars at a market east of Gaza City.
The plan had been for Muhammad to choose a car he liked for the family, Jamal told The Electronic Intifada. But neither could find anything appealing so they made their way back via the Netzarim junction, a military checkpoint in Gaza, then serving the Netzarim settlement of some 60 Israeli families, that cut Gaza's north from the rest.
Defamation and lies
There were demonstrations at the junction that day. This was just a few days after then Israeli opposition leader Ariel Sharon had decided to take a highly provocative walk on al-Aqsa Mosque compound in occupied East Jerusalem.
Sharon's aggressive conduct sparked an intifada that had been brewing as the failure of the Oslo accords to deliver a genuine peace was becoming clearer.
Jamal and Muhammad's taxi driver decided that he couldn't go further, and father and son began to walk a short distance to catch a cab to take them home to Bureij camp, which was on the other side of the checkpoint.
But as they were walking, the shooting came closer.
"I grabbed Muhammad and hid behind a barrel," Jamal said.
His intention was to stay out of the way until the shooting ended. But the shooting caught up with them.
The rest was caught on camera by journalist Talal Abu Rahma, who was working with Charles Enderlin of France 2, a state-run TV channel.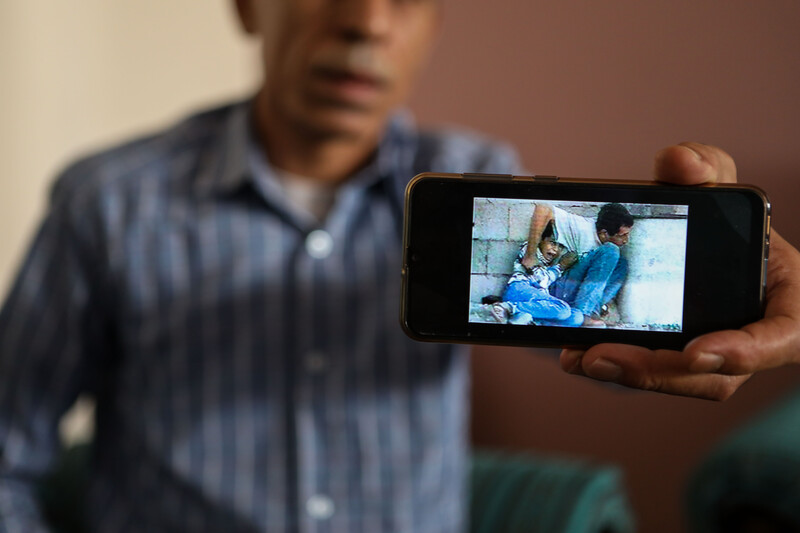 The graphic and tragic scene of a boy shot dead behind his unconscious father made global headlines. The Israeli military did not contest its authenticity, in fact issued a qualified apology.
But five years later, after pro-Israeli conspiracy buffs had muddied the waters by suggesting either that the shooting had been staged by Palestinians or that the boy had died of Palestinian gunfire, the military retracted that apology.
No evidence has ever been presented that suggests anything other than that the boy was killed exactly as originally understood, and neither Abu Rahma nor Enderlin, himself the grandson of Austrian Jews who fled ahead of the Nazi invasion in 1938, ever expressed any doubts about what they broadcast.
Indeed, in 2013, after several rounds in court and an appeal was quashed, a French court ruled that one such conspiracy buff, Phillipe Karsenty, chief of the pro-Israel organization Media Ratings, was guilty of defamation for accusing Enderlin and France 2 of staging the shooting.
No justice
To Jamal, all of this simply added to his pain. Not only was his son killed right behind him, he also had to deal with "skeptics" who only opened wounds when they attempted to sow doubt around what had happened.
And finally, of course, there has been no justice for his son. No one has ever been held to account.
Jamal wants to go to France to fight his own court case against Karsenty, he told The Electronic Intifada, as part of an attempt to reignite interest in his son's killing internationally.
He also wants the Palestinian Authority to take Israel to the International Criminal Court over his son.
Unemployed now, and relying on social security from the PA, he is still receiving physical therapy for the injuries he suffered that day. But, he said, the PA has not been helpful toward his ongoing endeavors to keep the case alive.
It puzzles him.
The murder of his son, he said, may not be the "most heinous crime committed by the occupation … but it is fully documented."
"It demonstrates the most horrible side of humanity, where no mercy is shown to a child and a father is trying to protect his son."
The family, like all families in Gaza, have had other hardships to contend with. Since Muhammad was killed, Gaza has been the scene of three devastating Israeli military assaults in 2008-09, 2012 and 2014.
In the first of those, the Dura home was bombed. Jamal remembers getting a call in the middle of the night, and someone telling him to evacuate the house in five minutes.
"I told them, 'are you crazy, in five minutes? I have kids at home,'" Jamal told The Electronic Intifada. He tried to stall as long as possible while his wife, Amal, got the children out of the house.
Finally, the person at the other end of the line lost his patience and yelled at him to get out in no more than 15 minutes.
"This is the IDF [Israel's military], we'll bomb the house over your head," Jamal said he was told.
"We went out to a house near us and warned the neighbors. Then we heard a warning missile dropped by a plane, and then the house was bombed."
The family of 10 rebuilt the home. But in the 2014 assault, the house was also damaged, this time strafed by tank shells.
Again, the family had to rebuild.
Amal, Muhammad's mother, says she cannot understand how it is that Israeli mothers keep sending their children to fight in Gaza.
"Your country is democratic. How do they force your children to go to Gaza to start wars and to establish barriers around Gaza and the West Bank?" Amal said, addressing Israeli mothers.
"If you really love your children, let them stay home. Every war kills many like Muhammad."
Muhammad should have been in his thirties now.
Despite his son's death, Jamal once again took out Muhammad's pictures on his birthday this year, as he has done every year since 2001.
Jamal imagined another world in which his son was alive and married with his own children.
Amjad Ayman Yaghi is a journalist based in Gaza.
Tags