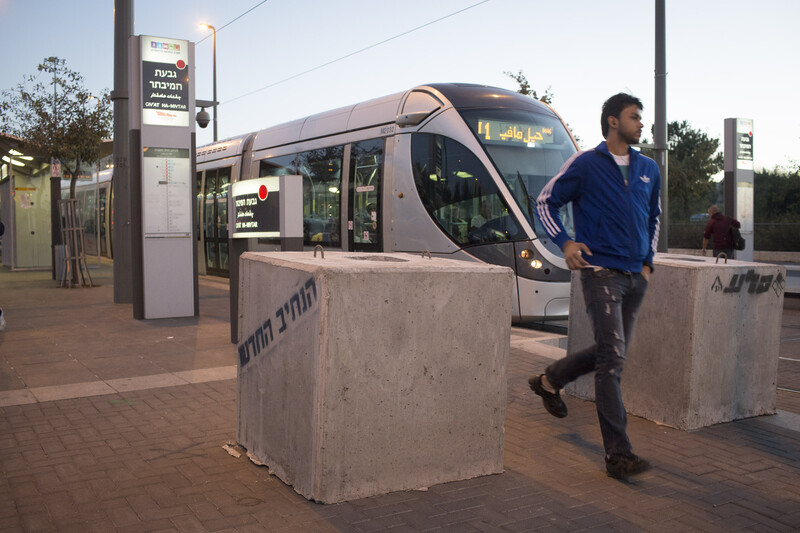 Human rights defenders say they have received a commitment from French firm Systra to pull out of a project to expand Israel's Jerusalem light rail.
The International Federation for Human Rights – FIDH hailed the decision as "a first victory on a just path."
Meanwhile, campaigners are also welcoming a decision by car rental firm Europcar to end the operations of its Israeli subsidiary in settlements in the occupied West Bank.
Systra "withdrawing"
The Jerusalem light rail links up Israeli settlements in the West Bank and connects them to Jerusalem. It is, as FIDH states, "a tool of Israel's settlement policy and of its annexation of Jerusalem, in complete violation of international law."
FIDH, along with a coalition of Palestinian and French human rights and labor organizations, earlier this month published a report detailing the complicity of Systra and two other French firms, Egis Rail and Alstom, in the expansion project.
Systra is a subsidiary of the French government-owned national railway SNCF and Paris public transport operator RATP.
As such, the French government is directly implicated in flagrant violations of its stated policy that Israel's settlements are illegal under international law.
Egis Rail is a subsidiary of Caisse des Depots et Consignations, a public sector financial institution.
A senior manager of SNCF told FIDH during a 20 June meeting of the European Works Council that "Systra is withdrawing from the red and purple line of the Jerusalem light rail."
FIDH said that the statement "lacked further specifics" as Systra is "currently committed to the construction of the blue line."
But FIDH added that "its meaning is as clear to us as it was to the representatives of the trade union organizations present at the European Works Council: Systra is withdrawing from the Jerusalem light rail."
FIDH said that it hoped that Egis and Alstom would take the same step "as soon as possible."
The French labor federation CGT also announced that it had received the same assurance from SNCF president Guillaume Pépy at the meeting attended by FIDH.
But Systra is refusing to clarify whether it plans to pull out of the Jerusalem light rail completely or only in part.
The company's France-based public relations firm Oxygen referred The Electronic Intifada's inquiries to Havas, another public relations firm in New York.
Havas ignored repeated requests for comment.
The Electronic Intifada's questions included whether Systra would abide by the French government's standing warning that businesses that operate in Israeli settlements in the occupied West Bank, including East Jerusalem, or Syria's occupied Golan Heights, could face legal and reputational risks.
Europcar divests
One firm that does appear to be taking that advice is France-based Europcar, a major global car rental firm.
Israeli company Albar recently terminated its business in the occupied West Bank after becoming a franchisee of Europcar.
Albar operated branches in two settlements in the occupied West Bank, Beitar Illit and Modiin Illit, according to the American Friends Service Committee's Investigate project and the research group Who Profits.
Both branches have been shut down since December.
Albar confirmed to researchers that the company does not have any other branches in the West Bank.
In September 2017, Albar signed a franchise agreement with Europcar. Prior to that it had been the Israel franchisee of US car rental company Dollar/Thrifty, a subsidiary of Hertz.
"The closure of these two branches represents a divestment of Europcar from the illegal settlement industry and the Israeli occupation as a whole," AFSC stated.
"Europcar thus joins a growing list of other multinational corporations that have pulled out of the settlement industry in recent years – an emerging human rights norm for businesses."
Company charged over crimes against humanity
In a precedent-setting move last week, the French cement giant Lafarge was indicted by French prosecutors for complicity in crimes against humanity and financing terrorism.
Lafarge allegedly paid millions to jihadist groups in Syria, including the Islamic State organization also known as ISIS, in order to continue operating in areas under their control.
Sandra Cossart, director of the nonprofit group Sherpa that helped bring the criminal complaint against Lafarge, called the indictment "a historic step in the fight against the impunity of multinationals."
There is a growing legal and human rights consensus that doing business with Israel's settlements involves unavoidable complicity in major human rights abuses, including war crimes, and that such trade should be banned.
Given the Lafarge precedent, the day may be approaching when companies that refuse to abide voluntarily by their obligations not to assist in Israel's crimes may find themselves prosecuted in a court of law.
Tags