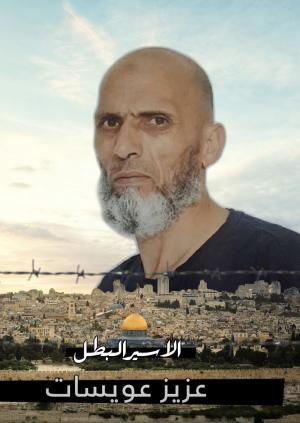 Israel bears full responsibility for the death of Palestinian prisoner Aziz Awisat, Palestinian human rights and prisoner advocacy groups say.
Awisat, 53, was severely beaten by Israeli officers after allegedly pouring hot water on a guard in Beersheba prison on 2 May.
After his health deteriorated, Awisat was taken to a prison clinic in Ramle on 7 May where he had a stroke two days later. He passed away in a hospital near Tel Aviv on Sunday.
Khalid Mahajneh, a lawyer with the Palestinian Prisoners Club, said that the prisoner had acute organ failure and was connected to an artificial respirator upon his transfer to the Tel Aviv hospital.
Medical neglect the norm
Awisat, from Jabal al-Mukabir in occupied East Jerusalem, was arrested by Israel in 2014 and sentenced to 30 years in prison.

Israeli occupation forces accused Awisat of attempting an attack on a settlement built on land expropriated from Jabal al-Mukabir.

Issa Qaraqe, head of the Palestinian Authority's prisoners affairs committee, said Awisat was "beaten to death." Qaraqe called on the United Nations to investigate the "real reasons" behind Awisat's death and to hold perpetrators accountable.

Palestinian prisoner rights group Addameer, which says four Palestinians have died in Israeli detention so far this year, echoed Qaraqe's call for an international investigation and urged the World Health Organization to visit prison clinics "in order to document the inadequate level of healthcare."

Medical neglect of Palestinians jailed by Israel "is the norm, rather than the exception," according to Addameer.

Israa Jaabis, 32, who was recently awarded Woman of Palestine 2017 by the Palestinian Authority women's affairs ministry, is but one example.

Jaabis, also from occupied East Jerusalem, was severely injured after a cooking gas canister caused a fire in her car in October 2015. Israel accused her of attempting an attack and sentenced her to 11 years in prison.

Sixty percent of Jaabis' body is covered in burns and she has lost eight fingers, but Israel refuses to provide her with adequate medical treatment. She needs multiple surgeries, has intense pain in her hands and feet and cannot care for herself, she stated earlier this year.

Jaabis appealed her sentence citing her "inability to perform essential functions behind bars and the lack of adequate medical treatment provided to her," according to the campaign group Samidoun. Israel's high court rejected her appeal.
Tamimi child arrested again
Also on Sunday, Israeli undercover agents disguised as Palestinian civilians arrested teenager Muhammad Fadel Tamimi in the occupied West Bank village of Nabi Saleh for allegedly throwing stones.

Muhammad was forced into a civilian car with Palestinian licence plates and taken to a West Bank detention center.

Muhammad was released hours later after he was determined to be in poor health.

The 15-year-old is recovering from devastating head injuries after being shot with a rubber-coated metal bullet fired at close range in December.

One-third of Muhammad's skull was removed as a result of his injury.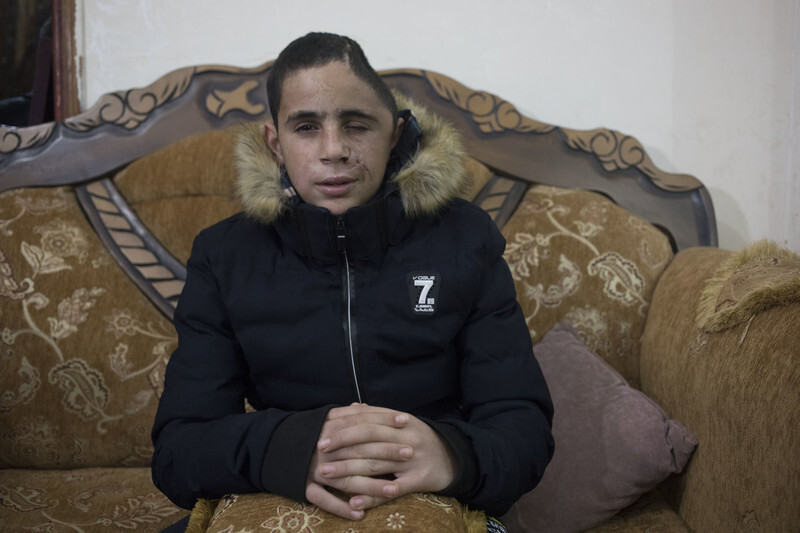 Muhammad was arrested by Israeli forces in February while awaiting major reconstructive surgery and forced to falsely confess, without a lawyer or a parent present, that his skull injuries were incurred after he fell off his bike.
His 17-year-old cousin, Ahed Tamimi, was sentenced to eight months in Israeli prison for slapping and shoving two heavily armed Israeli soldiers shortly after Muhammad was shot.
Tags