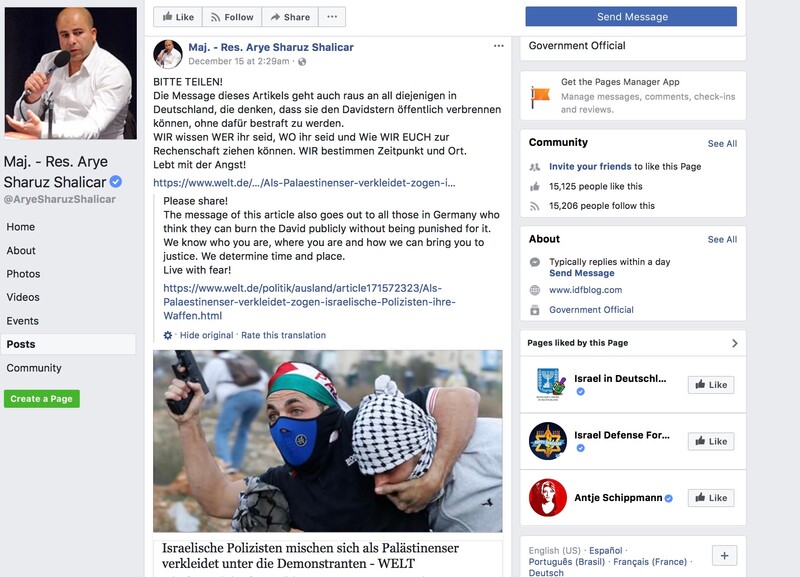 An Israeli military officer and government spokesperson is openly threatening civilians in Germany with violence or death.
On Friday, reservist Major Arye Sharuz Shalicar posted on Facebook an article about Israel's undercover gunmen – so-called mistaravim – who dress up as Palestinians to abduct and injure civilians during protests against Israel's military occupation.
Shalicar added his own comment: "Please share! The message of this article also goes out to all those in Germany who think they can burn the Star of David publicly without being punished for it. We know who you are, where you are and how we can bring you to justice. We determine time and place. Live in fear!"
The linked article is illustrated with a masked Israeli gunman waving a pistol with one hand as he grabs a Palestinian by the head with another.
Mistaravim have regularly been involved in Israeli assassinations of Palestinians, including inside a hospital room.
Threat of violence
Shalicar's comment is an open threat of violence against civilians on German soil.
When one Facebook user in Germany objected to Shalicar – as a representative of a foreign government – taking justice into his own hands, the Israeli officer doubled down: "Nice to know that you as a German are ready to watch how Jewish symbols are burned on German soil as in the 1930s. I'm not ready for that. And I'm German too."
Shalicar seems to be following the Israeli government line that the burning of Israel's national flag as a form of protest against its decades-long military occupation and massive systematic violence against Palestinians – carried out in the name of the self-declared "Jewish state" – should be viewed as anti-Semitism.
There have been protests in many countries, including Germany, since US President Donald Trump legitimized Israel's military occupation and ethnic cleansing in Jerusalem by recognizing the city as Israel's capital earlier this month.
But Shalicar seems to be going a step further by threatening to harm or kill protesters in Germany, just as Israel routinely slays Palestinians who protest or resist its violent land thefts and incursions into their villages, cities and refugee camps by heavily armed occupation forces.
Yet there is reason for concern, as Israel's Mossad spy agency does have a long history of carrying out assassinations around the world.
"Gangsta"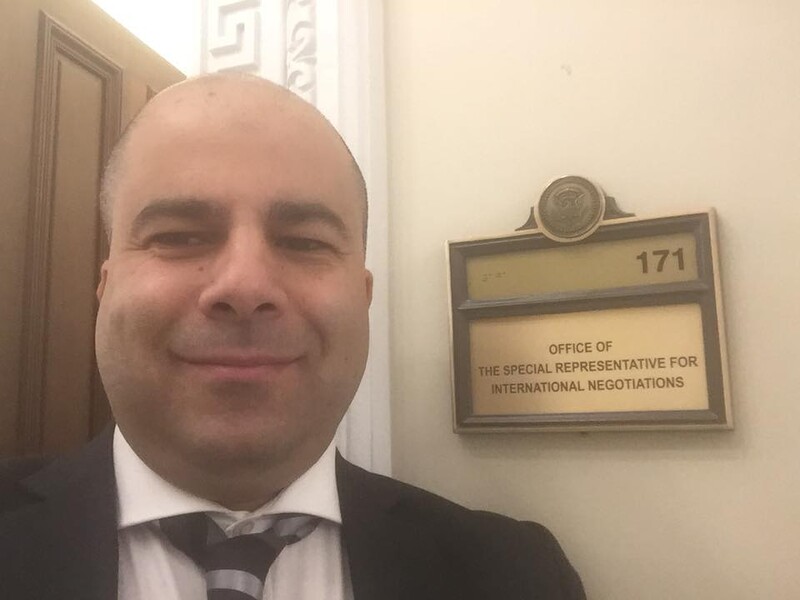 Shalicar is currently a spokesperson for Israel's intelligence minister Yisrael Katz.

According to the "About" section on his verified Facebook page, Shalicar was born in Germany in 1977 to parents who immigrated from Iran. He completed service in the German military as a paramedic in 1997, before settling in Israel in 2001, where he joined the army as a paratrooper.

After stints working for Germany's public broadcaster ARD in Tel Aviv and for the Hebrew University in Jerusalem, he began working as an Israeli army spokesperson and media liaison to Europe in 2009.

Although his Facebook page now identifies him as a "former" spokesperson, Shalicar still provides an official Israeli army email address as a contact: shalicar@idf.gov.il.

In a 2015 tweet, the Israeli embassy in Berlin says it invited Shalicar to lecture to its staff about his life story.

Israeli media have promoted Shalicar as a former "gangsta" who spent his teenage years "fighting for his life in a Muslim-dominated suburb of Berlin."

Shalicar also appears to have been received by the Trump administration. Last month he posted a photo of himself at the office of Jason Greenblatt, Trump's "special representative" for the so-called peace process.

A request for comment has been sent to the German foreign ministry.

This article has been updated since publication.
Tags