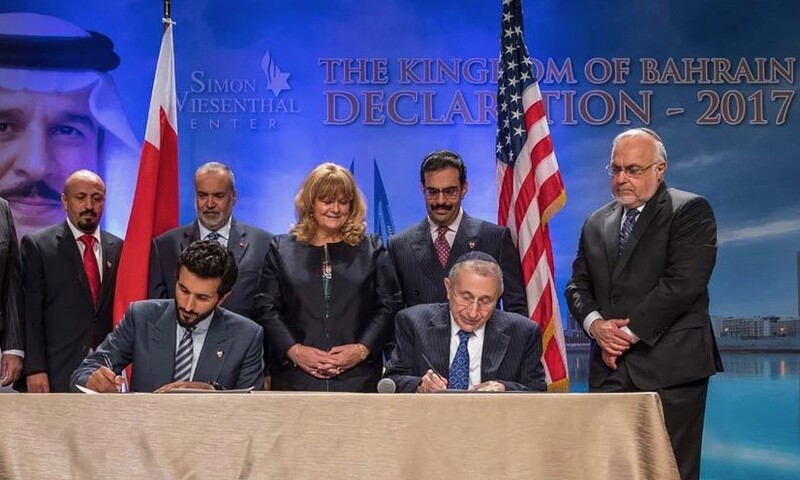 The king of Bahrain denounced the Arab boycott of Israel and declared that citizens of his Gulf nation are now allowed to visit Israel, despite there being no formal diplomatic ties between the countries.
The comments of Hamad bin Isa Al Khalifa were made to Marvin Hier and Abraham Cooper during their visit to Bahrain's capital Manama earlier this year.
The pair lead the Simon Wiesenthal Center, a far-right Zionist organization that aims to suppress the Palestine solidarity movement and smear critics of Israel's human rights violations as anti-Semites.
They revealed the king's comments at an "interfaith" event they hosted in Los Angeles last week attended by the king's son, Nasser, and a 40-person delegation.
Evidently, the event's real agenda – rather than celebrating mutual respect among faiths – was to promote normalization with Israel.
As The Jerusalem Post reported, "the Arab officials stood in respect" as the Bahrain National Orchestra played the Israeli national anthem Hatikva, preceded by the Bahraini and US national anthems.
Those in attendance included a senior diplomat from the United Arab Emirates.
During their visit to Bahrain, Hier and Cooper say they discussed plans to open a "Museum of Tolerance" in Manama by the end of the year.
The Wiesenthal Center is, notoriously, the same group that several years ago sponsored the construction of a "Museum of Tolerance" on top of one of the most important Muslim cemeteries in Jerusalem.
The Los Angeles gathering was sealed with the "Bahrain Declaration on Religious Tolerance," which denounces "terrorism" and "extremism" and "humbly offer[s] the centuries-old traditional Bahraini way of life as an example to inspire others around these principles."
The declaration does not mention Bahrain's systematic violations of human rights, including lethal crackdowns on peaceful protesters and the torture and jailing of dissenters.
Hier hailed Hamad's vision for a "new Middle East" and looked forward to a time "when His Majesty's plane lands at Ben Gurion airport, and when the anthems played here tonight will be heard around the world."
Pattern of normalization
The Los Angeles event was the most brazen of a number of recent gestures by Gulf states to warm up to Israel, which is seen as a token of loyalty and reliability in Washington.
Saudi Arabia has been paving the way for normalization between Arab states and Israel, despite not formally recognizing Israel. The two countries have been brought together by a mutual enmity towards Iran.
Israeli and Arab media reported rumors in recent days that Saudi Arabia's Crown Prince Muhammad bin Salman made a discreet visit to Israel.
While these reports have not been confirmed, there have been previous reports of earlier meetings between the Saudi crown prince and other senior officials and Israeli leaders.
In July, Israeli Prime Minister Benjamin Netanyahu was seeking direct flights between Tel Aviv and Mecca, under the guise of facilitating the Haj pilgrimage for Muslim Palestinians. Israel is also seeking trade ties with Saudi Arabia, supposedly to improve the atmosphere for a renewed peace process with the Palestinians.
Leaked emails
Also, this summer, leaked emails cast light on the growing relationship between the United Arab Emirates and various Israel lobby groups.
Some emails show Emirates ambassador Yousef Al Otaiba corresponding with Robert Satloff, director of the Washington Institute for Near East Policy, a think-tank linked to the Israel lobby group AIPAC.
Satloff offered Al Otaiba a meeting with a senior Israeli military official to evaluate the performance of Israel's Iron Dome anti-missile system during the 2012 Israeli assault on Gaza that killed 174 Palestinians, the majority civilians.
"I would be interested in hearing how it did in Gaza recently," Al Otaiba responded, agreeing to the proposal.
The drive by Saudi Arabia and the United Arab Emirates in June to isolate Qatar has exacerbated deep divisions within the Gulf region.
One of their grievances against Qatar is its support for the Palestinian political and resistance movement Hamas, whose leaders have long been hosted in Doha.
Yet despite these deep divisions, the regional states apparently still see eye to eye when it comes to cozying up to Israel.
The Israeli newspaper Haaretz reported that a Washington lobbying firm hired by Qatar has been trying to arrange meetings with major Jewish American groups for its emir while he is in the US for this month's United Nations General Assembly.
The move appears to be a gambit to use Israel lobby influence in Washington to help Qatar push back against the efforts to isolate it.
"Engagement with Qatar can only be in the best interests of the United States and the Jewish community, as we cannot allow Qatar to be ostracized by its neighbors and pushed into Iran's sphere of influence," Nick Muzin, the lobbyist from the firm which is being paid $50,000 a month for its services, explained.
According to Haaretz, one of the groups that refused such a meeting is the Zionist Organization of America.
This strategy has worked for other Arab regimes. In 2013, Abdulfattah al-Sisi successfully relied on AIPAC to lobby the Obama administration not to designate his military takeover of Egypt as a "coup."
This allowed US military aid to continue to flow to Egypt. Sisi has deepened Egypt's ties with Israel.
On Tuesday in New York, the Egyptian ruler posed for a smiling photo-op with Netanyahu.
It was a public affirmation of Netanyahu's recent declaration that his government's relations with Arab states are better than ever.
Tags