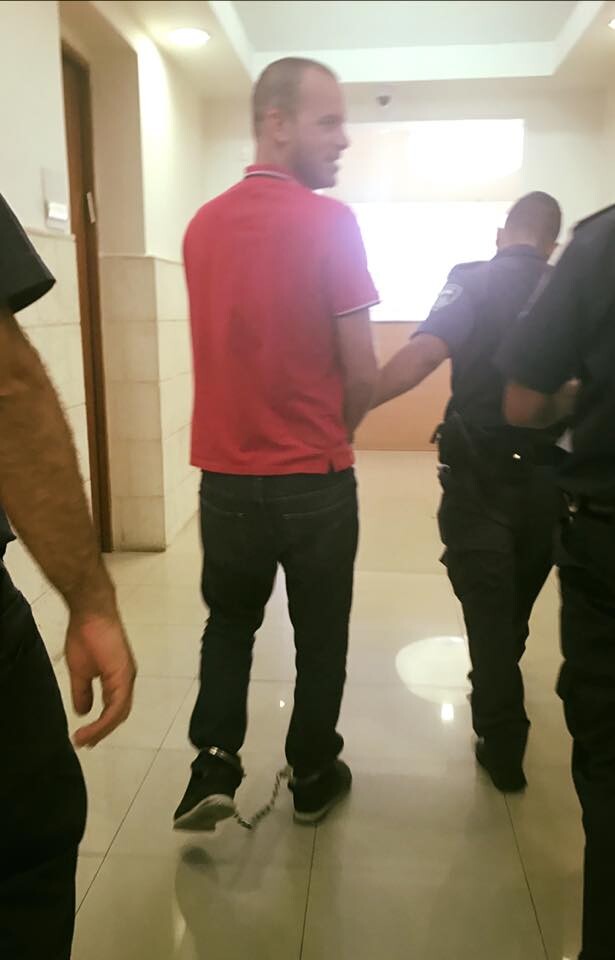 An Israeli judge reduced the amount of time Palestinian-French citizen Salah Hamouri is to be held without charge or trial.
But lawyers say this provides little comfort, since the Israeli military can indefinitely renew administrative detention orders – a relic of British colonial rule.
Nonetheless, Addameer, the prisoners rights group where he works, said it believes that the decision "comes in response to the international pressure and campaigns calling for the immediate release of Hamouri."
Technically, the Israeli judge rescinded a six-month administrative detention order issued against Hamouri last week and reinstated the remaining three months of a previous sentence he did not complete because he was released as part of a prisoner exchange in 2011, before that sentence was due to expire.
Bad faith
Addameer called the reinstatement "an attempt at legitimizing Hamouri's detainment." But Israeli military prosecutors are expected to challenge the decision, likely seeking to impose the longer administrative detention.
The reinstatement also represents yet another instance of Israel's bad faith. Occupation authorities have rearrested dozens of Palestinians released in the 2011 exchange.
Under a military order issued by Israel, former detainees can have their sentences reinstated by a military committee on the basis of "evidence" kept secret from the detainee and their lawyer.
Hamouri is well-known in France, where lawmakers and solidarity campaigners have demanded that the French government act to secure his release.
Israeli embassy's "lies"
Under pressure in France, the Israeli embassy in Paris wrote to lawmakers attempting to justify Hamouri's detention. The left-wing newspaper L'Humanité described the letter as filled with "lies" and "false information."
The letter reportedly raised the previous pretexts for Hamouri's arrest, more than a decade ago.
In 2005, Israel charged Hamouri, claiming he was part of a plot by the Popular Front for the Liberation of Palestine to kill Ovadia Yosef, a prominent Israeli rabbi who habitually incited genocidal levels of violence to "annihilate" Palestinians.
Hamouri always maintained his innocence. He was held for three years in administrative detention, before accepting a plea deal from Israel's military court in order to obtain a shorter sentence. Israel's military court has a conviction rate for Palestinians of nearly 100 percent.
French citizens organized in support of Hamouri, and even Nicolas Sarkozy, France's right-wing president at the time, urged Israel to release him in 2011.
L'Humanité recalled that Alain Juppé, then France's foreign minister, wrote in response to a senator in 2011 that Israel's accusations against Hamouri were "not corroborated by any evidence."
The newspaper said that the current mobilization for the freedom of Hamouri "is visibly irritating Tel Aviv, despite the silence of President Emmanuel Macron and his foreign minister Jean-Yves Le Drian."
That mobilization is continuing, with organizing and calls for solidarity.
In a message on Facebook on Tuesday, Elsa Lefort, Hamouri's wife, asserted that France had been party to an agreement with Israel over her husband's 2011 release, and so in addition to the injustice to him, his renewed detention is a violation of that diplomatic agreement.
"Salah must not spend another day in prison," Lefort added. "Emmanuel Macron must immediately and vigorously defend of our fellow citizen."
Retribution
Meanwhile, Israel is continuing to exact retribution against leaders of the mass hunger strike by Palestinian prisoners earlier this year.
Fadwa Barghouti, a lawyer and the wife of prominent Fatah faction figure Marwan Barghouti, was this week supposed to visit her husband for the first time since he led the hunger strike that ended in May after 40 days.
But after waiting all day at the prison Monday, Fadwa Barghouti told the Ma'an News Agency, Israeli authorities informed her that the one-time visit permit had been granted in error, and she would not be allowed to see him again until 2019.
One of the hunger strikers' key demands had been to facilitate family visits.
Circus artist released
Meanwhile, on 30 August, Israeli occupation forces released Mohammad Abu Sakha, a Palestinian circus artist who was imprisoned for 20 months without charge or trial.
Abu Sakha, who works with disabled children, was arrested on 14 December 2015 while he was en route from his home in Jenin, to his work at Birzeit University, near Ramallah in the occupied West Bank.
Throughout his long detention, he has never been given a reason for why the Israeli military held him.
Abu Sakha told the French news agency AFP that his return home to family and friends in Jenin "was like a party."
In his work with the Palestinian Circus School since 2007, Abu Sakha has gone on multiple tours around the world with the children he teaches.
He said he planned to resume that work to send a message to his persecutors.
"Israel arrests people every day, and closes them off economically," Abu Sakha said. "The circus gives people hope."
Tags