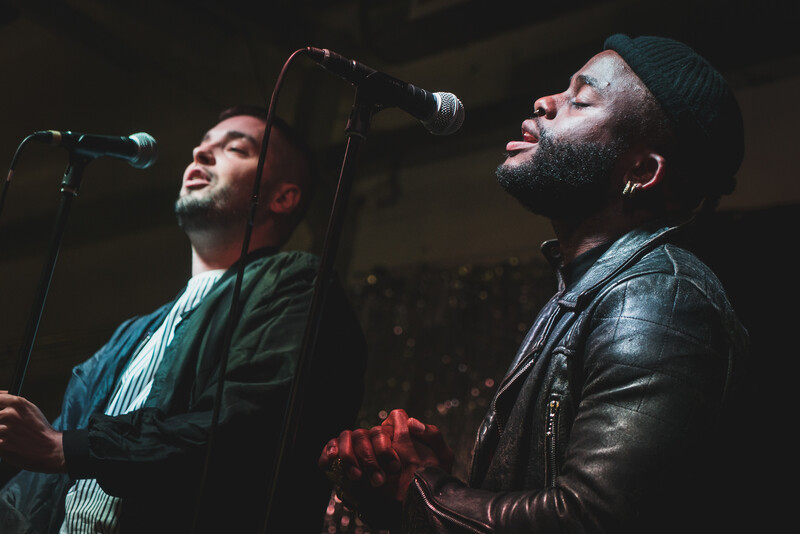 Palestinians are encouraging people to thank the artists who pulled out of Berlin's Pop-Kultur festival because it accepted funding from the Israeli embassy.
On Wednesday, the British electronic punk band Sleaford Mods became the ninth act to join the boycott, announcing that their manager Steve Underwood had withdrawn from a panel at the festival.
(Update: Sleaford Mods later deleted its tweet announcing that Underwood would not take part in the panel and according to information received by The Electronic Intifada he did take part.)
Pop-Kultur wraps up Friday.
PACBI, the Palestinian Campaign for the Academic and Cultural Boycott of Israel, noted "many of the artists stressed their firm stands against all forms of discrimination and oppression and the responsibility of artists to be true to their beliefs" in announcing their cancellations.
Among the bands that withdrew was award-winning hip hop trio Young Fathers, which cited their "long history of opposing any form of hatred including racism and anti-Semitism" and their support for "a peaceful solution that allows Palestinians the right to return to a safe homeland and that allows Israelis and Palestinians of all faiths (and none) to live together in peace."
The boycott was also backed by Thurston Moore of Sonic Youth.
Confronting smears and distortions
PACBI said the "eloquent statements from the artists stand in stark contrast to the festival's crude attempts to falsely portray the Palestinian boycott call as directed at individual Israeli artists, shrewdly omitting the fact that the protests were clearly aimed at the Israeli government involvement."
German media also joined in the smears, giving a platform to false accusations the boycott was an "anti-Semitic" move by "participants from various Arab nations."
Such pro-Israel spin has been ably confronted by German Jewish and Israeli activists, who fully backed the boycott.
Israeli activist group Boycott from Within stated that: "Israel openly and actively uses culture as part of its state branding campaign strategy. The Israeli foreign ministry openly acknowledges spending hundreds of millions of dollars annually to improve Israel's image."
The "Brand Israel" campaign was launched a decade ago, "in order to change Israel's deteriorating image around the world, which has been badly damaged after decades of occupation, apartheid and military attacks," the group added.
"Huge"
In the face of the media hostility and distortions by festival organizers, PACBI noted, "Some of the artists referred to their acts of solidarity as 'tiny' or 'minor.'"
"Let's make sure they know their refusal to cross the Palestinian-led cultural boycott of Israel picket line is huge and means the world to Palestinians and all those working for a more just world," PACBI added.
The Palestinian group is inviting people to add their names to a thank you letter for the artists.
Tags