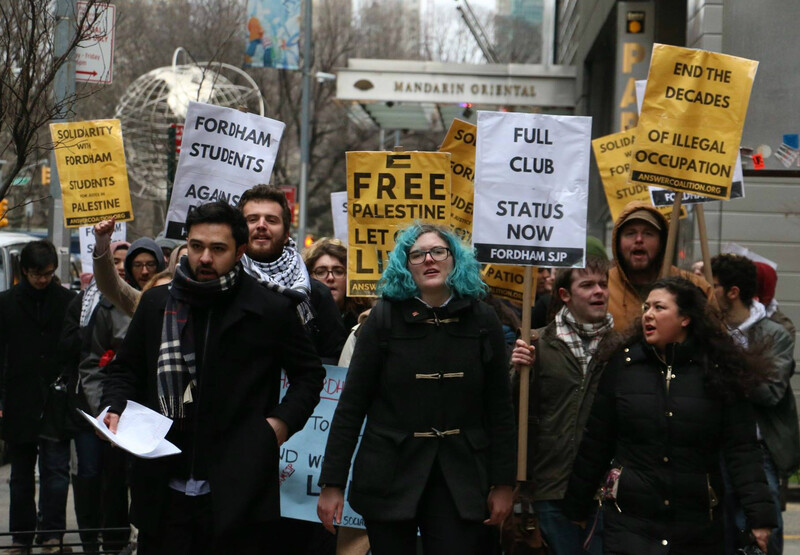 A student at Fordham University in New York faces punishment for helping organize a 23 January rally in support of Students for Justice in Palestine (SJP), the activism group which was banned by the college's dean last month.
Dean Keith Eldredge charged senior student Sapphira Lurie with violating the university's demonstration policy and summoned her to a closed-door meeting on Wednesday to determine her guilt and punishment.
Faculty, students and lawyers see the accusations against Lurie as part of a broader attack on free speech and academic freedom.
Eldredge prohibited Lurie from bringing legal counsel, a friend, or her faculty advisor to accompany her inside the meeting, prompting her attorney to tell The Electronic Intifada that there was "no semblance of due process whatsoever, which requires a fair and neutral decision maker."
However, when Lurie showed up to Eldredge's office for the hearing, she brought accompaniment anyway.
Her attorney, Radhika Sainath of Palestine Legal, came with her, along with Lurie's advisor and more than a dozen other members of faculty.
The small crowd initiated "an ad-hoc sit-in" in the hallway, Sainath told The Electronic Intifada, as Lurie asked the dean if she could bring her counsel or her faculty advisor inside the meeting, or if the door could remain open. Eldredge refused all of the requests.
Sainath said that she reviewed printed-out student conduct policies with the dean and showed him that no policy demands that a student attend a disciplinary meeting alone with an administrator, but he dismissed her assertions.
The Electronic Intifada also could not find a rule in Fordham's online student handbook which states that a student must be alone when facing a disciplinary hearing.
After the dean refused Lurie's requests for accompaniment, Lurie, her attorney and supportive members of faculty left the hallway, effectively canceling the hearing altogether.
"We don't know whether [Lurie] will be punished more severely because she wanted to exercise some basic due process," Sainath said.
"Embarrassing"
Glenn Hendler, the faculty advisor for SJP at Fordham, criticized Eldredge's insistence on a closed-door meeting.
"It is appalling and embarrassing that Fordham has a procedure for adjudicating alleged violations of its demonstration policy in which a single person serves as accuser, prosecutor and judge," Hendler told The Electronic Intifada.
Hendler said he had offered to accompany Lurie to the meeting and was rebuffed, even when he insisted he would not interfere in the discussion. Fawzia Mustafa, Lurie's faculty advisor, told The Electronic Intifada she had also offered the dean the same, but he had refused.
When pressed for a reason, Eldredge reportedly told Hendler, "that's the way we do things." According to Hendler and Palestine Legal, the dean admitted that there was no formal rule forbidding a student from bringing support to a disciplinary meeting.
Eldredge refused to answer The Electronic Intifada's question about the university's rules and his remark to Hendler.
More than 100 members of Fordham faculty signed a petition this week urging the administration to drop the charge against Lurie, while students held another rally on Tuesday in support of Lurie and Fordham SJP's right to organize.
A group of faculty advisors held a meeting with Eldredge prior to Wednesday's hearing where they tried to persuade him to drop the charges against Lurie and reverse his decision about banning SJP. "But he was absolutely unmoving," Mustafa told The Electronic Intifada.
"It's disgraceful that [Eldredge] continued to ignore the requests from my lawyer, from the faculty and from the dozens of students who rallied to support me," Lurie told The Electronic Intifada on Wednesday.
Demands to lift the ban
More than 100 students and local activists demonstrated on 23 January to demand that Fordham lift the ban and allow SJP to establish a chapter on campus.
"We were asking Fordham to reverse its decision banning SJP and to commit to free speech on campus, which I think is a huge issue right now for students at Fordham and for students in this country," Lurie told The Electronic Intifada.
In charging her, Eldredge claims the protest may have violated university demonstration policy.
But the students say that this came as a surprise.
"Before that, we had no indication that [the rally] was unsanctioned," Lurie said. "We had sent someone to meet the dean the morning of [the event] and designated someone to be the campus public safety and administrative liaison, in accordance with the student handbook rules."
She told The Electronic Intifada that Eldredge himself was present at the rally. But she said it was unclear why Eldredge singled her out for disciplinary charges, as she was just one of many students who organized and spoke at the rally.
Eldredge did not comment when questioned on this issue. He only sent The Electronic Intifada a statement implicating students in possible violations of university policies.
"Our students are free to express themselves and to advocate for the issues and causes that they believe in; this includes demonstrations and protests​, which the university routinely supports​," Eldredge wrote.
"In this instance, the question is if the student organizers chose to hold their demonstration outside of the policy parameters that are in place," the dean added. "The focus in the disciplinary hearing is not on expression nor speech, but on the possible violation of policy (a relatively minor violation)."
"Misconstrues facts"
But faculty members and lawyers disagree.
Fawzia Mustafa says that members of faculty are "alarmed" at the administration's behavior not just against an individual student, but also in the context of the ongoing SJP ban. "We see it as a freedom of speech and an academic freedom issue," she said.
In banning SJP, Eldredge unilaterally overruled the student government's approval of an SJP chapter in November.
Civil rights groups have demanded Eldredge reverse his decision and uphold students' freedom of speech.
"All evidence indicates that the denial was based on the viewpoint of [the] students' message and/or their national origin," attorneys with Palestine Legal and the Center for Constitutional Rights state in a 17 January letter to Fordham administrators.
The attorneys also warn that the denial "could give rise to a violation of Title VI of the Civil Rights Act" – US legislation meant to protect students from discrimination at educational institutions.
Days later, Fordham replied to the attorneys, saying it was sticking to its decision to ban SJP.
The administration claims that SJP exhibits "a singular focus" on the "political agenda of one nation, against another nation" and that the group "encourage[s] disruptive conduct" which would contradict the college's values of "civility."
Palestine Legal and the Center for Constitutional Rights responded once again, asserting that the administration "misconstrues the facts [and] misunderstands the law."
Sainath told The Electronic Intifada that Fordham has so far refused to meet with attorneys from Palestine Legal and the Center for Constitutional Rights.
"Not backing away"
FIRE, a free speech watchdog, designated Fordham as one of the top ten worst universities in the US for free speech, based on its banning of SJP.
The group last month condemned Fordham's SJP ban.
The National Lawyers Guild admonished the ban, with attorney Lamis Deek saying it "exemplifies a long and ubiquitous history of anti-Palestinian censorship rampant across campuses."
Fordham, a Catholic institution, is also drawing criticism from a Christian group.
Tarek Abuata, executive director of Friends of Sabeel North America, an ecumenical activism organization which works closely with SJP chapters, called on the university to reverse its decision in accordance with a recent statement from Catholic bishops encouraging solidarity with Palestinians under occupation.
Friends of Sabeel this week encouraged its members to call Fordham administrators and demand they drop the disciplinary charges against Lurie and allow SJP.
Palestine Legal's Radhika Sainath said that if Fordham maintains its decision to ban SJP and punishes Lurie for her involvement in the rally, it would set a troubling precedent.
"Fordham is not only sending a message that supporting Palestinian rights won't be tolerated on campus, but if you question Fordham's censorship of you, that you will be punished," she said.
"It has a terrible chilling effect, especially in Trump's America," Sainath added.
For her part, Lurie says the dean's charge and his handling of the disciplinary hearing has been "a pretty blatant attempt to try and intimidate me into stopping organizing on campus."
But, she said, "I will not be backing away from this work."
Tags