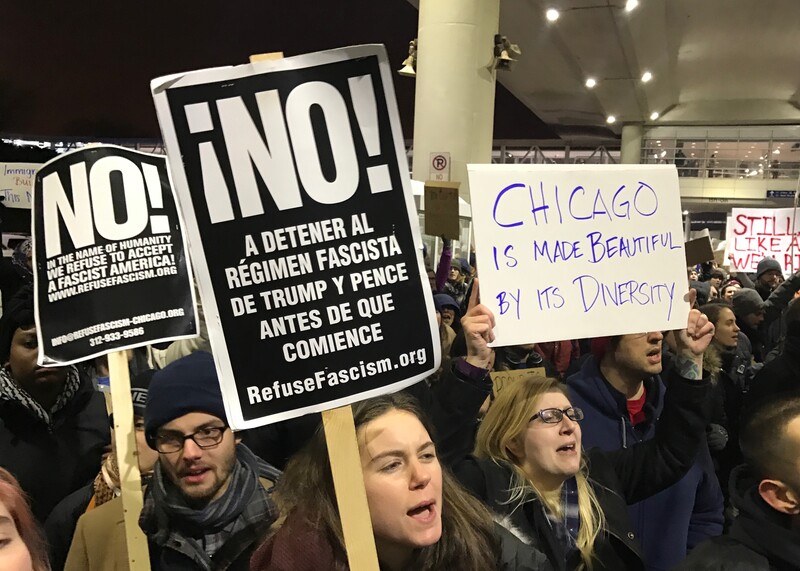 President Donald Trump's executive orders barring entry to refugees and ordering the completion of a southern border wall "have united the world against you," former Mexican president Vicente Fox warned in a tweet on Saturday.
Even some Republican lawmakers are publicly criticizing Trump's policies.
But through all the anger and chaos he has created, Trump has found at least a few staunch allies: Israeli Prime Minister Benjamin Netanyahu and some of his hard-line US supporters.
Netanyahu's public alignment with Trump's incendiary policies will likely accelerate the erosion of some of Israel's traditional bases of support in the US.
Let them in
On Saturday, thousands of people turned out for spontaneous mass rallies and sit-ins at airports across the United States, including New York's JFK, Chicago O'Hare, Washington Dulles, Los Angeles, San Francisco, Houston and Dallas-Fort Worth, to demand the release of refugees and residents detained under Trump's order barring entry to most nationals from seven Muslim-majority countries.

Acting on an emergency lawsuit by the American Civil Liberties Union on Saturday evening, a federal judge in New York imposed a national stay on elements of Trump's order – preventing the government from deporting dozens of those detained upon landing. Federal judges in other states have also ruled against parts of the policy.

Trump's cruel order could, by the estimate of a former US official, up-end the lives of half a million US residents, including permanent green card holders, who could now be arbitrarily barred from returning from overseas trips. (On Sunday, a senior White House official said that green card holders would now be exempted from the ban – underscoring the confusing and chaotic nature of the administration's actions.)

At Chicago O'Hare, as in scenes repeated across the country, protesters chanted slogans such as "Let them in" and "No hate, no fear, refugees are welcome here." They cheered whenever another detainee was freed. They staged sit-ins that blocked terminal entrances and access roads.

At JFK, the New York Taxi Worker's Union, whose members are predominantly immigrant and Muslim, staged a strike, refusing to pick up passengers at the airport in solidarity with the protests.
White House supremacists
According to CNN, the US Department of Homeland Security had advised the White House that green card holders should be exempted from any ban, but that was overruled by two top Trump advisors, Steve Bannon and Stephen Miller.

In his student days, Miller was a staunch fan of David Horowitz, an extreme pro-Israel and anti-Muslim agitator who has argued that African Americans benefited from slavery.

Bannon is the former chief of Breitbart News, which he described as "the platform for the alt-right."

The term "alt-right" is a euphemism for white supremacy, white nationalism and outright neo-Nazism.

Richard Spencer, a key figure of the alt-right, has previously described his call for a European "ethno-state" in North America as "white Zionism."

He took to Twitter last week to reiterate his identification with Israel:
Zionist Organization of America
A key theme of the protests has been that the United States should learn the dark lessons of its past when it refused to accept Jewish refugees fleeing Adolf Hitler, returning them to their deaths in the Holocaust.

That Trump's order coincided with Holocaust Memorial Day made the message even more poignant.

Jews had been vilified as a threat to the United States, accused of Bolshevism, anarchism, criminality and even of being Nazi spies and saboteurs.

The Anti-Defamation League, a powerful Israel lobby group, called Trump's order "a sad moment in American history – the time when the president turned his back on people fleeing for their lives."

But the Zionist Organization of America warmly praised the measure, arguing that unlike Jews in past decades, Americans really should fear Muslims.

Netanyahu has repeatedly lent his warm public support to the ZOA.
Netanyahu says build the wall
Mexico-US relations reached their lowest point in decades during Trump's first week in office, with a public spat between President Enrique Peña Nieto and his US counterpart over the latter's insistence that Mexico pay for his border wall.

In Mexico, the wall and Trump's threats to impose punitive trade tariffs are almost universally seen as an attack on the country motivated by the US president's previously expressed bigotry characterizing Mexicans as rapists and drug runners.

Mexico is the world's second largest destination for US goods exports and its third largest trading partner overall – after Canada and the European Union.

Amid the rising tensions, Netanyahu decided to step in, tweeting, "President Trump is right. I built a wall along Israel's southern border. It stopped all illegal immigration. Great success. Great idea."

Netanyahu's intervention came after Trump himself cited Israel's walls as an inspiration. But the Israeli leader nonetheless sparked consternation and anger on both sides of the Mexico-US border.

It recalls his opportunistic exploitation of recent mass-casualty attacks in France and Florida, stoking further division and feeding anti-Muslim sentiment.

Mexico's foreign ministry expressed its "profound astonishment, rejection and disappointment" at Netanyahu's comments.

Even more forthright criticisms played out on social media, and Mexican Jews expressed particular worry that Netanyahu's comments would incite anger against their community, given that Israel markets itself as the global representative of all Jews.

"As a Mexican Jew, I am ashamed of this tweet," León Krauze, an anchor on the Spanish-language TV network Univision, tweeted in reaction to Netanyahu's statement.

The heads of Mexico's Jewish community felt compelled to publicly condemn Netanyahu's comments, and offer strong support for their country's united opposition to US policies: Netanyahu's wall is part of a racist policy to keep refugees and migrants from African countries out of Israel.

The Israeli prime minister has previously expressed anti-Mexican bigotry similar to his racist views of Palestinians and Africans.

As author Max Blumenthal discovered, Netanyahu argued in a 1993 book that creating a Palestinian state could lead Latinos to demand the creation of a "second Mexico" in the southwestern United States as a result of "continuous emigration from Mexico." This warning was intended to counteract arguments for a Palestinian state.

Ideology aside, Israel benefits directly from US militarization of its southern border. The Obama administration, for instance, already awarded a $145 million contract to Israeli arms maker Elbit Systems for surveillance equipment along the frontier.
Eroding support for Israel
In the United States, Representative Joaquin Castro, a Democratic congressman from San Antonio, Texas, tweeted about Netanyahu's support for the wall, "This is very troubling to hear from the Israeli prime minister."

Castro copied in AIPAC, a sign that he is not afraid to poke the powerful pro-Israel lobby group over such a fundamental matter.

This is just the kind of thing Israel's liberal supporters are worried about. Jeremy Ben-Ami, head of the Israel lobby group J Street, warned that "When Israel gets involved in these internal US debates – it doesn't promote long-run, bipartisan support for Israel."

That, at least, is a silver lining. What is clear from the tumultuous events in the United States is that popular protest and legal challenges to Trump's unjust policies are viable and must continue.

And, that in the global struggle against racism, ultra-nationalist right-wing bigotry and repression, Israel is a growing part of the problem.
Tags