This video shows part of an incident in which an Israeli military sniper severely wounded 22-year-old Palestinian Muhammad al-Amsi during a massive army raid on al-Fawwar refugee camp in the southern West Bank city of Hebron in mid-August.

Al-Amsi was standing on his roof talking on the telephone when the sniper shot him four times.

It was filmed by Mahmoud Abu Yousef, a videographer with the Ma'an News Agency, and published on Friday by the Israeli human rights group B'Tselem as part of a report into the Israeli raid in which another youth, 19-year-old Muhammad Abu Hashhash, was shot dead by Israeli forces.

A separate B'Tselem investigation has found that Abu Hashhash was killed as he posed no danger to anyone.

Meanwhile, two Palestinians and a Jordanian citizen – one reportedly 15 years old – were shot dead by Israeli forces on Friday in separate incidents. Another Palestinian was shot dead on Saturday morning. On Thursday, a person died from wounds he received when Israeli forces shot him during a raid on his village. Last week, a Palestinian youth was killed by Israeli forces in Gaza.
"Where do you want it?"
In addition to the killing of Abu Hashhash, B'Tselem found that 32 Palestinians were injured during the raid on al-Fawwar refugee camp that lasted from the pre-dawn hours of 16 August until late into the evening. Israeli occupation forces searched more than 150 homes and took positions on the rooftops of dozens of them.
"During most of the intrusions into homes, the soldiers closed all family members off in a single room or section of the house for several hours," B'Tselem reported. "Soldiers broke windows, doors and walls and damaged property in 28 of the homes they invaded."
The Israeli raid was allegedly meant to search for individuals wanted for questioning and to look for weapons. Three Palestinians were detained and two guns were found.
But the massive scale and lethal brutality of the assault raised suspicions among camp residents that they were actually being used as live guinea pigs for a training exercise.
One of the homes Israeli forces occupied was in Muhammad al-Amsi's neighborhood. A sniper and a lookout took positions on one of the top balconies. Al-Amsi was standing on the roof of his own house, talking on a mobile phone when, he says, the sniper on the adjacent house shouted at him, "Where do you want it?"
"I took that to mean what part of my body I wanted him to aim the bullet at," al-Amsi told B'Tselem's field researcher. "I retreated a little, and sat down cross legged, but I felt that I'd been hit in the left leg, in the calf under the knee, and I heard a gunshot, not very loud. A few seconds later, I heard another shot and felt another hit in the same leg, this time in the thigh. A few more seconds after that, I was hit by another bullet in the right thigh."
"I crawled from the corner I was in for a few meters, and shouted to the soldier. I asked him to stop shooting," al-Amsi recalled. "Stop … Enough … Enough."
But the soldier shot another bullet that hit the phone al-Amsi was holding, penetrating his hand.
Eyewitnesses and the video corroborate al-Amsi's account, according to B'Tselem. Al-Amsi suffered severe injuries that required surgery on both of his legs. The severity of the wounds required him to be transferred to the Ramallah Medical Center, where he remained for 10 days.
His shooting is reminiscent of a pattern of deliberate woundings by Israeli occupation forces of Palestinian youths elsewhere in the West Bank, apparently intended to cause severe injuries or permanent disabilities.
Sniper in a house
In its investigation of Muhammad Abu Hashhash's killing, B'Tselem found that he had been one of a number of youths who had responded to the Israeli armed assault on the camp, that began at 3am on 16 August, by throwing stones at the invading soldiers.
But he posed absolutely no danger when he was killed, according to eyewitnesses. In fact, Abu Hashhash had returned to his house following the confrontations.
Around noon, Israeli forces occupied the home of Bajes al-Hamuz, about 30 meters from Abu Hashhash's home.
The soldiers kept the al-Hamuz family locked up in a bedroom. The Israelis removed panes of glass and opened a hole in the wall for a sniper.
High school student Hasan Ali Yusif al-Hamuz told B'Tselem that he and other youths had seen the sniper's weapon peeking out of the opening and had warned each other to stay clear.
Around 5pm, Abu Hashhash returned to his house.
"Yet shortly after returning home, Abu Hashhash went out of the house again and turned toward the group of youths who were hiding from the sniper in the alley," B'Tselem reported. "The moment he stepped outside, he was shot and fell."
Rescuers took him to an ambulance and then to the Alia government hospital in Hebron, where he was pronounced dead.
"I don't know what made the sniper shoot the guy," said Ayad al-Hamuz, a neighbor who witnessed Abu Hashhash's killing. "It was quiet when he was hit, and for 10 minutes before that."
"While I was standing in my doorway, I didn't see any of the guys near me throw stones at Bajes al-Hamuz's house, where the soldiers were," Ayad al-Hamuz added in his testimony to B'Tselem. "None of them even tried to cross the street because of the sniper."
Lethal weapons
According to B'Tselem, al-Amsi was injured and Abu Hashhash was killed by Israeli soldiers firing 22-caliber bullets from US-made Ruger rifles.
These weapons are allegedly less lethal, but in October, B'Tselem called on the Israeli army to "immediately cease" use of Ruger rifles and other small caliber guns because, contrary to the army's claims, the weapons are used indiscriminately against Palestinian civilians, killing and severely injuring many, including children.
Since March 2015, according to B'Tselem, five Palestinians have been killed with the weapons and hundreds injured, many sustaining permanent disabilities or serious injuries requiring lengthy rehabilitation.
"Officially, the open fire regulations for [22-caliber] bullets are restrictive and limit soldiers' use of this ammunition to cases of mortal danger," B'Tselem states. "However, over the last two years, soldiers have repeatedly used these bullets as a crowd control measure, even when their lives were in no danger whatsoever."
B'Tselem said that in the past it would have contacted Israeli occupation authorities to demand a criminal probe into an incident like the sniper shooting of Muhammad al-Amsi.
"However, after many years of following this practice, B'Tselem has decided to no longer refer complaints to the military law enforcement system, which functions mainly as a whitewash mechanism," the human rights group explained. "B'Tselem tells victims that it believes there is no point in initiating such a process as the odds that anyone in the security forces would be held to account over what the victim had suffered and over the breach of law are next to nothing."
Teenagers killed
On Friday, a Palestinian youth was shot dead after allegedly stabbing an Israeli soldier at a checkpoint in the occupied West Bank city of Hebron.

The Tel Aviv newspaper Haaretz reported that the soldier was lightly injured.

Palestinian media named the youth as 15-year-old Muhammad Thalji Kayed Thalji al-Rajabi.

The news site Quds tweeted this image of the teenager:

Steve Sosebee, CEO of the Palestine Children's Relief Fund, a medical charity that has provided surgery and other care to thousands of children in the region, tweeted that al-Rajabi had volunteered with his group in July, helping to distribute medical kits. Earlier on Friday, Israeli forces shot and killed a Palestinian youth near the entrance to the Kiryat Arba settlement, near Hebron. A young woman riding in the car he was driving was seriously injured.

Ma'an News Agency identified the slain youth as 18-year-old Faris Musa Muhammad al-Khudour, and the wounded woman was identified as his 18-year-old fianceé Raghad Abdullah Abdullah al-Khudour.

Raghad is reportedly the sister of Majd al-Khudour, who was killed by Israeli forces at the same junction in June after she injured two Israelis in what Israel claimed was a car-ramming attack.

The Israeli army said three Israelis standing at a bus stop near the settlement had been injured when Faris and Raghad's car hit them in a deliberate attack.

But in a number of recent cases, Israel has changed its story: after alleging attacks, it later admitted that Palestinians its forces had killed posed no danger.

In the wake of Friday's incidents the Israeli army vowed to escalate its ongoing collective punishment of Palestinians in the Hebron region, including on the village of Bani Naim, where the al-Khudours are from.

On Saturday morning, Israeli forces shot dead a Palestinian in the Tel Rumeida neighborhood in the Old City of Hebron, the same neighborhood where al-Rajabi was killed the day before.

The Israeli army claimed that the man, named by Ma'an News Agency as 25-year-old Hatim Abd al-Hafeeth Shaludi, had stabbed and lightly injured a soldier before he was shot. Quds published this image of Shaludi:
Jordanian citizen shot dead
Less than an hour before the killing of Musa al-Khudour on Friday, Israeli forces in occupied East Jerusalem shot dead Said Amr, a 28-year-old Jordanian citizen, Ma'an reported.
Israeli police claimed that Amr had attempted to stab one of its Border Police combatants, but that no one was injured.
Haaretz reported that a witness told it "that the officers thought the man looked suspicious and asked him to lift his shirt. At this point the man yelled 'Allahu akbar' and was shot by one of the officers. The witness however said he didn't see the man attacking anyone."
On Thursday, 30-year-old Muhammad Ahmad Abd al-Fattah al-Sarrahin was shot with live ammunition during an Israeli raid on the village of Beit Ula, near Hebron, in which both he and his father were detained.
The Palestinian health ministry confirmed that al-Sarrahin died later from injuries sustained during the detention raid, Ma'an News Agency reported.
Earlier, witnesses had told Ma'an that a fist fight broke out between Muhammad and the Israeli soldiers during the raid, before one of the soldiers shot him.
Killing in Gaza
On 9 September, 18-year-old Abd al-Rahman Ahmad al-Dabbagh was killed when an Israeli soldier shot him in the head in the Gaza Strip.
The slaying occurred during protests by Palestinians near the boundary fence with Israel, east of the town of al-Bureij, Ma'an reported.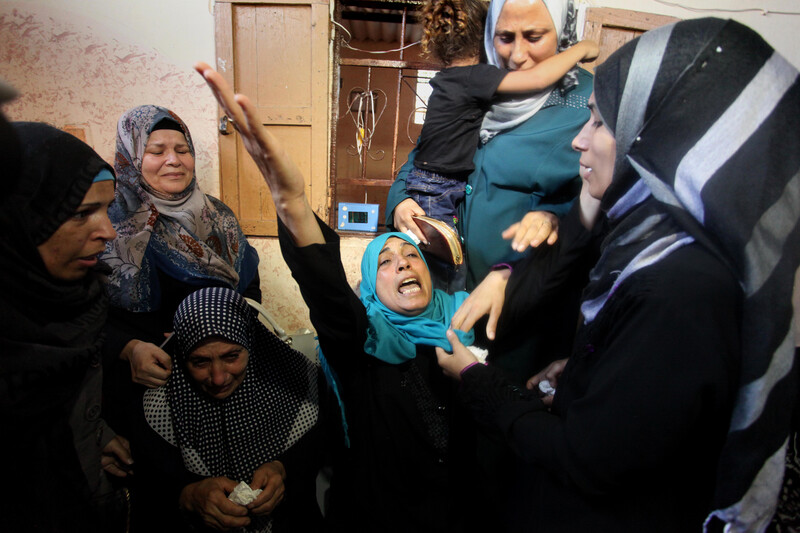 Israeli forces opened fire with live ammunition and tear gas at youths in several areas across the boundary.
More than 220 Palestinians have been killed since a new phase of violence began last October, many shot dead in what Israel says were attacks or alleged attacks which have killed more than 30 soldiers and civilians.
Human rights groups have condemned Israel's reflexive use of deadly force in such incidents, saying it amounts to an unofficial shoot-to-kill policy encouraged by Israel's top leadership.
The United Nations High Commissioner for Human Rights has also called for full investigation of incidents in which Israeli forces have caused death and injury.
This article has been updated with new information since initial publication.
Tags