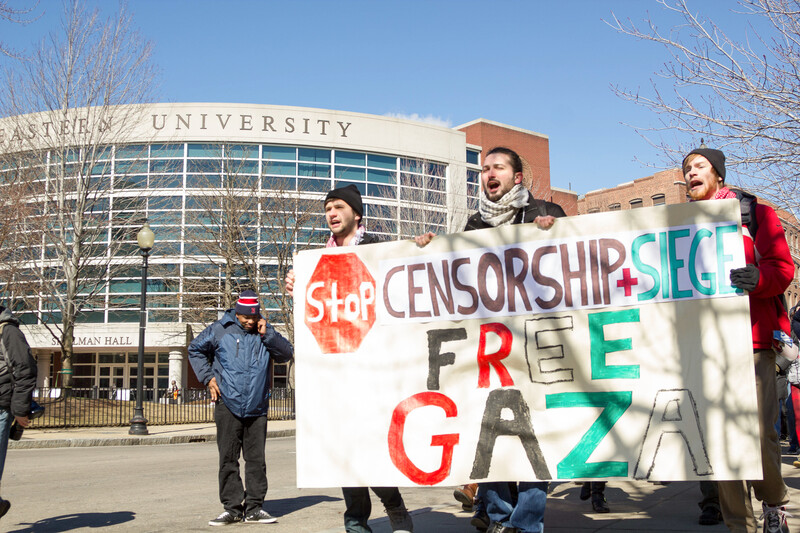 The crackdown on speech about Palestine is intensifying from Cambridge, Massachusetts, to Cambridge, England.
In the latest example, a major law firm has reportedly pulled $250,000 in student activity funding from Harvard Law School.
Ironically, the law firm, Milbank, Tweed, Hadely & McCloy, withdrew the money because of an event last October titled "The Palestine Exception to Free Speech: A Movement Under Attack."
The panel featured Palestine Legal staff attorney Radhika Sainath; Omar Shakir of the Center for Constitutional Rights; and Kendall Bousquet, an undergraduate at Northeastern University, whose administration had suspended Northeastern Students for Justice in Palestine in 2014.
The panel was sponsored by Harvard Law School's Justice for Palestine student group.
According to Justice for Palestine, what prompted the retaliation is that the student group had thanked Milbank for providing the funding that paid for $500 worth of pizza for attendees of the lunchtime event.
Among the topics discussed at the standing-room only seminar was the case of Steven Salaita, infamously fired from his University of Illinois professorship in 2014 after pressure from donors over his tweets about Gaza.
In a letter in the Harvard Law Record, Justice for Palestine explains that acknowledging the source of the funds was simply a standard condition that they had to fulfill when drawing on the Milbank money that is available to support the activities of all student groups.
But then the backlash began. The day after the event, Justice for Palestine says, the dean of the students office asked the student group to remove all references to Milbank's "generous support" from the student group's Facebook event page. This came after "a flood of angry phone calls and emails received from Milbank executives and other off-campus parties over the previous 24 hours."
"Even though the event had already passed, it was evident that the administration was feeling tremendous pressure to do something, anything, to appease Milbank," Justice for Palestine says.
"In exchange for a written guarantee that JFP's future funding (be it from Milbank or any other source) would not be adversely affected, we agreed to remove the sentence from the Facebook event page," Justice for Palestine adds. "Though that guarantee was promised to us, we never got it."
According to Justice for Palestine, that's because Milbank had demanded that the group no longer be allowed to use its funds.
Justice for Palestine says that Harvard Law Dean Martha Minow informed them "this was not a demand her administration could honor, so Milbank decided to pull out all of its annual $250,000 in student activity funding as a result of her administration's 'principled stance' in support of our right to speak openly and honestly about Palestine."
"We are grateful to Dean Minow and the law school administration for refusing to buckle under intense anti-Palestinian pressure," Justice for Palestine says.
Pressure
But there's no doubt that Minow's stance would have been more impressive and principled if Justice for Palestine had not been pressured to remove the reference to Milbank funding in the first place.
Justice for Palestine said it published the letter to set the record straight about why Harvard Law School had announced "without explanation" at the beginning of the semester that the Milbank fund would no longer be available to any student groups.
There is evidence that Milbank was pressured by NGO Monitor, an anti-Palestinian group that works closely with the Israeli government.
NGO Monitor posted on its website a letter dated 22 October 2015 questioning Milbank about the Justice for Palestine event.
A reply from Milbank, posted by NGO Monitor, says that Justice for Palestine included a reference on the group's Facebook page that "created a false impression that Milbank endorsed the views expressed by [the] group."
"At the request of Harvard Law School, the sponsoring student organization has removed that statement from its website," the Milbank response says.
"Israel advocacy groups and big donors are sending a powerful message that if you allow discussion of Palestinian rights at your university, you will be punished," Radhika Sainath of Palestine Legal says of the incident. "One can see how colleges without Harvard's endowment might find it hard to allow open debate on one of the most critical issues of our time."
Thatcher revisited
Meanwhile, Palestinians are condemning new rules being imposed by the UK government that will prevent local municipalities and public bodies, including universities, from making ethical purchasing or investment decisions.
Following calls from Palestinians, such public bodies have dropped contracts with firms that profit from Israel's occupation, including G4S, the private-prison company that equips Israel's occupation jails where thousands of Palestinians are held.
The UK government has specifically cited the growing strength of the Palestinian-led boycott, divestment and sanctions (BDS) movement as a reason for the political crackdown.
The Palestinian BDS National Committee (BNC) is calling the move by Prime Minister David Cameron's administration "a grave mistake similar to Margaret Thatcher's unwavering support of apartheid South Africa."
"Rather than working to hold Israel to account for its ongoing human rights violations, UK ministers continue the arms trade with Israel and attack local democracy in order to shield it from any criticism," Rafeef Ziadah, a UK spokesperson for the BNC, states.
The BNC notes that Cameron himself crossed the anti-apartheid picket line, accepting a free junket to South Africa as late as 1989, when the international boycott of the racist state was well established.
"This assault on basic free speech and local democracy comes in the context of major ideological public spending cuts and government attacks on the Muslim community, trade unions and the right to protest," the BNC's Ziadah adds.
"Greatest threat"
In a powerful article – apparently published before news of the Harvard incident broke – Glenn Greenwald and Andrew Fishman call the crackdown on Palestine-related activism the "greatest threat to free speech in the West."
While The Intercept journalists acknowledge that there are other forms of suppression taking place, they say that "in terms of systematic, state-sponsored, formalized punishments for speech and activism, nothing compares to the growing multi-nation effort to criminalize activism against Israeli occupation."
Among others, this repression includes the prosecutions of BDS activists in France and a raft of new anti-BDS legislation across the US.
Greenwald and Fishman also call out the hypocrisy of celebrated liberal pundits, such as New York's Jonathan Chait, who have made a cottage industry of complaining about "political correctness" and other alleged threats to free speech on campuses but "have completely ignored what is far and away the most widespread form of campus censorship: namely, punishment of those who engage in activism against Israeli actions."
This is a point that was previously made here at The Electronic Intifada by none other than Steven Salaita.
The formidable crackdown is a response to the growing global support for Palestinian rights and for holding Israel accountable.
The would-be censors may even be doing the BDS movement a favor. Not only are Israel's backers on the wrong side of history when it comes to Palestinian rights, they are also revealing themselves as enemies of the most cherished freedoms: the right to express an opinion and to advocate and organize for social change.
That can only help make the case for how important it is not to let the bullying, intimidation and threats against the movement for Palestinian rights succeed.
Tags