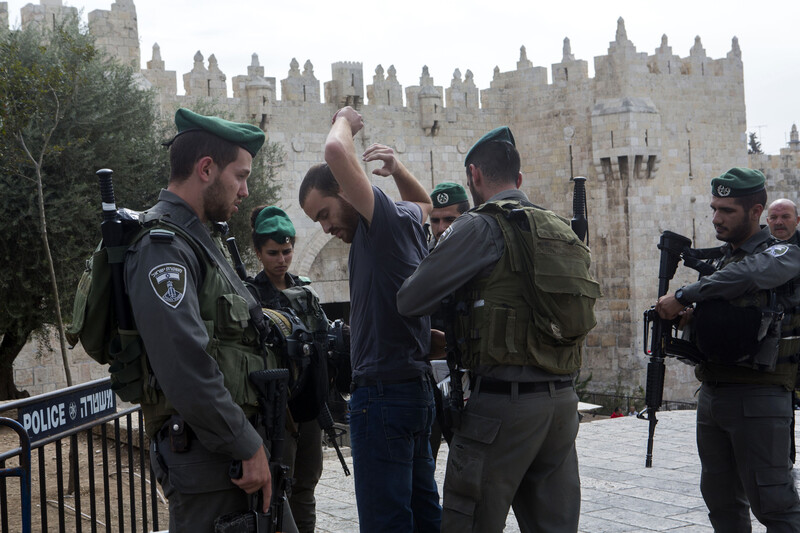 Israel is moving to revoke the residency of four Palestinian residents of occupied East Jerusalem for alleged disloyalty to the state.
The four young men were accused of stone-throwing and armed attacks.
Last month, interior minister Silvan Shalom vowed to revoke the residency permits of those alleged to have attacked Israelis.
When Israel occupied East Jerusalem in June 1967, formally annexing it in 1980, Palestinians living there became "permanent residents," a status that is vulnerable to revocation and requires holders to fulfill certain conditions to maintain.
Under international law, Israel's annexation of East Jerusalem is null and void.
Since 1967, more than 14,309 Palestinians have had their residency revoked for mostly administrative reasons.
Only a handful of Palestinians have been threatened with revocation for alleged acts of "terror."
In the notices delivered to the young men, Shalom declares he is acting under the 1952 Law of Entry, which allows him to revoke the residency permit of individuals who "breach allegiance to the State of Israel."
Illegal occupation
Following the revocation of residency status, one's identity card and social benefits are also voided, and the person is forbidden entry into Jerusalem.
Sawsan Zaher, a lawyer with the human rights group Adalah, told The Jerusalem Post that revoking residency rendered the affected people stateless.
Rights groups in Israel have strongly denounced the move, asserting that the Fourth Geneva Convention prohibits an occupying power from forcibly transferring civilians from their homes.
When Shalom announced his plans in mid-October, he said, "We must vomit the bloodthirsty murderers from among us."
"These terrorists who blatantly violated their allegiance to the State of Israel by trying to murder innocent people are not worthy of living among us," he added.
The four young men whose residency is in jeopardy are currently in Israeli prison and awaiting court proceedings.
But the loss of residency status does not depend upon their conviction, according to Dalia Kerstein of HaMoked, a human rights group that is representing the four.
Kerstein told The Electronic Intifada that three of the Palestinians who may be stripped of their permits are accused of manslaughter while throwing stones at cars, allegedly causing one driver to have a heart attack and fatally crash his vehicle.
The fourth man is accused of an armed attack on a bus in West Jerusalem which left three dead.
Kerstein says they have 30 days to prepare for a hearing with a clerk of the ministry of interior who will rule on the case. But HaMoked is preparing a petition to the high court to stop the procedure altogether.
A ruling is still pending in the high court on an earlier case involving the revocation of residency permits of Palestinians accused of disloyalty.
Expelled from Jerusalem
In 2006, Israel made its first moves to strip Palestinians of their residency on this basis when then-interior minister Roni Bar-On revoked the permanent residency and identity cards of four Palestinian lawmakers.
Three of the men had been elected to the Palestinian Legislative Council in 2006 after running on Hamas' platform. The fourth, Khaled Abu Arafeh, was appointed as Minister of Jerusalem Affairs for the new government.
The four were arrested one month after the elections. Bar-On gave them the ultimatum to resign from their political offices or be stripped of their status. In 2011 they were expelled from Jerusalem.
A petition to the high court to repeal the revocations was immediately filed and to this day no decision has been made. For the past nine years, the four have been confined to the occupied West Bank city of Ramallah.
Israel has since tried to revoke the residency of Palestinians on terrorism grounds in a handful of cases, according to Kerstein, but each time the decision has been postponed until a ruling on the case involving the Hamas legislators.
Tags