As Palestinian "administrative detainee" Hana Al-Shalabi, 29, entered her eleventh day on hunger strike, her parents continued their own hunger strike in solidarity, against their daughter's imprisonment without charge or trial by Israel.
Hana was arrested from her home in Burqin village near Jenin on 16 February in the Israeli-occupied West Bank. She had previously spent two and a half years in administrative detention – with no charge or trial – from 14 September 2009, until she was released last October as part of a prisoner exchange deal between Israel and Hamas, according to updates posted by Addameer via its Twitter and Facebook pages.
Parents on hunger strike
Meanwhile, al-Shalabi's parents have been on hunger strike for three days, in a solidarity tent near next to their home in Burqin, and have called for international intervention to free their daughter and end the policy of administrative detention.
Call for Action
Samidoun, the Palestinian Prisoner Solidarity Network, has issued an action alert calling for people to take action to bring attention to Hana Al-Shalabi's case.
Renewed attention to Israel's widespread use of detention without charge came as a result of the 66-day hunger strike of Khader Adnan. Amnesty International called the deal which ended Adnan's hunger strike "insufficient" and reiterated its demand that Israel end the use of detention without charge or trial.
Currently more than 300 Palestinians are in Israeli administrative detention, including 21 elected members of the Palestinian Legislative Council.
Previous detention
According to an Addameer profile which refers to her earlier period of detention:
Shalabi was arrested from her family home on 14 September 2009. At approximately 1:30 a.m. that morning, Israeli soldiers in 12 military jeeps surrounded her house in Burqin village, near the West Bank town of Jenin. The soldiers ordered Hana's entire family outside of the house and demanded Hana give them her identity card. They then proceeded to conduct a thorough search of the family's home. During the search, one of the soldiers forcibly removed framed pictures of Hana's brother Samer, who was killed by the Israeli army in 2005, tore them apart and walked over the pieces in front of the entire family.
Shalabi was subjected to solitary confinement, abuse and sexual harrassment during her interrogation and then ordered to be detained without charge or trial for six months.
That order was later renewed, however she was subsequently released as part of the prisoner deal in which Israel agreed to release 1,027 Palestinians in exchange for the return of an Israeli soldier who had been held in Gaza since 2006.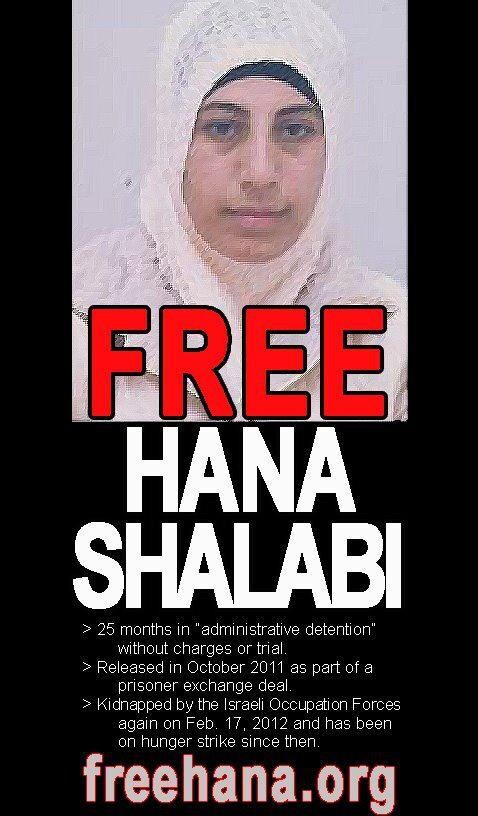 Tags