Israel is carrying out summary executions of Palestinians, Amnesty International has confirmed.

Sometimes it lets injured Palestinians bleed to death.

The human rights group says it has "documented in depth at least four incidents in which Palestinians were deliberately shot dead by Israeli forces when they posed no imminent threat to life, in what appear to have been extrajudicial executions."

Amnesty's condemnation of what it called a "clear pattern" of such summary killings came as the number of Palestinians killed by Israeli forces this month rose to at least 61.

Ten Israelis have died in the same period.

On Wednesday, Israeli forces shot dead a Palestinian who they claimed had attempted to stab one their soldiers at a checkpoint near the Tel Rumeida settlement in the occupied West Bank city of Hebron.

The International Solidarity Movement (ISM) said one of its members in Hebron saw the man being shot when he was two meters away from Israeli soldiers.

"I am 100 percent sure he was unarmed," the witness said. "I saw the two soldiers creeping slowly along the road outside our apartment window with their guns cocked, so I looked down the street to see why. I saw an unarmed man walking normally towards the soldiers and suddenly they shot."

Wattan TV named the victim as 23-year-old Islam Rafiq Ebeido from Hebron.

ISM posted the testimony, along with a photo of the man lying dead, on its website.

On Tuesday, Israeli forces shot dead three Palestinians. Hammam Said, 23, was killed near Tel Rumeida. Earlier in the day two Palestinians were shot and killed near the Gush Etzion settlement bloc south of Bethlehem after allegedly stabbing a soldier.

They were identified as Shaban Abu Shkeidem, 17, and Shadi Nabil Abd al-Muti Dweik, 22, both from Hebron.

Amnesty's report says that recent killings in similar circumstances have amounted to "extrajudicial executions."
Teens executed
Amnesty calls the killing of 19-year-old Saad Muhammad Yousif al-Atrash in the Old City of Hebron on 26 October an "especially egregious case."
Israel claimed the youth had attempted to stab a soldier, but according to Amnesty, "an eyewitness watching the events unfold from her balcony said he had posed no threat when he was shot."
"One of the soldiers had asked him for ID, and as he reached into his pocket to grab his card another soldier standing behind him shot him on his right side," the witness told Amnesty.
Al-Atrash was shot six or seven times and then left to bleed for about 40 minutes. The witness also said she saw Israeli forces planting a knife in al-Atrash's hand.
Shot with hands up
The day before, Israeli occupation forces shot dead 17-year-old Dania Jihad Hussein Irsheid very close to where al-Atrash was killed.
Shortly before, "she had passed through a checkpoint equipped with a metal detector and two revolving gates, between which Israeli forces frequently lock people they deem suspicious," Amnesty states.
"At a second checkpoint in front of Hebron's Ibrahimi Mosque she was called for a second inspection by more than five border police officers, who began searching her bag and yelling at her to show her knife," the report adds. "Warning shots were fired at her feet, prompting her to step back and raise her hands in the air."
The high schooler was shouting that she did not have a knife and still had her arms raised when the Israeli gunmen shot her multiple times.
A photo "shows a knife lying near the body," Amnesty states, but notes that even if Irsheid had a knife in her possession, "eyewitness accounts indicate she was not posing a threat to Israeli forces when she was shot, and her killing is therefore absolutely unjustified."
This account of Irsheid's killing matches an investigation published this week by the Palestinian Centre for Human Rights.
Amnesty also examined the extrajudicial murders of 19-year-old Fadi Alloun in occupied East Jerusalem on 4 October and of 18-year-old Hadil Hashlamoun at a checkpoint in Hebron on 22 September.
The Palestinian Centre for Human Rights investigated the extrajudicial execution, caught on video last Friday, of 17-year-old Ahmad Muhammed Said Kamil at the al-Jalameh checkpoint in the north of the West Bank.
Murder by denial of care
Palestinian medical services frequently report that Israeli forces deny them access to injured Palestinians.
Amnesty also found that "In some cases, the person shot was left bleeding to death on the ground and was not given prompt medical assistance, in violation of the prohibition of torture and other ill-treatment."
Several human rights groups recently condemned incitement by Israeli leaders that soldiers and civilians should kill Palestinians merely suspected of being about to engage in an attack.
Wilful denial of medical care appears to be another method of carrying out these instructions.
"Grave breaches"
In principle, Amnesty defends Israel's use of force against a Palestinian population it has held under military occupation for decades.
The human rights group has only urged Israel to end what it deems as "excessive force" and "unlawful killings."
Amnesty has failed to clearly recognize that all Israeli violence serves to entrench and prolong an illegal system of apartheid and colonization that has no legitimacy whatsoever.
But the group's Middle East director Philip Luther nonetheless concedes that "heavily armed soldiers and police wearing body armor facing a possible knife attack have a duty to use proportionate and graduated force and attempt to arrest suspects before resorting to the use of lethal force."
Luther also notes that "Israel's investigation systems have long served to perpetuate impunity for unlawful killings of Palestinians by Israeli military and police forces."
These murders, he adds, "are grave breaches of the Fourth Geneva Convention, over which all states can exercise universal jurisdiction."
In other words, the Israelis responsible could face prosecution in any country ready to enforce the rule of law without bowing to bullying by Israel and its backers.
Raed Salah jailed
On Wednesday, an Israeli soldier appeared in a Haifa court on charges of stabbing himself with a knife and telling police he had been attacked by a Palestinian.
Meanwhile, an Israeli court rejected an appeal by Raed Salah, an influential leader among Palestinian citizens of Israel, who heads the Northern Branch of the Islamic Movement.
Salah was sentenced to 11 months in prison for supposedly inciting violence in a 2007 speech.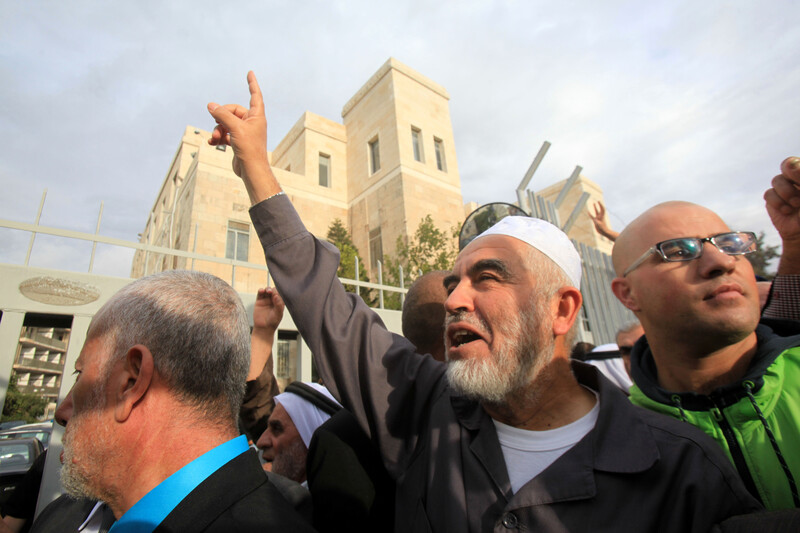 Salah said that the court's ruling was no surprise in light of Israel's recent decision to "legitimize summary executions of Palestinians." He added that "prison is the cheapest price we can pay for the sake of Jerusalem."
Ahmad Tibi, a member of the Israeli parliament for the Joint Arab List, said the court had been "influenced by the impassioned public atmosphere."
Israeli Prime Minister Benjamin Netanyahu recently threatened to outlaw the Islamic Movement, on the pretext that it is behind the recent "wave of violence."
Tibi has accused the government of "seeking to transfer responsibility for the current violence to other parties, including the Islamic Movement."
Land seized, hospital raided
Israel is continuing its brutal crackdown and mass arrests of Palestinians across the occupied West Bank. On Tuesday alone, Red Crescent officials told Ma'an News Agency, 143 were injured during confrontations with Israeli occupation forces, at least 22 with live ammunition.
For the second day in a row, Wednesday, Israeli forces raided a hospital in occupied East Jerusalem and searched through patient files.
Israeli occupation forces seized private land from six Palestinian villages near the West Bank city of Nablus, a measure a Palestinian Authority official said was done to "please extremist settlers."
Occupation forces also fired at Palestinian protesters in the Gaza Strip, near the boundary fence east of al-Bureij refugee camp, moderately injuring one person.
Tags