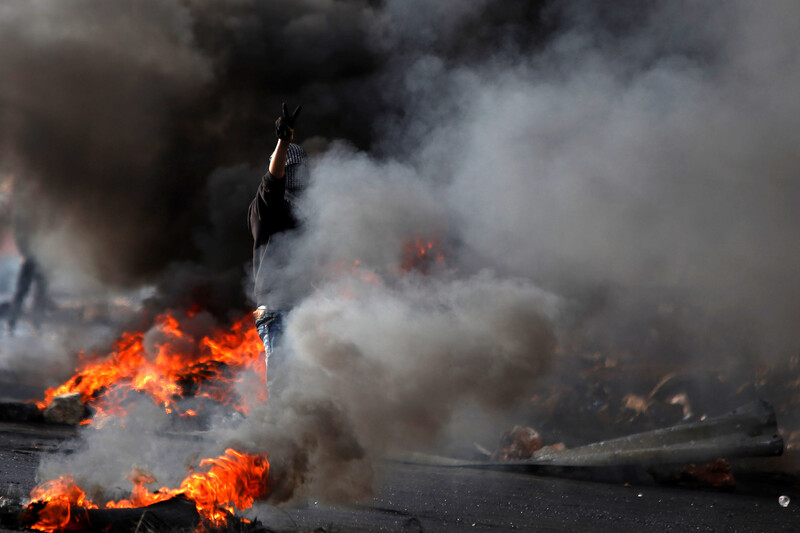 Israeli occupation forces have killed six Palestinians since Saturday, including three in Hebron on Monday.
One was a 17-year-old schoolgirl.
The latest deaths brings the number of Palestinians killed by Israeli forces in the occupied West Bank and Gaza Strip this month to 60.
At least 15 have been under 18 years old. Nine Israelis have died in the same period.
Israel carried out two air strikes on sites belonging to resistance groups in Gaza late Monday night. One person was injured by flying glass in a nearby home.
Meanwhile, Israeli Prime Minister Benjamin Netanyahu is proposing to revoke the Jerusalem residency of tens of thousands of Palestinians in the occupied city.
Schoolgirl killed
On Sunday, Israeli soldiers summarily executed a 17-year-old Palestinian girl near the Ibrahimi mosque in the Old City of Hebron.
Israel said the girl, Dania Irsheid, had a knife, but witnesses contest this.
One witness told Ma'an News Agency that she saw soldiers cover Irsheid, who was lying on the ground bleeding, without giving her medical aid.
An eyewitness told Wattan TV he was standing just meters from Irsheid waiting to pass through the same checkpoint where she was shot.
He said the girl was surrounded by seven or eight soldiers who searched her book bag. They made her pass through the metal detector and then one demanded, "Where is the knife?"
"I'm not carrying a knife," Irsheid said, according to the witness. Soldiers then fired between her feet and the terrified girl leapt backwards. She raised her hands in the air and repeated, "I do not have a knife." Then, according to the witness, the soldiers fired about seven or eight bullets at her.
Irsheid's schoolmates and teachers held an emotional memorial and tree-planting for her at her high school on Monday.
Lethal checkpoints
On Monday, Israeli forces shot dead Raed Saket Abdulrahim Jaradat, a 22-year-old student at al-Quds University, from the village of Sair near Hebron.
Al-Araby al-Jadeed reported that the shooting took place at the Beit Einoun junction.
Israeli soldiers fired dozens of bullets at Jaradat after he allegedly stabbed a soldier in the neck.
One witness said soldiers refused to allow the Palestine Red Crescent to reach him and provide medical care.
According to Palestinian media, Jaradat had posted a picture of Dania Irsheid covered in blood on his Facebook account hours before he died. "Imagine she was your sister," he wrote under it.
Hours later, Israeli forces shot dead another youth from Sair.
Iyad Rawhi Hijazi Jaradat was hit in the head with live ammunition during confrontations with Israeli forces near Beit Einoun, the Palestinian health ministry said. Ma'an News Agency, citing medical sources, gave his age as 17.
Also on Monday, Israeli forces shot and fatally injured 19-year-old Saad Muhammad Yousif al-Atrash outside the Ibrahimi Mosque in Hebron. Israeli media claimed he had tried to stab a soldier, but this is disputed.
One eyewitness told Ma'an News Agency that soldiers planted a knife near the youth's body after they shot him. No Israelis were injured.
"I heard the soldiers telling the young man to approach them, and when he approached they opened fire and the blood did not stop flowing," eyewitness Yasir Salhab told Ma'an News Agency.
Eyewitnesses told Wattan TV that al-Atrash tried to raise his arms as he lay on the ground after he was shot, but Israeli soldiers prevented medics reaching him for more than 30 minutes.
Extrajudicial killings
Monday's killings came after a bloody weekend.

Israeli forces shot dead 16-year-old Ahmad Muhammad Said Kamil at the al-Jalama military checkpoint in the northern occupied West Bank on Saturday.

Israel claimed the teenager, who was from the nearby city of Jenin, had tried to stab one of its personnel, but eyewitnesses told Ma'an News Agency that there was no stabbing attempt when the boy was shot.

Security camera footage released by Israel purportedly showing the incident, confirms that the teen was summarily executed.

The 49-second edited clip appears to show the youth running towards the checkpoint, holding an object in his hand that could be a knife.

Then, a different camera angle shows an armed officer run out of the frame, presumably towards the teen.

The boy then runs into the frame and is apparently gunned down behind a car. At the moment he is shot, the boy is not near anyone and the video provides no evidence he actually attacked anyone and could not have been stopped without being killed.

Israeli social media accounts posted images, which The Electronic Intifada has decided not to publish, of what appeared to be Kamil's completely naked body lying dead and covered in blood. Comments under the photos celebrated his killing.

Human rights groups have strongly condemned Israel's policy of extrajudicial execution of Palestinians on the merest suspicion that they might be carrying a weapon or be about to engage in an attack.

Last week, Israeli soldiers carried out the extrajudicial execution of Ahmed Sharif al-Sarhi, 27, a member of a new armed resistance group in Gaza.

Israel described the killing as "preemptive."

On Saturday, Israeli forces killed Khalil Hassan Abu Obeid, 25, at a protest in eastern Khan Younis in Gaza. A day earlier, Yahya Karira, 20, died from a gunshot wound to the head he sustained last week during a protest in the besieged territory.
Seventeen Palestinians have been killed in Gaza since 1 October.
Reporters in Gaza have told the International Federation of Journalists that Israeli forces are deliberately targeting them. Dozens have been showered with tear gas as they attempted to report on ongoing Palestinian protests near the boundary fence.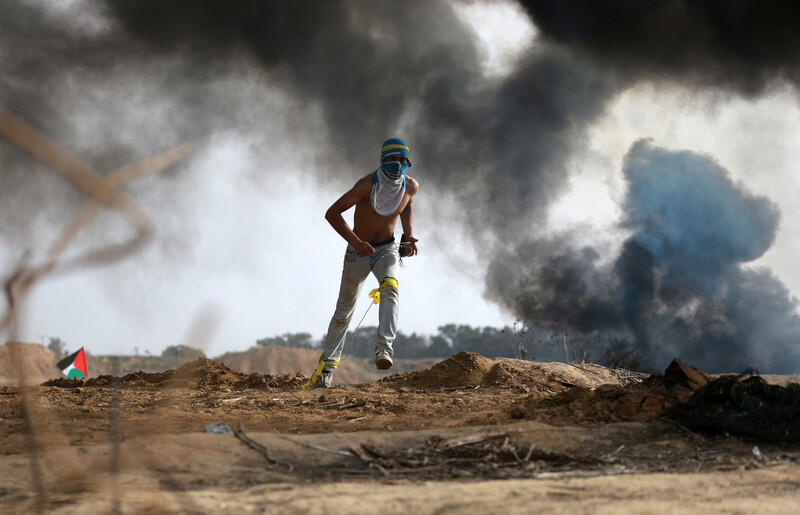 More than 2,000 Palestinians, including 400 children, have been wounded by Israeli forces suppressing protests in the occupied West Bank and Gaza strip, many sustaining serious injuries from live fire and rubber-coated steel bullets.
Israel has arrested almost 1,000 Palestinians this month, 144 of them children, according to prisoners' rights group, Addameer.
Settler attacks
On Friday, video captured a knife-wielding Israeli settler attacking Rabbi Arik Ascherman of the group Rabbis for Human Rights.

Ascherman was lightly injured.

And on Sunday morning, a settler shot and critically injured 20-year-old Azzam Azmi Shalalda, a Palestinian from Sair village. Settlers attacked Palestinians harvesting olives in their groves near Nablus on Monday, injuring an elderly man. The attack occurred in an area where settlers routinely assault Palestinians.
Jerusalem
Israeli police prevented Muslim authorities from installing cameras at the al-Aqsa mosque compound, as part of an agreement reached between Israeli Prime Minister Benjamin Netanyahu and Jordan's King Abdullah II over the weekend to supposedly ease tensions in Jerusalem.
The cameras would purportedly prove that Israel did not intend to change the status of the holy site.
Israeli settlers and Jewish extremists have been making increasingly aggressive incursions into the al-Aqsa compound, spearheaded by government-funded groups whose ultimate plan is to replace the mosque with a Jewish temple.
The Jordanian-run Waqf – the foundation that manages the holy site – attempted to implement the agreement on Monday.
Netanyahu's office responded that the cameras would be "coordinated by professional officials."
But Sheikh Azzam al-Khatib, head of the Waqf, told media that "There is no other authority in the mosque except the administration of the Jordanian Islamic Waqf."
Palestinian Authority foreign minister Riyad al-Maliki criticized the agreement, asking who will control and monitor the cameras.
Maliki called the plan "a trap," alleging Israel would use the footage to arrest Muslim worshippers it accuses of "incitement."
Ethnically cleansing Jerusalem
UN Secretary General Ban Ki-moon praised the agreement and hoped it would help "put an end to the provocative rhetoric that has added to the tensions and violence over the past weeks."
But such optimism can only be based on wilfully ignoring Israel's continued aggression against Palestinians throughout the city.
Israeli media reported that Netanyahu is considering revoking the residency of some 100,000 Palestinians who live in Jerusalem neighborhoods east of the separation wall built by Israel.
Netanyahu has claimed that these Palestinians do not "fulfil the duties of Israeli residence" but enjoy the rights of residents of Israel.
US State Department spokesperson John Kirby told reporters that if Netanyahu's plan were true, "it would certainly be of concern to us."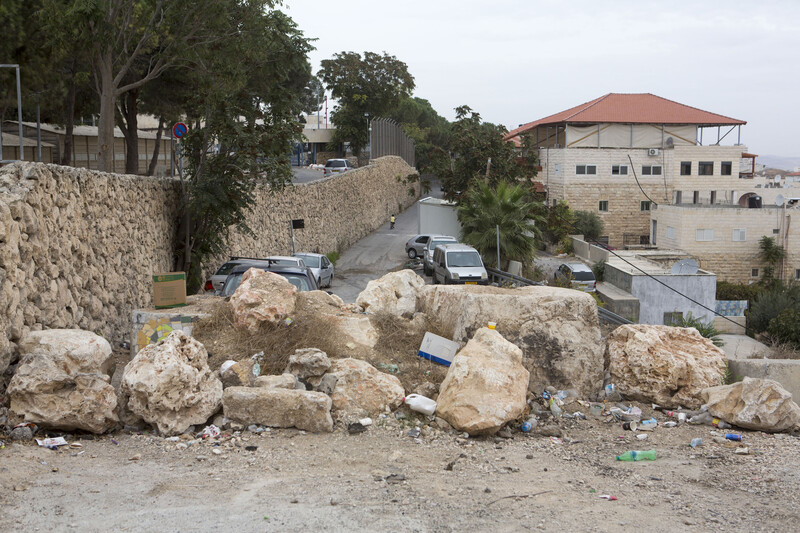 Israel occupied East Jerusalem in 1967 and then claimed to annex the city, in violation of international law.

It unilaterally expanded the boundaries of Jerusalem and classified Palestinians as permanent residents – as if they were newly arrived immigrants rather than the indigenous population.

Palestinians are required to pay taxes, even though they face gross discrimination in the provision of essential services compared to Jewish areas of the city. They can, however, receive some Israeli social benefits.

Israel has already arbitarily revoked the residency of more than 14,000 Palestinian Jerusalemites.

The Association for Civil Rights in Israel has accused the government of "criminal negligence" towards the population Netanyahu now proposes to cleanse from the city altogether.

Ali Abunimah provided additional research and translation.
Tags